Sweatshirts can be recycled to make good quilts. They are warm enough that just a backing rather than adding batting may be sufficiently warm if a lightweight quilt is desired. I often alternate sweatshirt materials with jean material. At a thrift store look for 2X and 3X sizes as they have a lot of material in them. You might want to cut around lettering and pictures on the shirts. I prefer buying plain shirts if I can find them.
By halstein from Valley City, ND
Ad
---
By Linda 2 33 07/07/20100 people found this helpful
I saw this idea last year on Rules of Engagement. Her husband had stacks and stacks of old tees and sweats from his high school and college days plus sports events and music concerts. He refused to part with them because of the memories.

She cut out the tee/sweat fronts and made a quilt for their bed. I thought it was a great idea and have a box full of shirts from all the places I visited on vacations that I plan on doing the same thing with.

Of course the TV show had to have a joke. Her husband loved the quilt but then he sat up all night every night pointing to each square and telling her stories about it. LOL. She had to put the quilt in their spare bedroom so she could get some sleep. :)
By Karen 1 2 07/13/20110 people found this helpful
How about a picture of these quilts? Sounds like agreat idea and project.
By lkaserman 4 16 07/13/20110 people found this helpful
I did this with some of my late mom's old sweatshirts and some of my fave tshirts. There are bunches of places online that will do it for you - for $200 or more. I did some research online and got a couple basic quilters books and did it myself. pretty easy!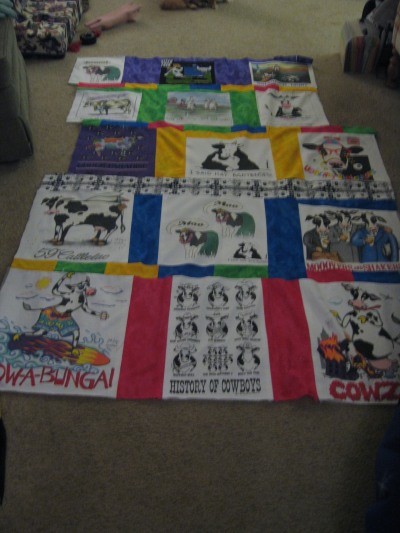 Archives
Thrifty Fun has been around so long that many of our pages have been reset several times. Archives are older versions of the page and the comments that were provided then.
I have many sweatshirts that are in good condition that I would like to recycle. I have made a quilt from t-shirts but thought the sweatshirts would be too heavy. Has anyone made a quilt from sweatshirts?

Connie from ND
Feedback:
RE: Recycling Sweatshirts: Making a Quilt?
I have not made a quilt. I think it would be worth trying. I have made mittens out of an old sweatshirt. That was easy and they are comfy. I also made a hand warmer for my ice scraper. You just cut rectangles that are the same size and big enough to put your hand in. Leave one side open for your hand and then leave a little hole open for the icescraper handle to fit through. (04/21/2004)

By Janet
RE: Recycling Sweatshirts: Making a Quilt?
I have recycled old sweats by patchworking them into curtain liners. My power bills have reduced significantly.
Also you could use them patched together as throws over furniture when you have younger children. That is to be our next project - as soon as we have enough old sweats to use!
(06/15/2004)

By Anne
RE: Recycling Sweatshirts: Making a Quilt?
I make comforters out of sweatshirts. Take an old sheet, cut into large rectangles (makes the comforter easier to handle). Then I cut sweatshirts up into randomly sized pieces. I sew the pieces onto the sheet rectangles in a crazy quilt pattern with a zigzag stitch. I don't turn under raw edges as the stitching keeps them from raveling, sew over edges two or three times. When all rectangles are covered, stitch together. Back this with another piece of fabric and either quilt on your sewing machine or hand tie together. If you want you can use batting or other filler between top and bottom layers. This is a fairly heavy quilt. (10/25/2004)

By Barbara
RE: Recycling Sweatshirts: Making a Quilt?
I make quilts from sweatshirts by cutting large (about 12 inches) octagons from the shirts, using the design for the top of the quilt. I think cut another octagon from the back of the shirt of another piece of solid color sweat. Place these right side together and stitch around outside, leaving a small opening to turn right side out. When you have enough for a quilt, begin putting the short straight sides together and zigzag together with machine, kinda like putting together a really easy puzzle. No need to close the opening left for turning, the zigzag stitch will take care of that. You can leave the edges "scalloped" or fill in with half octagons. Using only two layers of material makes an nice mid-weight quilt. (02/27/2005)

By Kathryn