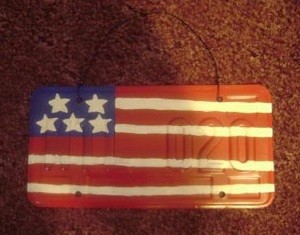 Make an American flag from an old car tag.
Approximate Time: 30 minutes
Supplies:
old car tag (license plate)
spray paint (red or white)
acrylic paint
sealer
star stencil
wire
Instructions:
Spray paint the tag (license plate) using either red or white. That way you will only have to paint one set of stripes. Let dry.
Paint on your blue background for stars, let dry.
Paint on your other colored stripes, let dry.
Use your star stencil to paint on the stars. You can free hand if you like or don't have a stencil.
When the stars are dry paint with glitter paint.
When completely dry, seal with acrylic sealer and let dry.
Put wire in holes at top of tag. Hang and enjoy. Great for the upcoming 4th.
By Sandy from Bluff City, TN
Ad
---
By Shonda (Guest Post) 07/03/20080 people found this helpful
I love this, you can hang anywhere, like your porch, on your pool fence. A great way to say I love the U.S.A.
By Julie 49 565 07/04/20080 people found this helpful
could stencil your house numbers on it too in black for year round use , great idea thanks for sharing! happy 4th!
By Barbara Petty 15 106 07/09/20080 people found this helpful
What a cute idea !!
This will look great on a porch, or near the door.
And your directions were easy to understand.
I believe this is an item that the younger cub scouts could do, and yet it is also one that the older kids would like to do as well !!