Cleaning your carpets will keep them looking nice. Carpet cleaning services and even store bought shampoos can be quite expensive. You can save money by making your own carpet shampoo. This page contains homemade carpet shampoo recipes.
By Vicki Keyes 7 17
While I love all the homemade recipes and ideas here on Thrifty Fun, this one I have to chime in on. I have been in the floor covering industry for 18 years now. In my honest opinion, there is no such thing as a homemade carpet shampoo recipe that will actually work.
Homemade solutions have too much soap in them and our home machines are not strong enough to remove that from the carpet fibers without leaving residue. Residue will cause the dirt to come back with a vengeance, therefore making you clean your carpet way too much. You'll need new carpet in 2-3 years.
Every carpet yarn manufacturer recommends hot water extraction (steam) cleaning by a professional, with equipment strong enough to get the carpets clean and dry.
Plus, if you ever have a problem with your carpet, the manufacturer will NOT warranty any carpet that has been improperly cleaned. Be careful!
By Concerned from Springfield, MO
By Carol 1
What is the portion of water and ammonia to use in the Hoover rug shampooer? Which cleans better ammonia or white vinegar? Thanks very much!
By Carol from Bel Air, MD
Most Recent Answer
April 23, 2011
By the way I have a Cat, so ammonia is out of the question, that would make my cat pee all over the place. LOL
By lindsay lenz 1 1
I have my own carpet cleaning business, and I make my own homemade shampoo. While it is true that too much detergent in a homemade cleaner can be hard to remove, there are ways to make carpet shampoo without detergent. My cleaner is vinegar and astringent based, and I have found there is little it cannot remove. While I tend to agree with the detergent/soap thing (it leaves crunchy carpets and left behind residue can attract dirt) there are ways to make shampoo without having those issues. While I won't say everything in my personal shampoo recipe, combining 1 gallon white vinegar, 1 large bottle of lemon juice, and 1 pint pf witch hazel will make a super effective carpet cleaner that is safe for use in commercial or home shampooers. Also, sprinking baking soda on the carpet before shampooing will remove the worst odors and boost the above mixture's cleaning properties. Below is a before and after photo. I've left a link to my business page if anyone wishes to see more before and after photos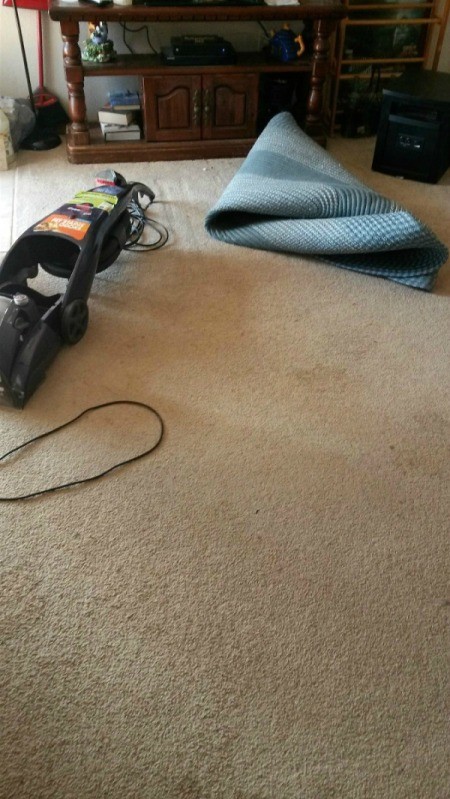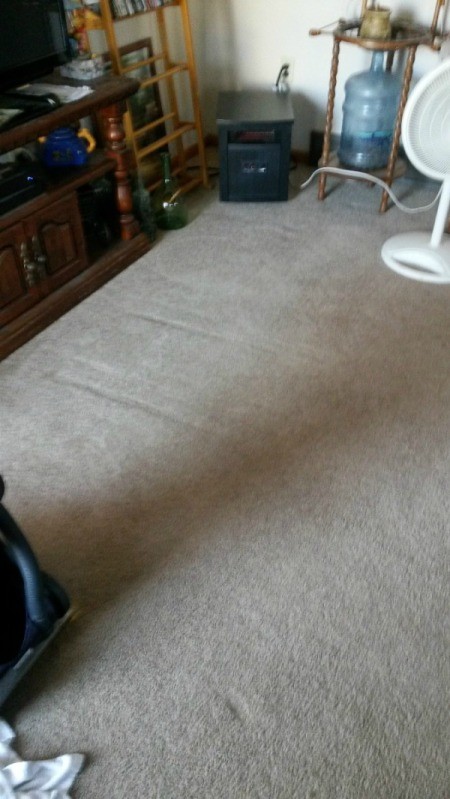 By taterbabie 1
To clean carpets, I use 1 cup of Clorox 2 (non chlorine bleach alternative) and 1 cup alcohol then fill the carpet cleaner with hot water.
Editor's Note: Do not mix regular chlorine bleach with alcohol or other common cleaners as hazardous gases may be created.
---
By Laura Brown 2 27
I have been using Mean Green to shampoo my carpets for years. I use about 1/2 cup per gallon of water and it doesn't clog up your pump like pine oil will.
If you have pets, add 1/2 cup vinegar to that to help with pet odors. It is also very good on pet stains. Spray full strength on the pet stain and absorb all you can; then do it once more.
By Laura B. from Jonesville, LA
I have become a big fan of using vinegar and baking soda to spot clean my carpet. It works wonderfully. Can anyone tell me how I can use my carpet cleaner to do the whole room without chemicals?
By Karen
Most Recent Answer
By lindsay lenz 1 1 Flag
January 22, 2015
Sprinkle the whole room with baking soda. Then in a home carpet shampooer fill the shampoo cartridge full with this mixture. 1 gal white vinegar, 1 large bottle of lemon juice, 1 pint of witch hazel, and 1 cup peroxide. This will yield almost 1.5 gallons. This mixture works very good and is safe for all carpets. I use it in my carpet shampooing business, and have had amazing results added bonus: there is no detergent, so you wont be left with crunchy stiff carpet. Www.facebook.com/lenzcarpetshampooing. A link to my business page so you can view before and after photos of carpets and upholstery cleaned using this mixture.
By badwater 263 654
One day while rummaging thru my extra freezer in the back of my house. I sat a 12 oz. can of frozen orange juice up on the top of the freezer, forgetting about it. A few days later, I heard a noise. What I found was a partial can of thawed orange juice on top of the freezer, and the rest had run all down the front of my freezer and into my light gray carpet. I was lucky that it didn't explode onto the ceiling area. What a mess though! My question is --- does anyone know what takes orange juice concentrate out of carpet? Many thanks to those who answer!


Terri
Most Recent Answer
By guest (Guest Post) Flag
July 7, 2006
I know that when I had pets, and they did their liquid business on the rug..I used ginger ale or club soda. Baking soda may help, too. and oops for the Orange Juice. I have done that...we now store our cans (of frozen juice) in ziplock type bags. Just make sure they close.
By katznana 1
I just bought a new carpet shampooer and need some recipes for good carpet cleaner. I have multiple pets and stains. It is old carpet, very used, when we bought our double wide.
By katznana
Most Recent Answer
By Kelly M. F. 5 Flag
November 15, 2014
I believe. A home machine will be just as effective. Also I left out use vinegar for the pet odors. In your solution.
Can you really put boiling water in the plastic tank on a cheap Hoover carpet cleaner without hurting it?
By Patricia
Most Recent Answer
I am so done spending $15 for a tiny bottle that doesn't even work very long for my Kirby vacuum. Does anyone know how to make the foaming cleaner, that I could pretreat with and put in the machine? Thanks!
By Kristin
Most Recent Answer
September 8, 2013
Having long been a Kirby fan, I understand your feelings about the shampoo. I use Martha Gardiner's Country Homestead Eucalyptus Woolwash Liquid. It has cleaned old stains that even proffessional cleaners have been unable to shift.
One of the reasons for its great success is that it is a non-rinse product, therefore it doesn't leave any nasties behind. Just rub a little of the undiluted product into the stain first if it's a bad one and then use in the same quantities as your original Kirby product i.e. 3 capsful to each tank of warm water.
Another inexpensive option is to scrub stains with pressure-pack shaving foam. The best specific carpet cleaner I've ever found is Carpet Power. By the way its co-product, Shower Power is fantastic for removing lime and calcium from windows that have been sprayed with hard water from sprinklers and it works just as well - and safely - to remove similar white water marks from car duco. Just a tablespoon or so into a couple of inches of water in the bottom of an ordinary household bucket - slop a sponge into it and wipe off the marks. Rinse as usual and voila! Good luck!
By b.garrett 1
I have a Bissell pro-heat 2x and I need the measures for the borax and vinegar combo to use in the solution tank. The cleaning formula is way to expensive and the carpet seems to attract dirt quicker. Is that because I`ve steamed up the scotch guard? My neighbor has used this site for help and recommends you.

B. Lou from Durham, NC
Most Recent Answer
February 25, 2015
Actually Bissell cleaners are equipped with Scotchgard, and it keeps your warranty on Scotchguarded carpets in tact!
By Lisa 1
How do you get a dirt stain out of carpet?

Lisa
Most Recent Answer
By guest (Guest Post) Flag
September 10, 2007
I find that spot removers for my dog's accidents don't get rinsed properly and the cleaner residue attracts dirt again. Every so often I get out my Hoover carpet cleaner and just use hot water. It is unbelievable how many suds come up from those spots. But over the years I don't think I will be able to get them completely rinsed. I also like the Spot Shot. Follow the directions on the can.