Kelly Ann Butterbaugh
3

found this helpful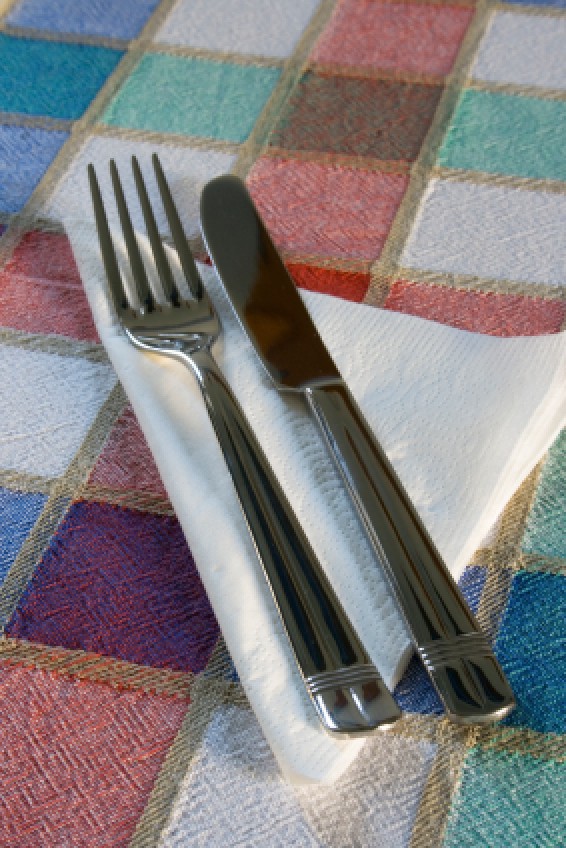 A major expense in any household shouldn't be the napkins that sit on the dining room table, but it is an expense. As we move towards reuse more and more, the question of the paper napkin takes on more importance. They are certainly filling landfills, and each one costs a fraction of a penny.
Yet, fabric napkins are a larger initial expense with endless wash cycles awaiting their lifetime. Which is for the better good, both environmentally and economically?
Paper Prices vs. Fabric Investment
The initial investment for fabric napkins can be daunting. They can be made at home or purchased in the clearance aisle of the store, but they still are going to cost at least $2 a piece.
Remember when selecting your fabric napkins that they will have to withstand many, many washes. A thinly woven fabric or straight end stitching may not hold up to the wear and tear that these pieces will need to endure. A good set of fabric napkins that are not on sale will cost $10 for a pair. If your family has four members, you can expect to dirty a dozen napkins a day.
The paper napkins have an obviously lower initial investment. A pack of 250 generic paper napkins can be found on sale for $1.50. This less than $2 investment will last about 21 days if used at the same rate of the fabric napkins above.
It should be noted, however, that the fabric napkins are larger and will absorb more than the paper napkins, making the average use of paper much higher.
WINNER: paper
Maintenance of Paper and Fabric
There is no maintenance needed for paper napkins - just use and toss. However, they go somewhere once the garbage is collected each week. The Sierra Club calculates that a family of four that eats three meals a day will use 4,380 paper napkins a year. Add that to the rest of the families in America, and you've created 4 billion pounds of landfill waste and harvested 34 million trees. It's not a monetary cost, but it's a notable one.
For fabric napkins, the maintenance is the turnoff for most. Twelve napkins a day turns into 84 napkins per week which is easily two loads of laundry. The average cost for a load of laundry using electrically heated water and an electric clothes dryer is $1.20 per load.
Of course, hanging the napkins out to dry on a line is even more economical, bringing the cost per load down to $0.70. The water, soaps, and electric used are a smaller drain on the environment than the landfill waste of paper napkins, while the economic waste is much higher.
The monthly maintenance of fabric napkins will be about $10. The monthly purchase price of paper napkins is less than $5.
WINNER: environmentally, fabric; economically, paper
Production Problems
There is no money taken from your wallet during the production of paper or fabric napkins. However, there are environmental concerns. While paper manufacturing is a major environmental contaminant, cotton production isn't much better.
In fact, a few eco-friends insist that cotton dyeing and refining does more environmental damage than the manufacture of low quality paper like the type used in paper napkins. However, organic cotton or linen napkins are created in a much safer and cleaner process, so they would be better for the planet than the paper in that sense.
WINNER: Tie
The Overall Winner?
When adding the environmental factor, there is not clear cut winner. Fabric seems like the solution, but it may not be when all is factored into the equation. For convenience, paper napkins win without a doubt. Similarly, the paper napkins win the frugality contest as well.
What seemed like an easy decision may not have come out with the expected winner. Fabric napkins are elegant and scream of environmental correctness, but when it comes down to it they're not the least expensive choice.
June 30, 2011
1

found this helpful
Thanks for all the feedback, this has been very interesting.
My mother in law leaves her fabric napkin on the table for breakfast, lunch and dinner. She then throws them in the hamper and puts out clean ones for the next day. I don't think that the cost of washing napkins is much when added to all the other laundry that I do every week.
@lyonpridej, I agree with a lot of your points about paper napkins but there is a concern with the landfills. My sister worked for her county's Waste Management department for a while and toured the regional landfills. She said that the garbage is not left exposed to the elements, so is never able to decompose. Since then, she tries to never throw anything away that could be dealt with in another way. I'm not that good but it was eye-opening.
I try to put my paper napkins and paper towels into my compost bin. I never seem to have the right green/brown ratio so this helps even it out and they don't go in the garbage. I try to use cloths for cleaning around the house but sometimes a paper towel is the best thing to use.
June 30, 2011
0

found this helpful
I use finger towels and have for years. I don't think I have thrown one away yet. I have moved a couple into kitchen duty. These towels are pretty expensive but if you don't mind what the 'decoration' is on them, you can buy them for (most of the time) less than $1. I just keep an eye out and buy several when I see a real bargain. The tree, detergent, and germ factor don't seem to outweigh the benefits. I don't use any paper products if it can be helped!
July 4, 2011
0

found this helpful
I use Bandanas for my napkins. When washed a few times they are nice and soft. They are a bigger size than most cloth napkins. They are usually 2 for $2 at Dollar General. They come in many colors other than blue or red now. You can buy older (softer) ones at yard sales. Just wash when you do a batch of towels.
June 27, 2012
0

found this helpful
Fabric is the best choice for us. Fabric napkins are very inexpensive at thrift store and garage sales, as so many people just want to be rid of them, and, they are brand new. We have a variety of colors and patterns to use. They can be mixed or matched depending on the occasion. Somewhere between thirty and forty years ago I bought plain fingertip towels, on sale, and used them for many years, through many washings. (It is hard to find plain fingertip towels now though.) All our napkins are easy care. They just go in our regular wash and are easy to fold and put away. My mother and mother-in-law used fabric napkins, but also loved colorful cocktail-size napkins for tea or desserts with company. These pretty napkins made wonderful gifts for both these ladies, and it was a happy compromise for them
June 28, 2012
0

found this helpful
Interesting article. Unless you are an untidy eater (adults) or eating wildly messy things (pizza, fried foods), I don't think you need to use a napkin at every meal. I use both paper napkins and cloth (most from thrift store or I made).
I cut down in all the ways I can; I use paper towels only for draining foods or terribly messy spills (egg on the floor), (for general cleaning, like the stove, or spills on the floor, animal blood, I use clean "rags" which I wash and re-use as long as they last, unless they become horrible after cleaning something like a car engine, in which case I then toss them) (for cleaning table and countertops I have regular kitchen wash cloths, use one a day and wash).
I make a lot of my own cleaning supplies, etc. Everyone should just 'think' about what they do; like do you really need a napkin @ each meal, that sort of thing? Agree that kids are better off anyway, being cleaned up with cheap wash cloths. Paper napkins won't be sufficient and your cloth napkins will become ugly in a hurry.
June 30, 2012
0

found this helpful
We cut up old t-shirts and use as napkins. Absorbent and great for messy kids. They hardly take up any space in the wash. Although not so pretty for company. But I never have to buy napkins!
June 16, 2014
1

found this helpful
I use fabric napkin. Have so many I only wash them once a month. I brought them for less then 10 cent each. So you can by them cheap. Does my table alway match? No. Love the look. Do not buy paper plates either.
June 17, 2014
0

found this helpful
Cloth napkins don't get used up at every meal. They can be used for a whole day, or even longer if the eater is not a slob about it. Paper napkins are often treated with chemicals that hinder their absorbancy. Cloth napkins don't have that. And you can't count the full cost of a load of laundry for cloth napkins either. A family of 4 has about 8 loads of laundry a week, more or less. A couple of cloth napkins a load or a few a week is not going to break the bank.
April 10, 2016
1

found this helpful
I bought a lot of about 80 cloth napkins on eBay for about $12. That was ten years ago, and I'm still using them.
April 10, 2016
0

found this helpful
We also save the extra paper napkins that come from eateries. By law, once the napkins are given to the customer, they cannot be taken back and must be thrown away. We even take home the napkins we used, if they're not very dirty. Also, we use one napkin several times (not worried about germs, and we don't get sick much at all), and what paper plates we do use, we brush off and use over and over until they're really greasy or just "need to go." Another use for used napkins or paper towels is for mopping spills or drips. I have a container on my counter for mop-up paper. So I don't EVER have to buy napkins, and our paper towel usage is fairly slow.
Read More Comments