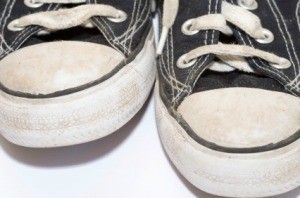 Shoes sometimes get moldy when stored in a damp closet or put away wet. This is a guide about removing mold from shoes.
Ad
---
Solutions: Removing Mold From Shoes
Read and rate the best solutions below by giving them a "thumbs up".
As you can probably tell by my name, I love Son of Mars sneakers. My favorite pair is a grey, gold, white and blue mix. To get the mold off, I suggest getting conditioner or cleanser, water, a rag, and a toothbrush. Also have vinegar and straight bleach. Use the rag to apply the cleaner or conditioner to the mold, then scrub the mold off with a toothbrush. After this procedure is done twice, wipe shoes down with rag and alcohol wipes. Apply windex to shoes then scrub with toothbrush again. Let them sit in the sun after blowdrying them thoroughly. After they are dry, coat the soles in clear nailpolish to prevent further mold or creases.
Give a "thumbs up" to the solution that worked the best! Do you have a better solution? Click here to share it!
Questions
Here are questions related to Removing Mold From Shoes.
My husband is a teacher. On the first day of school they had a small kitchen fire and the whole school got sent out to stand in a torrential downpour for 20 minutes. There was limited damage to the school, but my husband and his nice leather shoes got soaked!
He set them by the bed and two days later they are fuzzy with mold inside and out. These are his favorite shoes and were quite expensive. What's the best way to permanently remove the mold without ruining the shoes?
By Stephanie from Hillsboro, OR
AnswerWas this interesting? Yes No
Ad
---
---
Best Answer
By Sharon Cross 19 61 09/17/20100 people found this helpful
Wash the mold off with straight white vinegar.
---
I have a large number of white satin shoes that have mould growing on them. Do you know of a method or solution to clean them?
By Chris
AnswerWas this interesting? Yes No
Ad
---
---
Most Recent Answer
By FranFran 3 7 06/02/20120 people found this helpful
I am not certain that this solution will work, but it is certainly worth a try. Whenever I clean bathroom grout that has mold, I spray a stream of straight bleach which quickly begins to kill the mold and causes it disappear shortly afterwards.

Since the shoes are white, I would think a couple of applications of "weakened" or even "straight" bleach over the mold just may do the trick. I do know, however, that bleach can turn things yellow in color, so I would approach this cautiously.

Here's my idea ... (1) Put on rubber gloves; (2) have two white washcloths available and a "dippable" container of clean, clear water; (3) small bowl of pure bleach.

Dip one finger with washcloth into the bleach and swiftly wipe the mold. Immediately immerse the other washcloth in clear water and wipe away the bleach. This may need to be done several times, but should remove the mold. This should be done quickly, as satin is a somewhat delicate fabric.

Should any discoloration occur, why not swipe the entire shoe with the bleach and balance out the color? Hopefully, it will not become discolored.

The shoes are not wearable with the mold on them, so I would try the worst pair of shoes as the "sacrificial lamb". What do you have to lose except a pair of moldy shoes? Please let me know if this works out successfully for you.
I discovered that my high heel shoes have mold on them. I have not ideas how it got there, because they are in their original boxes and I have them in my closet. My closet had no mold other than a little spot, so I don't know how or what to do. How do I remove the mold from my shoes and handbags?
By Arlene
How do I remove mold from my fabric and vinyl shoes?
By Lena
Archives
Thrifty Fun has been around so long that many of our pages have been reset several times. Archives are older versions of the page and the comments that were provided then.
We have a rather dry house, but in our bedroom closet, almost all of our shoes have the (contained) dry mold. How do you get rid of mold without ruining the material (leather, fabric, etc.)? I have started to expose the closet to more sunlight, but it's not really going away. Any ideas
Shannon
---
RE: Removing Mold From Shoes?
Mould doesn't grow without moisture so if this is truly mould there must be a moisture source. If its not rising from the foundations of your house or coming through the walls, in which case you would see it on the walls too, its maybe coming from the inside of the house. Do you ventilate your kitchen when boiling things on the stove? Do you vent your clothes dryer to the outside of the house?
You can only prevent it by increasing ventilation/through drafts to carry the moisture away. Try opening the bedroom window for an hour each day with the closet door open. Cleaning the shoes and bags before storing may help too, a layer of wax on the surface may keep the damp air off the leather. Have you tried removing everything and washing the closet down with a fungicide to kill the mould spores? Just some thoughts, may be no help at all.
Regards. Jo (10/17/2004)
By Jo Bodey
RE: Removing Mold From Shoes?
When you wear shoes there is perspiration from feet. Allow shoes to air out before you put them away, and try not to wear the same pair 2 days in a row. You can try sprinkling baking soda in them, and also the drying packets that come inside products like vitamins (those little cylinder-like things that say "Do not consume"), and new leather goods. You can buy silica gel, a desiccant at craft stores, too, and make little sachet like pouches to put into shoes before you store them. (10/17/2004)
By lindal
RE: Removing Mold From Shoes?
In answer to your question about what to use to get rid of the mold without ruining your material, I have a possible solution. Try to remove as much of the mold as you can with a dry nylon bristled brush or a dry cloth. Then, wipe undiluted white vinegar over the area with the mold. This works very well with smooth leather and seems to somewhat prevent the mold from returning.
However, do not use the vinegar on nubuck or suede, as it will ruin the nap of the material. Also, I have never tried this on fabric shoes and can't say whether or not the mold would permanently stain the fabric when vinegar is added. In the case of the nubuck, suede, or fabric, at least some of the mold can be removed with dry brushing. I also use Damp Rid in closets, and it is calcium chloride and can be purchased in places like Walmart in the household cleaner aisle. (10/18/2004)
By Tori
RE: Removing Mold From Shoes?
I recently have had the same problem. I washed all my shoes in washing up liquid and gave them a good scrub then washed them in a bleach solution. After polishing they seem to be fine. Works OK on tough leathers, but wouldn't work for fabric shoes though.
Rachael (11/14/2005)
RE: Removing Mold From Shoes?
Rub lightly with a slightly damp microfibre cloth eg. Enjo, Sabco, etc. Test on the heel first. This worked brilliantly on my favourite chocolate brown fabric shoes and it only took a minute. (10/14/2007)
By Fiona
RE: Removing Mold From Shoes?
There is a new product called Odorxit ClO2 that produces a gas called chlorine dioxide. It kills mold with the gas produced by a little packet of powder. This is really neat. Just a little 5 gram packet will do a whole closet or bathroom. Try it you will love it.
Rahe (02/19/2008)
By RaheMeyer
RE: Removing Mold From Shoes?
I've used Damp Rid for years in closed drawers and chests both in Florida and in Europe, but have not needed it in my ventilated closets until yesterday. Once you have containers, you may also refill with calcium chloride, which may be found in enormous quantities at any swimming pool products supplier. Once the obvious mold is removed from my shoes, I'll be putting containers of Damp Rid on my closet floors. Air circulation is important in discouraging mold also. (02/26/2008)
By Sandra in Florida
RE: Removing Mold From Shoes?
Just removed mold from my riding boots, Simple Green is magic. it took the mold off straight away and then I washed them with soap and left them outside to dry. (10/16/2008)
By Liz
My closet is damp and has caused my boots and shoes to mold. Some of my boots (leather and patent leather) aren't too far gone. Is there any way to save them? What product or process can I use to clean the mold off without damaging my expensive shoes?
By palmerkg from Brooklyn, NY
---
RE: Removing Mold From Shoes
You want to do something quick with the shoes as you don't want mold spores drifting around. They can do incredible damage to you and your home. Get Damp-Rid for your closet, and leave the door open more often for air to circulate. (07/24/2009)
By mulberry204
How do you remove mold from shoes?
By mardie09
---
RE: Removing Mold From Shoes
Good old fashioned Vaseline will do the trick. Apply fairly heavy with a cloth, rub it in, then wipe off. A plus is that it softens the shoes. Go lightly on the patent leather ones though. Hope it helps. (09/16/2009)
By skins44
How can I get mold off of very expensive gold fabric shoes? They were left in the basement and got damp. I don't know the type of fabric, but it's the stuff most expensive fancy shoes are made of. My daughter has a wedding on the weekend. Thanks.
By Jill from Ontario, Canada
---
RE: Removing Mold From Shoes
Check out this post by Suntydt from Tazewell, TN from December 2009:
thriftyfun.com/tf317227.tip.htm
. She has some great recommendations and one of these, if used very gently, may work for your special shoes. Don't give up hope. I think I'd try the alcohol and water or a vinegar and water (maybe a little borax mixed in) first. I'd dab on a solution of your choice with a cotton ball, not to soak it though. Let it sit for a while and then take a damp wash cloth and gently wipe of the mold.
Another possible solution would be to take one shoe at a time and put it in a large plastic bag, put in some baking soda or corn meal, close the bag and shake hard for a few minutes. Take the shoe out and wipe off whatever you use. I've heard that might work. I do have a pair of shoes in the same condition and I may try that trick before the liquid. Hope this helps. (04/18/2010)
By Corine