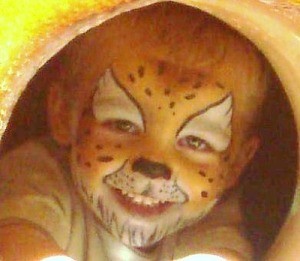 My grandson is at Storyland with his face painted as a jaguar. Rrrrrrr.
By Cindy
By cindy
Ad
---
Feedback Forum
Feedback about this article is posted here. Want to contribute? Click above to post feedback.

By Beth [25]09/24/2010
I love it! He looks so happy he brought a big smile to my face too!

By Gabrielle [2]09/24/2010
Whoa! When I first looked, I thought it WAS an animal!

Excellent!

By Lee09/24/2010
What a good job, and a real Cutie Pie to show it off.

Thanks.

Lee

By Wayne09/23/2010
Now that is cool.
Post Feedback
Add your voice to the conversation. Click here to share feedback.