February 21, 2005
Excellent insturctions. Thanks so much for the website.
Tressa
thr476068 Flag
February 21, 2005
You are welcome Tressa! It looks like fun and please post a picture of your tote bag that you make when you can. We all will benefit from your inspiration!
<b>http://romantichomesmagazine.co.nr</b>
February 21, 2005
Excellent instructions. Thanks so much for the website.
Tressa
By guest (Guest Post) Flag
February 21, 2005
In response to your needed help with the tote bags... My mother in law has been making those for a decade or more. She takes her grocery bags and flattens them out nicely and then cuts 1 inch slices across the bags to make loops of plastic, which she then hooks all the loops together end to end making a long rope of plastic bag loops, which she then rolls into a ball like you would yarn and from there she simply crochets the bags. She has made an assortment of different totes, bags, and purses. Hope this helps. Happy bagging!
February 21, 2005
When I was at a family reunion last year I saw one of the bags done using Wal-Mart bags. It was all blue background and had the smiley face logo on the front. Someone out there has that pattern. Maybe they will see this and reply. Good Luck. GG Vi
By guest (Guest Post) Flag
February 22, 2005
Hi, When I read this request I was looking forward to reading the replies, but although the replies here are really helpful, none of them answer the original request which was to NOT crochet and to use a cardboard loom so they can be weaved...the directions here are for crocheting. I also was interested in it because of the no-crochet-requirement. Does anyone have any information on the original request as it was requested? I haven't been able to find anything on the internet. Thanks very much
By Susan Sanders-Kinzel 10 2,498 Flag
February 22, 2005
My suggestion is to either make two of the rugs and sew them together with another plastic bag strip -or- make the loom larger and fold it and sew the open ends together. For the strap just braid plastic bag strips together and tie it to the main part.
My original article is: http://www.thriftyfun.com/tf517076.tip.html
Stella
By guest (Guest Post) Flag
February 28, 2005
look at the following web site for directions on making tote bags from plastic bags: http://crochetabout.com
By guest (Guest Post) Flag
October 23, 2008
Here's a bag I made. It was really easy and I got the pattern from myrecycledbags.com.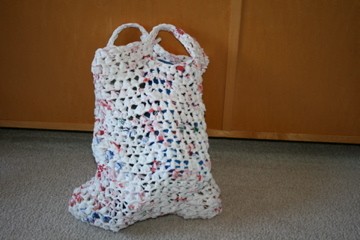 By guest (Guest Post) Flag
December 18, 2008
Thank you for this and I have made one but no camera. Sorry,
but thank you very much
Damien.
February 10, 2010
I have been looking for the exact same project to teach my middle school class on Friday, but nearly all of these projects require crocheting which, I'm sad to say, a majority of the kids won't pick up on fast enough to complete the project in one day.
I found this one, http://www.ehow.com/how_2087476_make-fused-plastic-bag-tote.html
but you'll either have to iron the pieces beforehand or have enough irons so multiple kids could do it at once (and trust them to not burn themselves). And either have multiple sewing machines or have the kids sew them together by hand.
The weaving project seems more plausible, but that depends on the number of kids and if you have enough cardboard to make looms for everyone. But weaving one big piece, sewing up the sides with plastic bags, and braiding in handles wouldn't be too difficult.
I'll repost with what we end up doing and how it works out with the kids.