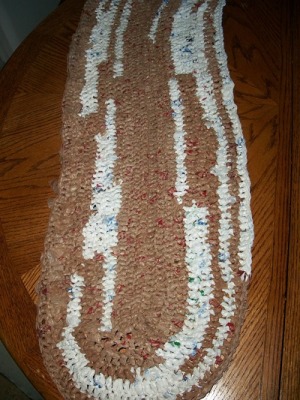 There are a few different ways to make a plarn hooked or braided rug reusing hundreds of plastic bags. This is a guide about making a rug from plastic bags.
Ad
---
Solutions: Making a Rug from Plastic Bags
Read and rate the best solutions below by giving them a "thumbs up".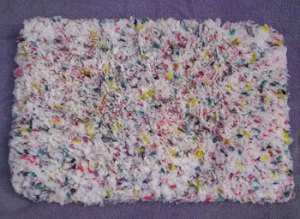 We get plastic bags from all of our stores when we shop so I decided to put them to use. I found my hook rug canvas and cut my bags in 4 inch by 1 inch strips to make a plastic bag rug.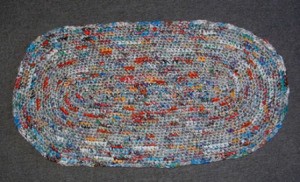 I have several free patterns for crocheting rugs using plastic bags or plarn at my blog. I have attached one oval rug pattern link.

View This Page
This page is not on ThriftyFun, but we had to share it. Be sure to come back and rate it.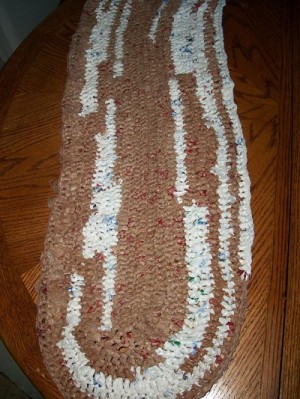 This is a rug we use for muddy shoes. It is easily rinsed clean and drip dried.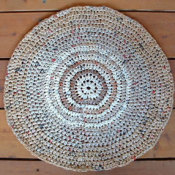 View This Page
This page is not on ThriftyFun, but we had to share it. Be sure to come back and rate it.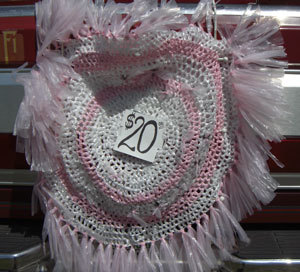 There were plenty of reusable shirt bags behind a clothier here and a handy video to make short work of making the plarn necessary to create handmade items.
The pink areas are made from 30 bags for a dollar plastic kitchen bags providing much needed color for interest! The fringe took nearly all of 3 whole pink bags.
My problem is that I am not in a zone that I can sell retail from which I had hoped. So, on Sundays across from me at a park, it is busier than any other day. Taking advantage of that, I backed my truck up to near the end of my driveway, leaving enough room for 1 other vehicle to get off the street.
I have an over-the-door towel rack that I don't use for towels that fit nicely over the top of my tailgate and I fastened my crocheted rug to it with with my price tag clearly visible! No one bought my rug, but I know I can at least TRY, which is 1/2 the success!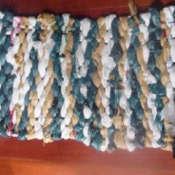 This rug is pretty is easy, really cool and costs next to nothing to make.
Supplies:
Plastic shopping bags (like the ones you get at the grocery store)
Large garbage bags or sturdy ribbon
Rectangular piece of cardboard a little larger than the size rug you wish to make.
Yard or meter stick
Pencil
Scissors
Directions:
1. The cardboard will be used to make a loom. The rug will end being about three inches smaller than the piece of cardboard you use. Cut notches along the top and bottom of the cardboard. To create the notches draw a line 1 1/2 inches below the top and bottom edge. Make a mark every 1 1/2 inches along each of the lines you just drew. Cut a notch as wide as your thumb at every mark.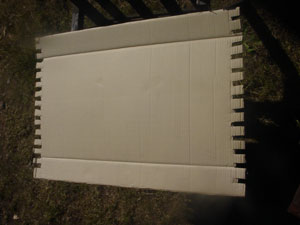 2. Cut large garbage bags in long strips about six inches wide. Tie all the strips together into a long piece. I ended up using three garbage bags. You can also use large, sturdy ribbon.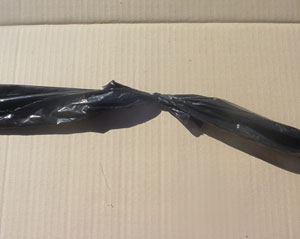 3. Wrap the garbage bag (or ribbon) around the front and back of the cardboard using the notches you cut into the cardboard to hold the bag in place. Then tie the ends together on the back diagonally. Your loom is now ready for weaving.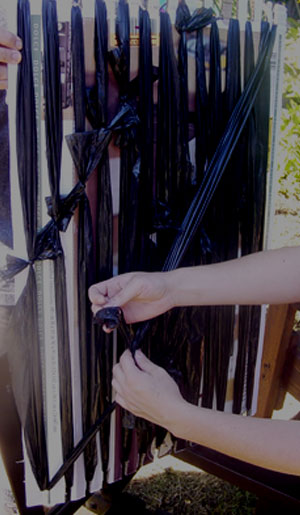 4. Cut the handles and down the side of shopping bags to flatten them out. The bigger the rug you make the more shopping bags you will need so make sure you have a lot handy in each color that you want to use on your rug. Different stores may have different colored shopping bags. For example, the blue bags in my rug are from Wal-Mart.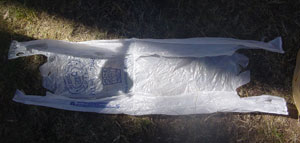 5. To get started, tie 3 bags together.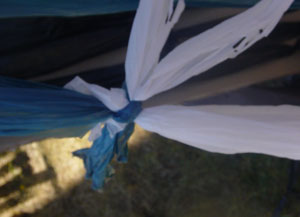 6. To start weaving, tie one end of the shopping bags to the top corner of the loom (don't tie it to the cardboard, tie it to the garbage bag or ribbon), then weave the rest of the shopping bag over and under the garbage bags (or ribbon) strips. Weave each row in an opposite pattern as the previous row. Attach more shopping bags as you go.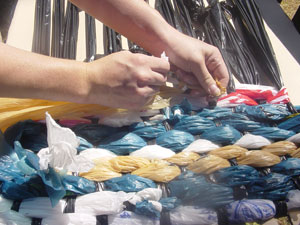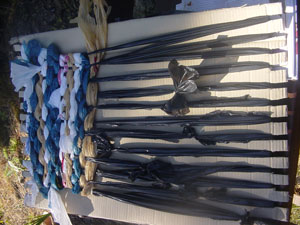 7. When you have finished weaving and have filled up the loom, tie of the end in the corner. Your rug should look something like the picture below.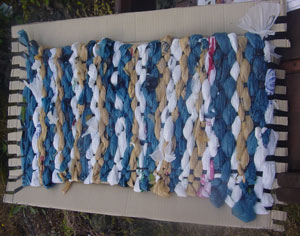 8. To remove the rug from the loom, cut the garbage bag (or ribbon) across the top edge of the loom. It is best to cut them two at a time, then tie them together before cutting anymore.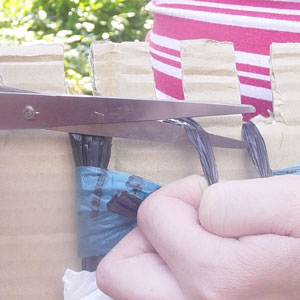 When you are finished, your rug should look something like this!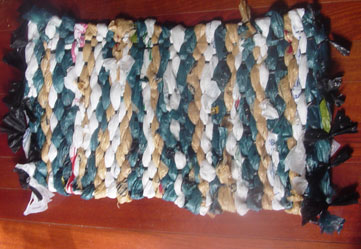 You can reuse the loom for your next rug.
Give a "thumbs up" to the solution that worked the best! Do you have a better solution? Click here to share it!
Questions
Here are questions related to Making a Rug from Plastic Bags.
With regards to the plastic bag hooked rug craft project, what do you put on the back of the rug so it doesn't slip?
How do I make a rug from plastic grocery bags?
I would like to make a rug using plastic grocery bags. I need a crochet pattern. Thank you.