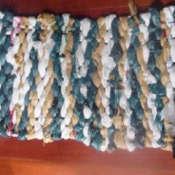 This rug is pretty is easy, really cool and costs next to nothing to make.
Supplies:
Plastic shopping bags (like the ones you get at the grocery store)
Large garbage bags or sturdy ribbon
Rectangular piece of cardboard a little larger than the size rug you wish to make.
Yard or meter stick
Pencil
Scissors
Directions:
1. The cardboard will be used to make a loom. The rug will end being about three inches smaller than the piece of cardboard you use. Cut notches along the top and bottom of the cardboard. To create the notches draw a line 1 1/2 inches below the top and bottom edge. Make a mark every 1 1/2 inches along each of the lines you just drew. Cut a notch as wide as your thumb at every mark.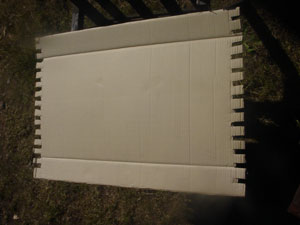 2. Cut large garbage bags in long strips about six inches wide. Tie all the strips together into a long piece. I ended up using three garbage bags. You can also use large, sturdy ribbon.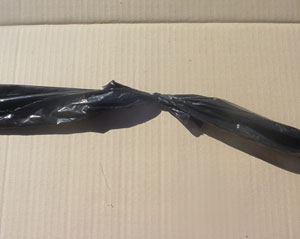 3. Wrap the garbage bag (or ribbon) around the front and back of the cardboard using the notches you cut into the cardboard to hold the bag in place. Then tie the ends together on the back diagonally. Your loom is now ready for weaving.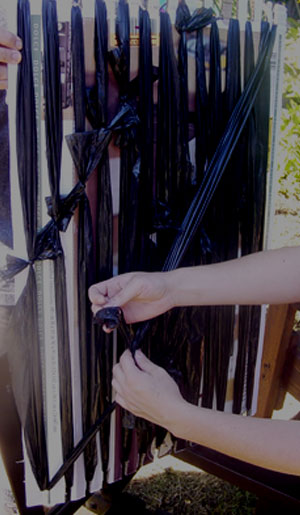 4. Cut the handles and down the side of shopping bags to flatten them out. The bigger the rug you make the more shopping bags you will need so make sure you have a lot handy in each color that you want to use on your rug. Different stores may have different colored shopping bags. For example, the blue bags in my rug are from Wal-Mart.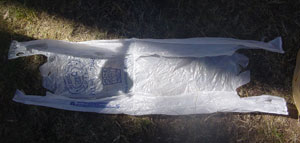 5. To get started, tie 3 bags together.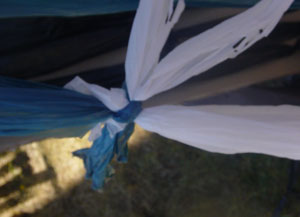 6. To start weaving, tie one end of the shopping bags to the top corner of the loom (don't tie it to the cardboard, tie it to the garbage bag or ribbon), then weave the rest of the shopping bag over and under the garbage bags (or ribbon) strips. Weave each row in an opposite pattern as the previous row. Attach more shopping bags as you go.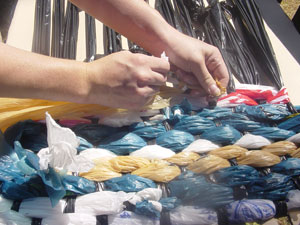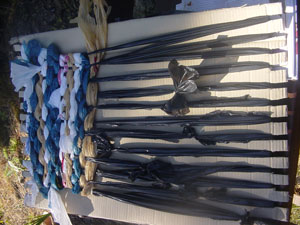 7. When you have finished weaving and have filled up the loom, tie of the end in the corner. Your rug should look something like the picture below.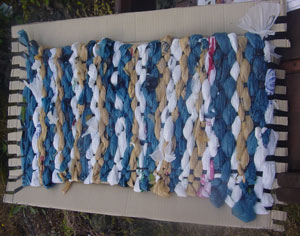 8. To remove the rug from the loom, cut the garbage bag (or ribbon) across the top edge of the loom. It is best to cut them two at a time, then tie them together before cutting anymore.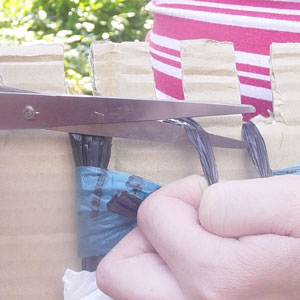 When you are finished, your rug should look something like this!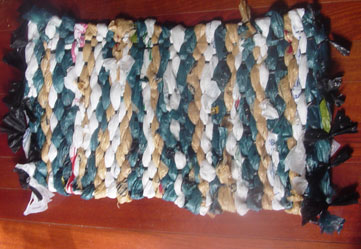 You can reuse the loom for your next rug.
About The Author: Stella is currently a college student who works with children. She contributes craft ideas to ThriftyFun.com. If you have any craft ideas that you would like to share with Stella and ThriftyFun community, please submit them here.
Feedback
Feedback about this article is posted here. Want to contribute? Click above to post feedback.

By cheapest mom ever01/03/2009
i've been trying to find a way to make a rug for my son out of all his old baby blankets. found it!

By odis (Guest Post)04/21/2008
Thanks! Long ago i saw a page on how to make blankets for the homeless out of plastic bags like this. (the air was trapped inside to provide insulation) and if you have seen it I sure would appreciate you telling me where to look.
Thanks, ogm333 AT yahoo.com

By ThriftyFun11/17/2004
A smaller version of this could be used to make placemats.

By Maggie (Guest Post)07/19/2004
I found this very interesting.

I once saw a pattern for a shopping bag using plastic shopping bags that were cut into strips and crocheted together.

Would anyone have this pattern? Or instructions on how to do this?

Thanks,

Maggie

By Ziggee07/19/2006
I love this idea.

Zig

By Betty. (Guest Post)09/22/2007
I have been looking for a project for the girls at my church to raise money. I think this is great.

By Matt W. (Guest Post)11/05/2008
i love this rug.

By Rebecca (Guest Post)11/23/2007
Very cool! I don't have any plastic bags because I use them for trash bags (I'm too cheap to buy trash bags). I am going to try the loom using cloth. I have lots of stained tablecloths and sheets. I hate to throw things away and need rugs anyways. Thanks

By Nadine (Guest Post)03/29/2007
I would like to know how to plait a shopping bags.


By omg lol (Guest Post)11/03/2007
this was awsome so cool to see how it was made lol!

By Maureen (Guest Post)07/18/2004
THIS LOOKS WONDERFUL!!!!!!!!!!!!!!!!!!! :) :) I would love to try this.great idea!!!! dont waste anything!!!

By ..... (Guest Post)01/19/2009
It's very nice. You help me a lot with my project!

By ThriftyFun03/30/2005
Don't throw away all those plastic bags, you can make a throw rug out of them by twisting them flat and weaving them on a loom or crocheting.

By iliana blair

Editor's Note: This is true, click the link below for instructions on how to make a rug out of plastic bags.

By Sarah (Guest Post)05/09/2008
Thanks I really needed a plastic bag craft for my 5th grade project on global warming. This is great!!1

By mary ann (Guest Post)07/28/2004
For maggie....I have the instructions for the crocheted plastic bag rug. Ialso have one for tote bags. Just contact me at maboroz (at) yahoo (dot) com

By ThriftyFun07/21/2004
Here are some links for Maggie, who asked for patterns using recycled plastic bags:

http://home.inreach.com/marthac/plastic.html

http://frugalliving.about.com/cs/craftshobbies/a/blpcrochet.htm

http://www.knitting-crochet.com/crochet/plabag.html

http://geocities.com/Heartland/6910/cplbag.htm

http://www.knitting-crochet.com/crochet/totbag.html

http://community-2.webtv.net/spclk83/Informationon/

http://community-2.webtv.net/spclk83/PlasticBagCrafts/

http://www.mkdesigner.com/plastic_rug.html

Nikki

By Ryam (Guest Post)02/02/2009
Great idea, I have something to do for my science project now.

By SBflogirl11/08/2007
I'm a brand new member of ThirtyFun and so thrilled to be. I absolutely loved this craft idea. Looking forward to your newsletters and I'll be visiting your site everyday. Thanks and keep up the great work. Colleen

By Tammy. (Guest Post)05/13/2007
I had a family get together this week-end. I went into my aunts home and she had one of these! I flipped out begging her for it. Of course she wouldn't give it to me, but did tell me of this site. I was so thankful. So here I am on this site adding this page to my favorites. This is a very good idea. I am now gonna start saving more of these bags. I have been throwing them away. I wish I had more bags to start this! I am going to start this project just as soon as I can find the cardboard. I thank you so much for this site. This is such a great idea to do with my children (who are teens) so we can spend some quality time together! Great idea!

By Iluvplasticcrafts02/15/2010
I am excited to try this tonight. I did want to share though that I found a site that suggests making plastic yarn by cutting bags across the middle, thereby keeping the loop preserved; then intertwining the loops to make long yarn. It creates a much smoother thread then tying the ends together. Here is the page:
http://www.myrecycledbags.com/2007/ ... bags-creating-recycled-plastic-yarn/

By Dee (Guest Post)07/19/2004
http://community-2.webtv.net/spclk83/PlasticBagCrafts/


Your gonna love this site :)
Post Feedback
Add your voice to the conversation. Click here to post feedback.