October 13, 2008
0

found this helpful
there are you tube videos & other video sites probably have the how-to for cutting plarn !
After I watched a vid, cutting my bags down to roll up to crochet was a breeze !
By kalene (Guest Post)
October 13, 2008
0

found this helpful
This is hilarious. We had this stuff all over our house when I was growing up. My mom even made one of those floppy wide brim sun hats like they used to wear in the 70's out of bread wrappers.
She wore it in our boat while we were water skiing and it flew off, unfortunately it weighed like 6 pounds and sunk to the bottom before we could get the boat turned around to try to get it. I wasn't sad to see it go.
October 14, 2008
0

found this helpful
I have a picture tutorial here www.myrecycledbags.com/.../ on how to cut the plastic bags to create plarn. I use the loop method. Another tip is to cut your bags on a paper cutter as it really speeds up the prep time for creating the yarn to make these recycled projects.
October 14, 2008
0

found this helpful
These really are very handy. My grandmother used to have them. I don't think she actually made them -- I think a friend made them.
They are also warm on the feet , so great to put in places like an uninsulated porch or cement garage floor, so you can take your outside footwear off, and not freeze your toes.
By semajrn (Guest Post)
October 15, 2008
0

found this helpful
Cindy,
I have crocheted with recycled plastic bags before, but love your rug idea. I don't know what your abbreviation " sm" means in Rnd 2.
Ch 2, Hdc in sm st, and you don't have it listed in your abbreviations. Thank you for your pattern and your response to me.
October 16, 2008
0

found this helpful
The abbreviation "sm" means same. Another words crochet in the same stitch again. Sorry but that must have gotten dropped from my abbreviation list. I have added it now. Thanks for catching that.
Cindy
November 16, 2009
0

found this helpful
Plarn is very easy to make and use...one of the best sites I've found to show you to make it using clear instructions is owned by a young woman named Rachel...her site address is: www.crochetspot.com/
She is very helpful too if there is something you don't understand. She has pictures that take you step by step..Hope this helps and happy plarning..Lavenda
October 12, 2010
0

found this helpful
O.K. I love your rug, but here is the "BIG" question. About how many bags do you need? I would love to do this too. I have made the rag rugs for years using fabric. I've heard a large tote take 250 bags. That's a lot.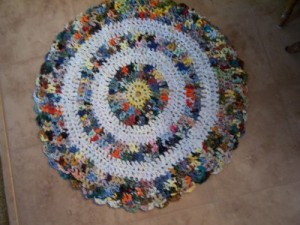 October 14, 2010
0

found this helpful
I agree that these are great and a wonderful way to recycle all those plastic bags. I've made several, but seem to have problems with circular ones, so I usually just crochet in rows. My husband keeps one in the back of his pick-up in case he has to get something that is near the cab, he says it saves his knees. My cats like to sleep on them on the porch. They make great scratching rugs and hold up to the claws really well. I use them to line/insulate the floor of my cat's "dog" house (I feed abandoned cats in the neighborhood and make beds in doghouses to keep them warm in the winter until I can find a home for them.
I use them for floor rugs in our utility room, water won't hurt them. I keep one by the back door to set dirty shoes on. My list goes on and on. I use all plastic bags, including those that we get newspaper in, the bags from apples, bananas, frozen veggies, bread, etc. If the plastic is thick, I just cut the strips narrower; if the plastic is thin, I cut the strips wider. I've also used several different size crochet hooks, including a jumbo one for rugs. I've made several patterns from different colored plastic bags. I've also made purses from solid colored bags and carry-all/grocery bags too. I am going to be upset if our state bans the use of plastic bags for groceries. I prefer using a half-double crochet stitch.
August 24, 2011
0

found this helpful
This looks like a great idea but I am not sure what you mean by "having loops of plastic". Is there a certain way of cutting the bags? I have so many and also have a dog so would sure like to put this to use. Thanks much and have a great day.
Willi, at
willi126@shaw.ca