Any ideas for crafts that use large quantities of plastic shopping bags? I can't stand to throw them away, but have run out of uses for them!
Heather
Answers:
A Use for Grocery Bags
I use grocery bags for packing away china and glass. It keeps my hands and the items cleaner than newspaper. I also stuff them inside my shoes that I am storing to help retain the shoe's shape. (02/03/2001)

By katkitkat
A Use for Grocery Bags
I use them when picking up after the dog either in the back yard or on a walk. Put your hand in the bag and pick up his poop and wrap the bag around and tie the handles. Your hands never touch the stuff inside. I always have one in my pocket when taking him for a walk. (03/31/2004)

By Joan
A Use for Grocery Bags
I keep a ton in the car. We use them to get rid of dirty diapers, fast food items, etc. We also have them on hand to put wet clothes in when coming back from the pool. To put tools in that get greasy when changing a tire on the side of the road. These are an absolute in the car neccesity. (02/14/2005)
A Use for Grocery Bags
I too started keeping plastic grocery bags in the back of my mini van. I made myself a nice convenient holder by cutting a hole big enough for my hand to fit in a empty (clean) milk jug. You can stuff quite a few of those bags in it and it doesn't take up much space and is lightweight. They came in quite handy yesterday when I made an Aldi's grocery trip! I also like having the bags for the garage sales that don't bag your stuff. They are great for trash when on the road, diaper disposal, any messy sort of disposal. I also like to use a grocery bag when I'm peeling and cutting up veggies. I will lay that near my cutting board and put the peelings and such on it and then throw the whole thing away or those of you who compost could put in the bag and then take out to the garden. (01/20/2006)
A Use for Grocery Bags
Everyone only mentioned plastic bags. I re-use those too, but, I have used paper grocery bags for many things as well. I have even made Christmas ornaments, gift tags and bags. I use the wrong side to wrap pkgs. to be mailed. I use them mostly in crafts. I'm a very crafty lady. (07/31/2006)

By Judy
A Use for Grocery Bags
This is a use for plastic grocery bags that you all will probably laugh at. I spread two bags out longways and tie together, then I use to tie around the handles of my frig. My son is in-to opening the side x side and getting in the ice bin. To reach tho he is climbing inside and up the little bins in the door. I couldn't have him doing this and tracking dirt into the freezer, not to mention that chomping on ice is not good for his teeth. I figured out a way to stop him! Of course, it keeps me out too but if I've tied too tight to easily get off, then I just grab scissors and cut off. I've got lots of those bags!(08/31/2006)
A Use for Grocery Bags
Many years ago (and I do mean many), my grandma used to crochet plastic bread bags into rug shapes for the back door. I imagine other plastic bags could be used for the same thing. They were very sturdy for scraping muddy shoes, and when they did fall apart you just threw them out and made a new one.
Plastic bags can also be used for a painting technique. First you paint your base color. You take a second paint color, and using a scrunched up bag, dip the bag in the paint and apply it to the wall in a patting motion. It is similar to "sponge" painting but gives a more modern look.
I have also seen on HGTV, using a glaze in the second color, you paint the whole wall with the glazed/color mixture, then lay plastic (large pieces like a garbage bag) flat on the wall. You make it wrinkled and smoosh it around, then peel it off the wall. It leaves a pattern of lines and wrinkles. This type of technique would be good on a wall that you were trying to hide imperfections. (01/31/2007)

By Paula
A Use for Grocery Bags
My mother would put plastic bags over our socks when we were children growing up in the cold midwest, this way our rubber snow boots would slide on easier. When my kids played outside in the mud or wet Seattle weather, or when it snowed, I put plastic bags over their socks to keep their feet dry & warm! Simply tuck the rest of the bag under their pants & you'll never see it. As an adult, I still wear plastic bags over my feet when it snows. It sure helps keep your feet warm under tennis shoes & helps your feet slide into boots easier!
---> HERE ARE A BUNCH OF GREAT PLASTIC BAG LINKS:
BREAD BAG CROCHET:
http://www.hgtv.com/hgtv/cr_needlew ... article/0,,HGTV_3260_4424124,00.html

ONE OF THE VERY BEST PLASTIC BAG CROCHET SITES: LOTS of ideas!
http://www.craft-central-station.com/projects/general/plastic.htm

PLASTIC BAG CROCHET LINKS:
http://home.inreach.com/marthac/plastic.html

HOW TO CUT PLASTIC BAGS:
http://frugalliving.about.com/cs/craftshobbies/a/blpcrochet.htm

PLASTIC BAG IDEAS:
http://www.frugalliving.about.com/cs/craftshobbies/a/plbaglinks.htm

BEACH BAG, HOW TO JOIN BAGS, THROW RUG, HANDBAG:
http://www.needlepointers.com/ShowArticles.aspx?NavID=593

A "BAG" RUG INSTEAD OF A "RAG" RUG:
http://www.thefrugallife.com/plasticbags.html

GROCERY & BREAD BAGS: ROPE, CROCHET RUGS, EMERGENCY DIAPER COVER:
http://www.bellaonline.com/articles/art35668.asp

BOOT RUG from plastic bags:
http://www.suite101.com/article.cfm/fiber_arts/108403

DRY CLEANER BAG THROW RUG:
http://www.mkdesigner.com/plastic_rug.html

IDEAS for Reusing PLASTIC BAGS:
http://www.hgtv.com/hgtv/ah_moneysa ... article/0,,HGTV_3131_1392001,00.html

A PICTURE OF A BEAUTIFUL PURSE MADE FROM A PLASTIC BAG:
http://blog.etsy.com/?p=72

A CROCHET FORUM: answers questions about plastic bag crochet
http://www.crochetville.org/forum/archive/index.php/t-27457.html

KNIT PLASTIC BAG CUSHIONS: picture, but NO pattern
http://www.treehugger.com/files/2006/05/marina_gryciuks_1.php

22 creative ways to use plastic grocery bags:
http://www.betterbudgeting.com/articles/frugality/plasticgrocerybag.htm
*** When you crochet a rug with plastic bags, it gets nicer & softer with wear, it will also wash up well, in fact you can just hose them off!
You can also KNIT the bags or make BRAIDED RUGS with them!
More uses for plastic bags:
---> Christmas wreaths, wet bathing suits, line bathroom trash cans, foodbanks & thrift stores need them, use instead of packing "peanuts" Emergency Rain hats etc, etc (01/31/2007)

By Cyinda
A Use for Grocery Bags
I made an excluder that sits across the bottom of the door to stop the cold air coming in from underneath. Just make a long tube out of some old fabric and stuff with the plastic bags, then sew up the end. You can decorate the outside to be an animal or with patterns. I got this idea from Making Stuff - The Alternative Craft Book out in the UK and it works really well. (02/01/2007)

By Becka
A Use for Grocery Bags
I'm sorry that this is not a craft idea, but it is an idea for an overabundance` of plastic bags. Get in touch with your local animal shelter. They may (like ours) have a volunteer program to walk the dogs that are housed in the shelter. If they do, they sure need the plastic bags (to help volunteer dog walkers clean up doggie doo). Hope this helps. (02/01/2007)

By Kira
A Use for Grocery Bags
I use them for all the small garbages I have throughout the house. I always place one on the bottom and one to line the can. When its full i tie it and put it in the tall kitchen can and when i take it out ive already got its replacement in the bottom of the can. Also, i use them to stuff dummys at halloween made out of old clothes, you can then put some weeds sticking out of the wrists and ankles to make it look as if the whole thing is stuffed with straw. :) (02/01/2007)

By Lily
A Use for Grocery Bags
I cut the bags into strips and use them to do plastic canvas projects. I make a holder for bags that is hanging on my wall. It is just to cute. The possiblibities are endless and it is cheaper than yarn. (02/01/2007)

By Barbi
A Use for Grocery Bags
Here in Florida, we have recycle boxes in front of stores that you can return them too. I volunteer at our Church food pantry. I take them there weekly. We go through a lot every week. Try your local Church's. They may have the same need. (02/01/2007)

By Surfer1
A Use for Grocery Bags
Donate them! I find that thrift stores and Goodwills will always take them. Also animal shelters and daycares are happy to see them come in the door. I try to keep a stash in my van to contain trash and carry loose items that I accumulate when my son is picked up from school. (02/01/2007)

By Pam
A Use for Grocery Bags
I use them to hold wadded-up newspaper, scunched in between items that need to be protected when packed up. Newspaper will sometimes leave ink stains on things, but the plastic bag will protect items from that. We also use the same idea when packing anything to ship in the mail. Everything arrives safe and clean. (02/02/2007)

By Julia
A Use for Grocery Bags
Cut them into 1 inch wide strips and use them to make cheerleader pom-poms. Do it the same way you'd make pom-poms out of yarn. (02/02/2007)

By Allison
A Use for Grocery Bags
I crochet with them. They make really sturdy market or library bags. It does take quite a bit of strength to do it, and I can only do it for a little at a time.
My favorite directions for cutting bags are at Marlo's Crochet Corner (www.marloscrochetcorner.com). She also has a couple of pretty easy bag patterns to get you started.
(02/03/2007)

Craft Use for Grocery Bags
I have a new website for recycling plastic bags and crafting at http://www.myrecycledbags.com/
You can come learn and share information about crocheted and other crafted recycled bags. This is an Eco-Friendly product website that is dedicated to recycling and crafting. I have free tips and patterns. Below is a example of a tote bag crafted with brown grocery bags.
(02/07/2007)

By Cindy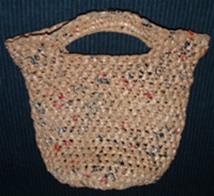 Craft Use for Grocery Bags
I use the plastic grocery bags for filler when I make cushions for my outdoor furniture. If you put a layer of batting over the bags and sew shut,then cover with your material, it reduces the crinkling noise when you sit down. Their comfortable and fluff back up on their own when you get up. (02/03/2008)

By rkldu96