Chewbacca (Shetland Sheepdog)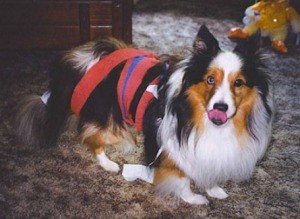 This is our dog Chewy, named for Star Wars' Chewbacca. He is a Shetland Sheepdog with one blue and one brown eye, he just turned 6 years old on June 20th and we've had him since he was 7 weeks old! He is definitely a member of the family that does not realize he is a dog and not a human, but were not gonna tell him! :)
Have a little everyday fun! Surprise a member of your family that may not be having the best day by doing something no one can resist, decorate the family pet!!A little something to make someone smile!
And for fun? Well obviously he likes to party! He loves getting TPed in crepe paper and getting into trouble, watching 24 with us and barking with the countdown. He thinks he is part wolf and has the howl to proof it and going after his arch nemesis the fly keeps him busy! Thanks for the contest!
Angela Downing
Feedback
Read feedback for this post below. Click here to post feedback.

By
06/30/2006
Cute dog! I adopted a sheltie about 6 weeks ago and she has one brown eye and one eye is about 1/3 blue!

By
04/16/2006
I have an 8 yr old sheltie named Dakota. She has one blue eye also! And, like your Chewbacca, she is also family! I love the pic!

By Susan from Hamilton (Guest Post)
07/15/2005
I have a terrorist named casper he is a sheltie but he attacks the fence when any one walks down our street. He is the defender and does not realize his size. he has even bit me when his is doing his spin whirl attack dance. now I just holler enough and he slows down. susan
Post Feedback
Add your voice to the conversation.
Related Guides
Related Posts