About two months ago, I purchased a large, 12 in. fry pan with glass cover. The problem is, that the fry pan has a dome shape right in the center of the pan. When using it, all the cooking oil runs to the sides leaving the largest part of the pan with no shortening for frying. Any suggestions? Thank you.

Bill
Recent Answers

By Holly03/24/2009
I am wondering if you have the dome lid for a piece of waterless cookware.
A lot of ebay vendors say that they can be used for cooking, too, but the fact remains that they really can't, unless you are reheating liquids. And even so, the metal is so thin that it really doesn't lend itself to cooking as the base unit.
go to www.ebay.com and in the search, put waterless cookware dome and see if yours looks anything like these (the handles may be different).

By freebyrdz03/23/2009
This has happened to me before and I find it easier to bang it out with a hammer if the pan is a bit hot. Wear oven mitts.

By Linda Roach03/23/2009
I have a skillet that came with a set that is this way. If I try to cook anything in it even on low temps anything in the center burns

By Mary Lou03/22/2009
There is a pan on the market that had a vented dome in the center and is made for cooking without fat of any kind. Apparently you just use a little water or other liquid to cook in the pan. Good for low fat diets etc.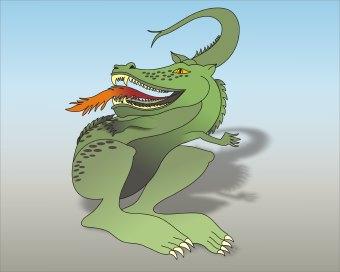 By Kathy03/22/2009
I agree with Pikka above. Are you sure you didn't buy a wok? That's what it sounds like to me.

03/22/2009
To avoid a pan from warping, which is what happened with your fry pan, never put a hot pan in cold water. Wait until it cools down before washing it.
Diletta

By LEONA LABINE03/22/2009
Use a hammer if it is teflon, place a small piece of wood on it before you use the hammer.

By Marian Poke03/22/2009
Ok Bill here's what you do, take a hammer and beat on the center of the pan and flatten it out. I have one of those pans, mine is heavy aluminum and cooks great. This will not harm the surface unless it's teflon, which I hate because the teflon comes off. I hope this works, it worked for me, now I have a nice flat pan! Marian

By Cathy03/21/2009
Check onlind for reviews about the pan to see if anyone else has this problem. Either return the pan to the retailer or call the company who made it and find out if it can be replaced.It's worth a try. I have had several skillets and frying pans and none had a domed center.

By PENNY K03/20/2009
Well, I think that's on purpose. My guess is saute around the edges and when cooked enough, pull to center with a spatula so oil can drain.
Answer This Question
Add your voice to the conversation. Click here to answer this question.