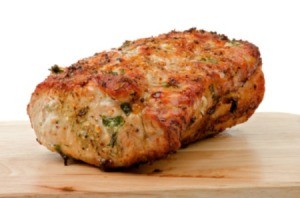 How can I fix a 12lb. boneless pork loin. Its already been frozen.

Lynda from IN

Answers
November 7, 2007
0

found this helpful
Best Answer
Cut it into chunks, put it in a crockpot with a bottle of barbeque sauce and let it cook all day. At dinnertime, take a fork and knife and shred the now tender cubes and serve on hard rolls to make pulled pork sandwiches.
By Kathy H.
By Pam from Richmond TX (Guest Post)
November 9, 2007
0

found this helpful
Best Answer
I don't know how many pounds my pork loin was, but it filled my 6 quart crockpot. It was partially thawed and I just sprinkled it all over with 2 envelopes of Italian salad dressing mix and 1 envelope of brown gravy mix and then turned it on low and let it roast for hours.
When it looked and smelled good and done, I checked to make sure the internal temperature was over 165 degrees. It was delicious! It had a wonderful gravy, which I supplemented by adding a couple of cups of water with an Au Jus Gravy packet. I doubt I'll ever cook a pork loin differently again. My family loved it!
By Pam from Richmond TX
Answer

this Question

How long do I cook 2 pork loins from frozen state in an electric roaster pan?
Answers

March 17, 2020
0

found this helpful
Best Answer
I believe you should defrost your pork loins first.
Your electric roaster should have instructions for defrosting; this is usually timed by the weigh and type of meat.
Here are general instructions (but check your manual for precise timing):
You should always have a good meat thermometer to use as this is very crucial when cooking pork.
I believe pork has to have a 160 temperature to be safe to eat.
"Turn the temperature knob of your Roasting Oven to DEFROST. Line your roaster with a liner before it begins to heat up. Preheat the roaster for about 20 minutes.
Unwrap your frozen meat and place it on the roasting rack inside of the roaster and place the lid on top. This starts the defrosting process. Use your meat thermometer to check the temperature from time to time, but try not to open the lid too often or it will release heat.
Check the meat and once your temperature reaches 90F to 100F, you can remove or add whatever condiments you intend to cook with.
It is recommended to start checking first after an hour (with this quantity of meat)."
You should have a manual with your oven that will tell you answers to most questions like this. If no manual available then check for a free manual for your brand as you will need this in the future for different recipes.
Here is a link with some general information and cooking time (after defrosting).
Answer

this Question

How can I cook a frozen pork loin that's 4 pounds? Any recipes?

Answers

Jackie H.
Silver Post Medal for All Time! 355 Posts
August 11, 2019
0

found this helpful
Oh, this is my families favorite Sunday dinner. I usually buy a 3-4 lb boneless pork loin roast. I take it from the freezer, rinse to get the plastic wrap off. On a clean cutting board, I use Dijon mustard, about 2 tbls, and rub it all over. Seasonings; Sprinkle, garlic powder, onion powder, a few dashes of sage, black pepper, Old Bay Seasoning. Then again, rub all these spices into the mustard. You can also use fresh cut up garlic cloves and press them into the roast. Cover the roast with a coating of "Wondra(sifted flour)" This seals all the juices and flavors in. Prepare the pan. A roasting pan with an adjustable rack. Spray oil the pan & rack. Place the roast in the rack, place in a 400 degree oven for 45 minutes, turn roast over, check for doneness.
I stick a large fork in the middle, I test by the temperature. until it comes out hot it will be done. At this time, some drippings are turning dark on the pan. I pour 1 cup of water into the pan. Cook an add'l 45 minutes. Checking temperature. I make my gravy by adding add'l cup of water mixed with onion/mushroom soup mix and 3 tbls of Wondra, stir well, and add to hot drippings. I always make my homemade McIntosh chunky apple sauce, 3 lbs apples, peeled, cored, cut up, put in a pot with 4 inches of water, a dash of salt, no sugar needed. Cook until apples are tender. Drain and just stir. I don't mash. This keeps them chunky! I use an electric knife to carve the roast for thin even slices! Enjoy this recipe!

Judy
Gold Post Medal for All Time! 677 Posts
August 11, 2019
0

found this helpful
You can cook it frozen in an electric pressure cooker or oven. You cannot cook it frozen in a crockpot. It is not safe.

Pghgirl40
Bronze Feedback Medal for All Time! 196 Feedbacks
August 12, 2019
0

found this helpful
I never cook from frozen as I have never had luck with it. I defrost in the fridge.
The pork loin MUST be defrosted to do this recipe--as it is a crock-pot shredded/pulled pork recipe and it will not cook right if the meat is still frozen.
This makes the most amazing pulled pork BBQ sandwiches. The best buns for this are those little Kings Hawaiian. They are pricey, but it is mouthwatering as the buns are a little sweet paired with the tang of the sauce!
A friend shared her "secret with me" (this recipe) and she swears that if you don't use the Heinz ingredients it calls for that it does not taste as good. Since we are both from Pittsburgh, we tend to agree because I think our taste buds are just conditioned that way!
I never used the coriander and it was fine.
This is a staple crock-pot main course at Steeler game parties and work pot lucks.
YUM!!!

August 15, 2019
0

found this helpful
I do not like to cook from frozen but this is your question.
First; it takes approximately 50% longer to cook from frozen versus fresh or thawed.
A pork roast must reach an internal temperature of 155 degrees to be safe to eat so a meat thermometer is essential.
Do not cook this large a frozen piece of meat in a crock pot.
Cook in oven or on grill (maybe). I would say oven only.
Read full instructions on recipes and follow closely for this large roast.
www.ehow.com/how_4866072_cook-frozen-pork-roast...
Answer

this Question