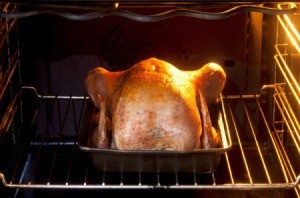 When making a sandwich, try putting the bread in the broiler instead of the toaster. When preparing your sandwich, put the toasted side inside. When you bite into it, it won't leave many crumbs and it's easier to bite. You still get to feel that crunchiness in your mouth.
By Roby from Newark, CA
Can I use any type of pan to broil food in or do I have to use the broiler pan that came with the stove? I wasn't sure if I could use any kind of pan because of the high heat that comes from broiling. The broiler pan that came with the stove seems so hard to clean. Any advice?
By Onesummer
Answers
May 6, 2009
0

found this helpful
I'm not sure you can use ANY kind of pan but I think the main reason for using the broiling pan is so that grease can get away from the meat. You can line your pan with foil to make clean up easier.
May 6, 2009
0

found this helpful
I had the same problem with the broiler pan being so hard to clean. I've had great luck by putting foil in the bottom pan and I spray both sides of the top pan with PAM. It makes cleaning a breeze. :)
May 9, 2009
0

found this helpful
Have you considered putting a little water in the bottom of the broiler and spraying the top with non-stick spray? The water will help the meat cook faster as well. Any fat and other juices float on top of the water and can be poured off, reducing the baked on gunk you have to clean.
May 14, 2009
0

found this helpful
I have broiled on other pans besides broiler pan, though i greatly prefer the broiler pan. Like you I hated the cleanup. But like others on here I have had great luck with lining with aluminum foil and then spraying pam on top piece. It left the bottom a little greasy but not gunky, really easy to clean up.
May 16, 2009
0

found this helpful
Okay, maybe my solution isn't best, but since my broiler is so heavy and unwieldy, I've given up trying to use it.
Instead, I simply use a cookie sheet, or if the item isn't that big, a cake pan. They're much lighter and easier for me to wash! Of course, rinsing right after the pan comes out of the oven helps make my cleanup easier, too.
Answer

this Question