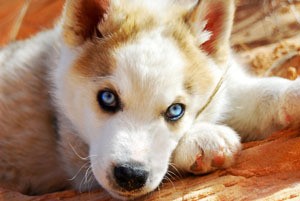 Dacoda is a 1 year old Siberian Husky/Timber Wolf mix. I got Dacoda right after Christmas last year. While taking a walk around the block I saw a bunch of white fluff balls running around in a neighbor's backyard. My curiosity got the better of me and I went over to investigate. I soon saw about 8 young huskies running around and playing.

This one in particular stole my heart. His fur was so fluffy he looked super chubby. I started talking to the owner, who was looking to sell them. I explained to him how my husband has always really wanted a husky and that I could never afford one for him. He told me that he knew I would provide a good loving home for a dog so he handed me the one I was petting and said Merry Christmas!

He likes to run around the house chewing on anything he can get his mouth on. He also loves going out on hikes with me and my husband during photo shoots. Dacoda has stunning blue eyes that can intimidate people but those baby blues belong to the most loving and unique dog!

By Jennie from Las Vegas, NV
Ad
---
He is just beautiful!! We have a Husky mix and she is the most wonderful dog. Very smart. The puppy stage is the worst with any puppy. We just got a puppy in Sept. and chews on everything. Good luck.
By Robyn Fed 394 1,240 02/04/2009 Flag
what a beautiful baby...tht is a wonderful story.....I can tell you love him very much.....hug him for me!

racer
By Jennifer 10 123 02/04/2009 Flag
Jennie,
I just adore your Dacoda! I have a blue eye beauty myself! Maybe you've seen her in previous posts....Dottie the Dalmatian. enjoy your sweetheart! He's precious!

Jennifer CA
By Eric W. (Guest Post) 02/04/2009 Flag
This is one beautiful Puppy, just remember positive re-enforcement is the best way to train a Wolf mix as you know he will be a large thick animal and very very loyal. I just love these Dogs, Wildfire
By Brenda Kromer 1 9 02/05/2009 Flag
What a beautiful blue-eyed baby! He is precious and will be a loyal friend and companion, you can tell by his face.
02/05/2009 Flag
You must have touched your neighbors heart as deeply as Dacoda touched yours !!! What a wonderful gesture for him to give such a sweet Christmas Gift to you and your hubby :-) It's lovely to hear of such a good heart that is more concerned for beings rather than money and profit :-)
By sandy (Guest Post) 02/05/2009 Flag
Your dog is beautiful. Our dog is also named Dakota. Its spelled a little different. Ours came to us from the neighbors too. He didn't want to stay there anymore so he decided he wanted to be at our house better. So they said they had to move and couldn't have a dog so we kept him. That was around 12 years ago. He is part shepard and part doberman. And part of the family. sandycrafty1 AT yahoo.com