It's been the best tool ever this year, we all use it in our household, and we know where to look to find dates, etc. When your current month is over, simply erase and add the new "next" month (i.e. November and December). Use markers to color code events, paydays, anything you wish. All this from a gal who is not known for her organizational skills. Best Christmas present ever.
By Kim from Crawford, CO
Feedback Forum
Feedback about this article is posted here. Want to contribute? Click above to post feedback.

By Kim Cox J. [2]11/22/2011
This is the picture that goes with my calendars.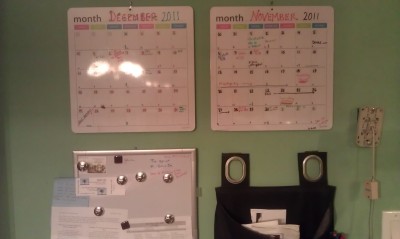 Post Feedback
Add your voice to the conversation. Click here to share feedback.