assorted loose iron-on hot fix crystals in colors to complement the printed calendar design *The dollar stores tend to start stocking the calendars towards the end of each September.

**This looks like pinked-edge cotton diaper fabric, but with adhesive coating on the back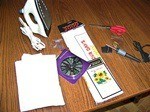 Instructions:
Remove calendar from package, and set aside the dowel and cord.

Remove the wrinkles and creases using the household iron, working on the backside of the calendar.

Trim the section of cotton woven stabilizer to fit, leaving about 1 1/2 inch space at the top and bottom, and about 1/2 inches on either side. This stabilizer will make it easier to work with and give the finished project some nice, crisp body. And leaving the space all around the edges helps prevent interference with the hems or excess sticking to and damaging your ironing board cover.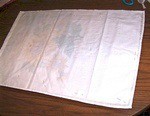 With right side of calendar facing down on the ironing board, carefully place the trimmed stabilizer with the adhesive side down, and press according to manufacturer's directions.
When this is done and sufficiently cooled, turn the calendar up, facing you, and with your heated embellishment tool, very carefully begin applying the loose crystals as desired, according to tool manufacturer instructions--not only on the design, but also on the date sections. I like adding one to mark Sunday through Saturday, just like on felt calendars.
When satisfied, replace the dowel in the top rod pocket and the cord to hang it by.
Not quite the new year yet? You can carefully refold it and store in original cellophane packaging, or roll around an empty cardboard paper towel tube,
Note: Rather than using the hot fix tool and crystals, you could, of course, still apply your own sequins and seed beads randomly by hand, either with needle and thread or glue.
To make this a kid-friendly project, substitute glittered glue in squeeze bottles for sequins. The children can get really creative and even add swirls or outline the printed design! Or, instead of glittered glue, use more economical white school glue in small sections and sprinkle on colored glitters, making sure to allow each section to dry completely before shaking off the excess and proceeding on to another section.
Many possibilities! Customize as subtly or elaborately as you desire. They make lovely gifts.
Now, enjoy the beauty of your jeweled calendar all year long!
By twinklenose from E TX
Comments
Read More

Comments