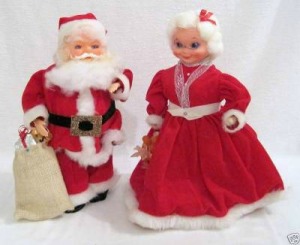 Recycled dish soap bottle dolls are a popular craft project for gifts and around the holidays. This is a guide about making Ivory dish soap bottle dolls.
Ad
---
Questions
Here are questions related to Dish Soap Bottle Dolls.
Where can you buy the Santa heads?
By Kathy
Ad
---
---
Most Recent Answer

By Harlean from Arkansas [125]01/10/2015
FDC.com has them for $2.99 each. You can also find them on Amazon.com They are heads and hands. 6 sets for about $18.00
Harlean from Arkansas
Does anyone know how I could obtain patterns for any of the Ivory Liquid soap bottle dolls? Any help will be greatly appreciated.
By qsuzie
Ad
---
---
Most Recent Answer
By Sandi/Poor But Proud [422]01/06/2013
I googled ivory soap bottle dolls and got this.

https://www.google.com/search?q=ivo ... 0CAYQ_AUoAA&biw=1024&bih=677
good luck!
I am still looking for the pattern for Mr. and Mrs. Santa dolls made with Ivory Soap bottles. Can someone tell me where I can obtain it or the name of a book that contains the pattern for all the Ivory Soap bottle dolls. Thank you.
Joyce
---
Most Recent Answer

By chris11/09/2011
I saw one on ebay and it looks like you buy the doll head top and add it to the bottle. Then buy arms and legs. Either make a Santa suite or buy one and dress it. I have searched and searched and can't find anything.
I have been looking for a pattern for Mr. and Mrs. Santa Claus on Ivory dish soap bottles and cannot find it. Do you know where I can find this pattern? They have Styrofoam heads and plastic hands, but the bodies are the Ivory soap bottle. Help.
By V Keating
---
Most Recent Answer

By Joyce [4]06/01/2011
I just bought the book with all of the Ivory soap bottle dolls patterns. Now it's impossible to find the faces, hands. Do you know where you can get the faces and hands? I'll share my patterns with you if we can find them.
Does anyone have a pattern for a kitchen doll made from old Ivory dish soap bottles?
By Stephaine
I am looking for a free pattern for Mr. and Mrs. Santa made from Ivory soap bottles.
By Erma from Las Vegas, NV
Solutions: Dish Soap Bottle Dolls
Do you have knowledge about this guide topic? Feel free to share a solution!
Feedback Forum
Feedback about this article is posted here. Want to contribute? Click above to post feedback.

By loretta11/27/2010
I would like to get pattern for the pilgrim dolls. How can I receive them at my email address?

By Joyce [4]09/26/2010
I have the patterns if you need them.

By VK04/12/2010
On 2-16 Judy answered a question about the ivory soap dolls and said she had patterns for Mr. And Mrs. Santa. Can you contact her or can i? How do I respond to her posting?
Archives
Thrifty Fun has been around so long that many of our pages have been reset several times. Archives are older versions of the page and the feedback that was provided then.
Back in the late 60s or early 70s I used to make dolls from Ivory soap bottles. The heads and hands were vinyl and you actually made clothes. The dolls that we made the most were Mr. and Mrs. Claus. The clothes were made from velvet, with whatever accessories you wanted to add.
Also, I had a pattern for a Betsy Ross door stop doll and it was made from a 2 liter soda pop bottle. Has anyone heard of these? I would love to get the patterns again to make for my granddaughters.
Jo from Decaturville, TN
---
RE: Ivory Soap Bottle Dolls
My grandmother made these as well. I'm wondering if your local librarian might be able to help you. Libraries and borrow books from across the country, maybe they can find something that will help. You might also want to check out Michael's, in their doll making aisle. They have the doll parts, they might also have books with the patterns. (02/15/2006)
By Laura
How do I obtain a pattern for the Ivory Liquid bottle Mr. and Mrs. Santa? This pattern, I believe, is from the 60s.
By Joyce from Chicago, IL
---
RE: Ivory Soap Bottle Dolls
I've enlarged the picture. (11/30/2009)
By disciple1fan
RE: Ivory Soap Bottle Dolls
You may try to inquire through your local newspaper. (Major newspaper). The larger cities used to have craft columns where you would send in self stamped envelopes to receive instructions or even recipes. (12/20/2009)
By kchenez
RE: Ivory Soap Bottle Dolls
I have patterns for different dolls made from ivory soap bottles including the ones your requesting and will share the patterns and also have 2 tubs full of these dolls ready to be dressed for sale cause I'm moving and can't take them with me. I will send you pictures if you like and you can let me know. Thanks.
Judy (02/16/2010)
By judyscrafts