How do I obtain a pattern for the Ivory Liquid bottle Mr. and Mrs. Santa? This pattern, I believe, is from the 60s.

By Joyce from Chicago, IL
Answers:
Ivory Soap Bottle Dolls
I've enlarged the picture. (11/30/2009)

By disciple1fan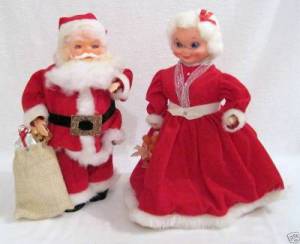 Ivory Soap Bottle Dolls
You may try to inquire through your local newspaper. (Major newspaper). The larger cities used to have craft columns where you would send in self stamped envelopes to receive instructions or even recipes. (12/20/2009)

By kchenez
Ivory Soap Bottle Dolls
I have patterns for different dolls made from ivory soap bottles including the ones your requesting and will share the patterns and also have 2 tubs full of these dolls ready to be dressed for sale cause I'm moving and can't take them with me. I will send you pictures if you like and you can let me know. Thanks.
Judy (02/16/2010)

By judyscrafts