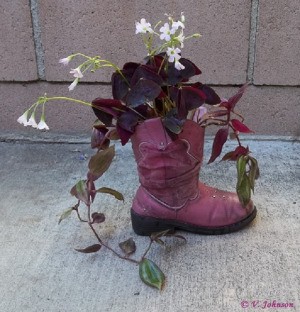 This is the other worn out boot from our great granddaughter. The birdfeeder mate was sent in earlier. I love it that she is already recycling her things. She is 7 years old. It will go out in "The Path Garden" when I'm sure the plants will live.
By Great Granny Vi from Moorpark, Ca.
Ad
---
Feedback Forum
Feedback about this article is posted here. Want to contribute? Click above to post feedback.

By Simply Susie [5]07/08/2011
Absolutely lovely!

By Vi Johnson [237]07/07/2011
I forgot to tell you that I filled the toe and bottom of the boot with sand before adding the (empty sour cream ) planted pot.
GG Vi
Post Feedback
Add your voice to the conversation. Click here to share feedback.