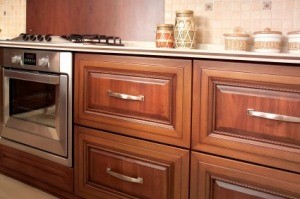 Finding the best method to clean and protect wood cabinets can be a challenge. This guide is about cleaning wood cabinets.
Solutions
Read and rate the best solutions below by giving them a "thumbs up".
After reading through this blog, I saw a suggestion for Spray and Wash to clean the cabinets. I love Zout to get stains out and tried that. I sprayed it on, rubbed it in with my fingers, let it sit a little and wiped it clean with a microfiber towel and some water. Yippee!! Worked great! The goop came off and the cabinet looks great. Now some lemon oil and we're all set!
By mgriffin14
Removes grease and dirt without harming the wood.
Ingredients:
2 Tbsp. olive oil
4 Tbsp. white vinegar
1 qt. warm water
2 qt. container with lid
2 soft cloths
Directions:
Put all of the ingredients in the container and shake it until the contents are mixed. Then to use, dampen a soft cloth with some of the mixture and wipe down the cabinets. Dry them with a clean cloth.
Share Your Feedback: Once you try any of the above solutions, be sure to come back and give a "thumbs up" to the one that worked the best for you. Do you have a better solution? Click "Share a Solution" above!
Questions
Here are questions related to Cleaning Wood Cabinets.
Our house has oak cabinets in the kitchen. It is not particle board. There is a strange smell like "old" wood if that makes sense, coming from all the cabinets. It doesn't smell like mildew and I've checked the flooring below and it's fine, no signs of water damage. Any ideas to clean this or get rid of the smell?
By Anna from WI
---
Most Recent Answer

By ssblaze07/31/2013
We bought a home built in 1978 and had the same problem. Since there were many cabinets the cost of replacement was out of the question. I used a 10% bleach to 80% water spray to clean them out. After letting them dry thoroughly (overnight) I painted them with a high gloss paint no primer needed. I recommend using two coats. The cabinets smell fresh and look nice inside.
I put lemon oil on my oak cabinets and now they show white marks. What do I do?
By Jim
I've read the many questions and responses. My question is a little different. I have 1960s light stained oak veneer cupboards in my kitchen, all original. I have kept them clean, but there are some cupboards that have stains around the handles from many years of cooking hands prior to us. I don't want to take the finish off. Is there any recipe that would remove this safely? Or do I need to think about refinishing all my kitchen cupboard doors? I'd like to avoid that if possible.
By Cynthia F
What is best product for cleaning wood kitchen cabinets? They are 50 yrs old and never painted. They were sanded, stained honey oak, and lightly buffed with oil about 15 yrs ago.
By pearson777 from Riverside, CA
My cabinets have stains, grit, and dirt build up over 30 years. How do I remove it without stripping the cabinets?
By Tammy
---
Most Recent Answer

By gbk10/10/2012
I use Murphy's oil soap on my cabinets but if that is too much work at this stage you might try paint thinner. Try it in a small out of the way spot then proceed from there. Happy cleaning!
What way is best to clean wood cabinets with grease buildup on them?
By Barbara from Taylorsville, MS
---
Most Recent Answer

By kthln306/02/2013
The advice given by SeptBlueMusic was spot on! Not only did it work quickly, but wow, the oak cabinets at last had no greasy film on them whatsoever...it even removed the accumulated grease from the handles and hardware. I took her advice and wore a mask and gloves, and also did the work outside. Now, onto sanding and restaining them! Thank you, thank you, thank you SeptBlueMusic!
How can I clean wood veneer kitchen cabinets?

Marcia
---
Most Recent Answer

By Judi02/05/2009
You can use Murphy's Oil Soap.
My kitchen cabinets are a natural wood finish and sometimes some stuff spills on to the cabinet doors. When I try to clean them with water they do not fully come clean. These surfaces have a wood polish and I do not want to rub them too hard. I clean them with a wet wipe but am afraid to scrub too hard as the surface does not look the same. Please advise.

Little Princess from Toronto
---
Most Recent Answer

By Judi01/30/2009
Have you tried Murphy's Oil soap?
Archives
Thrifty Fun has been around so long that many of our pages have been reset several times. Archives are older versions of the page and the feedback that was provided then.
I'm trying to clean the grease off my wooden kitchen cabinets, what can i use that won't harm the wood.

Joe from Pittsburgh

Answers:
RE: Cleaning Grease Off Kitchen Cabinets
02/23/2006
I clean houses on weekends and have found that 409 works really well. Old English makes a spray cleaner/polish for furniture and it will make the cabinets look new again! It's in a spray can like the other furniture polish, not an oil.
By suzi_homemaker01 (Guest Post)
RE: Cleaning Grease Off Kitchen Cabinets
02/24/2006
Orange Glo works well, They also have a wood restorer that is very simple to use for evey few months.
By the Oracle
RE: Cleaning Grease Off Kitchen Cabinets
02/24/2006
Full Strength Simple Green! I am a professional cleaner and I have tried them all. Simple Green is the best and least harmful to you and the environment.
By Vicky (Guest Post)
RE: Cleaning Grease Off Kitchen Cabinets
02/25/2006
Thank you for the idea of using goo gone, I have been cleaning for years and would not of thought of that I will now.
By gabbiejanice
RE: Cleaning Grease Off Kitchen Cabinets
02/25/2006
I will try the goo gone which I already have, but I'll test a small area. My cabinets are solid cherry, finished as furniture. I don't want to ruin that.

Jennifer
Northern Virginia

By ILuvDobes
Can anyone tell me how to get grease off wood cabinets and stainless steel? Also, how to clean hardwood kitchen flooring?
Shirleybell from Indian Trail, NC
---
RE: Cleaning Grease off Wood Cabinets
For a quick fix: Murphy's oil soap! (04/26/2006)
By camo_angels
RE: Cleaning Grease off Wood Cabinets
I had the same problem in a trailer I moved into & after using AWSOME CLEANER from dollar tree Had it clean enough to paint. (04/26/2006)
By Randa Wagner
RE: Cleaning Grease off Wood Cabinets
The best thing I've found for getting grease off of any surface is "Greased Lightning". I buy it at Home Depot. My stove has a black glass panel on the top and this shines it up real nice. And, I just did all of my wood cabinets and they look great. Just spray it on, let sit for a minute, wash off with clear water. Works great! (04/26/2006)
By sjackie2000
RE: Cleaning Grease off Wood Cabinets
We just moved into an old farmhouse. The cabinets were stained dark with grease. I used Dawn dish soap in warm water. It worked better than any other cleaner I tried. (04/27/2006)
By Dacia in Iowa
How do you remove old hard grease splatters from kitchen cabinets. They are maple hardwood.
I have a vent hood and a kitchen full of wood cabinets and drawers that have polyurethane on them. The grease has accumulated over the years and I searched here for answers. I didn't have anything on hand that was suggested, but I did have a product that I buy at the Dollar Store that is called "Totally Awesome". It's super cheap and I use it on all sorts of things as a general cleaner. I thought what the heck and I sprayed it on and let it sit for about 2 minutes. I was amazed at how it performed. My wood looks so good. I am now going out to buy another bottle.
By DVK from Pasadena, TX
---
RE: Cleaning Grease Off Wood Cabinets
If you are looking for Totally Awesome, both our Dollar Tree and Family Dollar store carries it. (07/21/2009)
By IamDodo
How do you clean grease off of oak kitchen cabinets?
By steve123 from MD
---
RE: Cleaning Grease Off Wood Cabinets
Fantastik spray works great for this. (09/18/2009)
By mrowe
RE: Cleaning Grease Off Wood Cabinets
Vinegar will do the job, good luck. (09/19/2009)
By kffrmw88
RE: Cleaning Grease Off Wood Cabinets
I recently moved into an apartment that was built in the mid 80s. Not sure if these are the original cabinets but they were pretty disgusting. I used Murphy's Oil soap (w/hot water) and good old fashioned elbow grease.
In some cases I had to use the rough side of a non-scratch sponge, but light enough so as not to damage the finish. (09/19/2009)
By COflower
RE: Cleaning Grease Off Wood Cabinets
You can clean the cabinets with a product called TSP. You can get it at Home Depot or Lowe's. It works great. (09/22/2009)
By alomagene
RE: Cleaning Grease Off Wood Cabinets
I agree with COflower, we just cleaned ours and it works great. We have been told to use Scots Liquid Gold next, as it will cover small blemishes. (09/22/2009)