Finding the best method to clean and protect wood cabinets can be a challenge. This guide is about cleaning wood cabinets.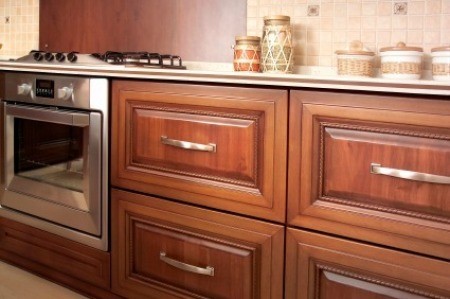 By anna 1
Our house has oak cabinets in the kitchen. It is not particle board. There is a strange smell like "old" wood if that makes sense, coming from all the cabinets. It doesn't smell like mildew and I've checked the flooring below and it's fine, no signs of water damage. Any ideas to clean this or get rid of the smell?
By Anna from WI
---
Most Recent Answer
July 31, 2013
We bought a home built in 1978 and had the same problem. Since there were many cabinets the cost of replacement was out of the question. I used a 10% bleach to 80% water spray to clean them out. After letting them dry thoroughly (overnight) I painted them with a high gloss paint no primer needed. I recommend using two coats. The cabinets smell fresh and look nice inside.
---
By Barbara 1
What way is best to clean wood cabinets with grease buildup on them?
By Barbara from Taylorsville, MS
---
Most Recent Answer
June 2, 2013
The advice given by SeptBlueMusic was spot on! Not only did it work quickly, but wow, the oak cabinets at last had no greasy film on them whatsoever...it even removed the accumulated grease from the handles and hardware. I took her advice and wore a mask and gloves, and also did the work outside. Now, onto sanding and restaining them! Thank you, thank you, thank you SeptBlueMusic!
---
My cabinets have stains, grit, and dirt build up over 30 years. How do I remove it without stripping the cabinets?
By Tammy
---
Most Recent Answer
---
By mgriffin14 1
After reading through this blog, I saw a suggestion for Spray and Wash to clean the cabinets. I love Zout to get stains out and tried that. I sprayed it on, rubbed it in with my fingers, let it sit a little and wiped it clean with a microfiber towel and some water. Yippee!! Worked great! The goop came off and the cabinet looks great. Now some lemon oil and we're all set!
How can I clean wood veneer kitchen cabinets?

Marcia
---
Most Recent Answer
My kitchen cabinets are a natural wood finish and sometimes some stuff spills on to the cabinet doors. When I try to clean them with water they do not fully come clean. These surfaces have a wood polish and I do not want to rub them too hard. I clean them with a wet wipe but am afraid to scrub too hard as the surface does not look the same. Please advise.

Little Princess from Toronto
---
Most Recent Answer
Removes grease and dirt without harming the wood.
Ingredients:
2 Tbsp. olive oil
4 Tbsp. white vinegar
1 qt. warm water
2 qt. container with lid
2 soft cloths
Directions:
Put all of the ingredients in the container and shake it until the contents are mixed. Then to use, dampen a soft cloth with some of the mixture and wipe down the cabinets. Dry them with a clean cloth.
I put lemon oil on my oak cabinets and now they show white marks. What do I do?
By Jim
I've read the many questions and responses. My question is a little different. I have 1960s light stained oak veneer cupboards in my kitchen, all original. I have kept them clean, but there are some cupboards that have stains around the handles from many years of cooking hands prior to us. I don't want to take the finish off. Is there any recipe that would remove this safely? Or do I need to think about refinishing all my kitchen cupboard doors? I'd like to avoid that if possible.
By Cynthia F
By pearson777 2 5
What is best product for cleaning wood kitchen cabinets? They are 50 yrs old and never painted. They were sanded, stained honey oak, and lightly buffed with oil about 15 yrs ago.
By pearson777 from Riverside, CA