My dog is licking her paw raw and now I have noticed crusties in her eyes. Please help.
By Ariah from Shoreview, MN
Recent Answers

By Sofia03/09/2011
My dog was also licking his paws and legs constantly (he also scratched, gnawed on, and itched other areas around his tail, stomach). I read online that it could be a sign of food allergy, most likely from grain. I stopped the dry food and took him off all grains immediately and the change was amazing! Within a few days he was 80% better and within a couple of weeks he was completely back to his healthy self.

Then two months ago I got some books on raw food and switched him over to 80% meat, 10% edible bone, 10% organs - and at 12 years old, he is now running around like he did when he was 3 years old. I look for meat on sale and it really doesn't get that much more expensive. Especially since I don't have to run to the vet all the time and pay for all these medications for itchiness, arthritis, etc. And I stopped the vaccinations, as he started to develop seizures/balance problems after he got them. I feel like I have my young dog back :) Maybe some of this can be useful to you. I wish you great luck with the health of your dog.

By Pat01/22/2011
One of the best things for humans and animals, both inside and out, is good coconut oil. It has healing qualities of many kinds. Google it.
Pat

By OliveOyl01/21/2011
What kind of dog food are you feeding? The commercial brands sold in most stores contain too much grain which triggers allergies. Switch to a higher quality food with less grain.

By Payton01/20/2011
I just read in my animal pill book today and it said it is safe to use benedryl but preceed with caution: get the ok from your vet first just to double check. You could also spray the paw with a spray that doesnt smell good to him(or her), and you could put an eye drop in the eye(s). That helped mine.
Questions
Here are questions related to Dog is Licking Paws.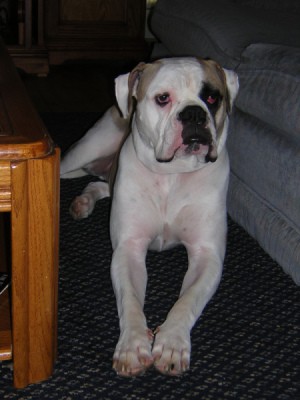 I would love to see an article about American Bulldogs regarding their skin allergies and paw licking. I need to know how to stop it! Thank you :)
By Kaylee
---
Most Recent Answer

By vicki hood05/11/2012
Athlete's foot spray. They pick up fungus same as we do. Another is the old fashioned listerine. Generic from the dollar store is fine. The amber not the blue or green. Used on all kinds of animals. Great on lots of dog itch.
Which is a good combination to use for my dog who continuously licks her paws in the form of neem?
By Rex
Archives
Thrifty Fun has been around so long that many of our pages have been reset several times. Archives are older versions of the page and the feedback that was provided then.
My Doberman has been licking certain areas raw. Usually on his forearms or his paws until the hair is gone and his skin raw. The pet store guy says it's a fungus and gave me a spray. River (my dobie) also has very dry flaky skin on his back that I'm currently treating with Brewer's yeast tablets. Does anyone know what else, if anything might help my dog? He is just over a year old. Thanks.
Debbie from Maryville, TN
---
RE: Dog Is Licking Paws Raw
Someone posted on here a short time ago about giving their dog yogurt and how it solved a problem like you're having. I started giving my dogs yogurt, even though they were not having that problem at this time. Boy, can I tell a difference in their coat! The one dog had a scrape on his chest and it felt like a lump was forming under it. After three weeks on yogurt, it's now gone. Totally gone! It seems to take care of numerous types of infections and bacteria. It's also cheap. Sure beats taking them to the vet. Try looking this up for the original post. Good luck. (10/15/2008)
By Artlady
RE: Dog Is Licking Paws Raw
I have one idea for you. I have had dogs my whole life, and currently have 3 dogs living in my house. They are my family, and I am very careful about what I put in their bodies, or on it for that matter. Licking of paws is a HUGE sign of allergies, and can be easily treated. I, personally have been using "Yucca Intensive" for my dogs with allergies. It is all natural, and treats MANY different issues. I buy it on 1800petmeds, and it is very inexpensive. I just put a few drops on a piece of bread for her once or twice a day, and she is perfect. Also, you might want to try some tea tree oil/spray/shampoo for the dry itchy skin. It is known for soothing hot/itchy spots on dogs. It does great on my shar-pei. Hope this helps! (10/15/2008)
By Stacie H
RE: Dog Is Licking Paws Raw
I have been told that a dog will chew his feet if he needs salt. (10/15/2008)
By rcardin
RE: Dog Is Licking Paws Raw
I'm no vet, but I had a dobie with the same issue. Through research, it was a fungus activated by heat so it sounds like it can be a form of a heat rash. The only thing I found to help it is to put him in the bathtub and fill with cool or room temperature rose hips tea. Steep a couple of dozen bags and cool. Something about a soothing effect helps, once the itch stops the fur should grow back. There may be small bumps underneath the fur but as long as you can relieve the need to scratch, you can control the missing fur and rashes. (10/15/2008)
By kelli
RE: Dog Is Licking Paws Raw
I work at a vet clinic and we see cases like this all the time. It sounds like allergies. I would start by changing the protein source you are feeding him or to a sensitive skin food, and adding a fatty acid supplement to his diet such as fish oil or omega 3 and 6. There should be some improvement in a month or two if it is a food allergy. (10/15/2008)
RE: Dog Is Licking Paws Raw
A healthy diet and tons of exercise are necessary for good health. Non sugary yogurt and some carrot chunks, a little broccoli, etc. mixed in with good quality dry kibble and a little flax seed or omega 3 fish oils (essentially the same thing but one's from fish and the other from a plant) are a great part of a healthy diet. (10/16/2008)
By Shelter Worker
RE: Dog Is Licking Paws Raw
Supplement your dog's diet with some fresh, whole foods so his body has a chance to fight off these ailments. Also, consider the time line of these afflictions: often dogs will react to vaccinations, so if the symptoms occur or get worse within a month or two of his shots, you may wish to consider this as a cause. Do some reading on over-vaccinating pets to learn more about it. (10/17/2008)
By guest
RE: Dog Is Licking Paws Raw
If it's no where else but his feet, he may be breaking out from what you clean your carpets or floors with. Just a thought. (10/17/2008)
RE: Dog Is Licking Paws Raw
Sometimes this excessive licking is some sort of nerve problem. My mom's dog had to wear a pail on her head for several months to keep her from licking her paw. It looked funny, but didn't hurt her. You should probably take your dog to the vet to have the problem properly diagnosed. My mom's dog was licking her paws so much that she was making them into open wounds. (10/19/2008)
By louel53
RE: Dog Is Licking Paws Raw
My German Shepherd was doing that, the vet said she was bored (we had been away and the dog sitter wasn't doing much with her). Is your dog being left alone? Getting enough attention and exercise? My vet said it is a common obsessive-compulsive disorder in dogs that are bored, think about it. (10/19/2008)
By freeda
RE: Dog Is Licking Paws Raw
We had a bassett hound that would chew herself raw. We found out the first year that it was allergies. Every year around rag weed season we would have to get meds for her. I would suggest taking the dog to the vet. (10/20/2008)
By jen
RE: Dog Is Licking Paws Raw
My dog's tail had a raw spot he was licking at. He also licks his feet. When he was in at the vet for a booster, the doctor said it was allergies and gave me a spray bottle anti-itch medication that's equivalent to what humans can get with a prescription at the pharmacy. The bottle cost about $11 and it has helped. The doctor also said he's seen a lot of allergies this year (my dog never had the problem before this season). (10/21/2008)
By Jpdoughgrl
RE: Dog Is Licking Paws Raw
Your dog has allergies. My dog does the same thing. It will be worst at different times of the year (fall is the worst). Go to your vet and he will put him on medication (doesn't cost much). Good Luck. (10/22/2008)
By jeepwoman
RE: Dog Is Licking Paws Raw
My mom has a Dobie named Forth. Those spots are nothing but dry blisters. They don't feel right, that's why they lick them.
About dry flaky skin, put some regular oil - vegetable, corn, whatever you use for cooking, on your palms, rub the palm together, and then rub your pet's coat. Not only will it moisturize your pet's skin and coat, but it will also be awesome for the looks. You will be surprised how slick, shiny and gorgeous your Dobie will look. Do it everyday, you'll notice change very quickly. My mom does, and Forth looks like $1 million dollar dog. ;-) (10/23/2008)
By Natasha79
RE: Dog Is Licking Paws Raw
Try using I T natural (with cultures) plain yogurt, use some Omega fish oils in the diet (use a capsule or two depending on size). My little Westie suffers from many allergies and I use all the above as well as a regular benadryl tablet (generic) after you have checked with your Vet. I went to a specialist and have learned these tricks HTH. (01/06/2009)
By mia24
***
*** My dog (Rocky) is always licking his paws and making slurping noises. Any idea why? It is making me nuts to hear it all the time.
Sandy from Mtn. View
---
RE: Dog Is Licking Paws
My dog does this and she has a stapf infection caused by a yeast infection in her stomach. I bought some dog probiotics and switched her to a lamb and rice dog food that does not have corn or wheat in it. You have to read the ingredients list, don't rely on the front label. The vet also gave me some cream to put on her foot that tastes bad to the dog, so she won't lick it. It can become a habit to lick the paw. Loretta (02/27/2009)
By Loretta B.
RE: Dog Is Licking Paws
Take him to the vet, or at least call and ask. (02/27/2009)
By Maryeileen
RE: Dog Is Licking Paws
You didn't mention what kind of dog you have. I have a poodle and you have to keep the hair on his feet carefully trimmed or they can become irritated. (02/27/2009)
By amhappy1
My dog licks her paws till they crack and bleed. The vets don't seem to be able to help despite numerous drugs and lots of money. Any suggestions?
By Terrill from Atlanta, GA
---
RE: Dog is Licking Paws
Maybe your pet's paws are irritated from the cleaning agent used on the floors or carpets. I would try applying Benadryl Cream and new socks for your pet to wear when indoors and see if that helps.
Or, perhaps your pet is lacking in some vitamin or mineral, or too much of something in its nutritional intake. Seems like a vet would be able to diagnose the cause of this problem and I'm surprised the vet hasn't "licked" the problem yet.
Try googling Jeffers Pets, as they sell a lot of over the counter medication for dogs and I use this website often for my own pets. (05/11/2009)
By Lorelei
RE: Dog is Licking Paws
Most people have that problem with their dog(s) at certain times of the year due to allergies or an obsessive compulsive disorder. Vet treatments are usually only temporary fixes, like all allergy treatments are, but they are VERY expensive. We have the same problem with our dog and we use Dermapaw ointment, which we bought online. Also try giving your dog one or two fish oil gel caps per day, and a vitamin E gel cap each day, or put some of it on your dog's food. Hope this helps. (05/11/2009)
By doggeefun
RE: Dog is Licking Paws
Shadow is an 80 lb German Shepherd with very bad skin in general and a bad open sore on his side that he gets every year. Because we treat monthly with frontline spray, notice I said spray and not the spot treatment. We know it is not fleas.So, our vet gave him a drug that is the same as benadryl, Hydroxine or something, and put him on what would equal 50 milligrams twice a day. The normal dose for benadryl I have seen on the internet is 2 milligrams for every pound of body weight every eight hours.
Also, try a spray made out of 1/2 Apple Cider Vinegar and 1/2 water and spray his feet a couple of times a day. If he is sensitive to yeast this will aggravate the situation and you can stop. Also, wheat can be a culprit. Try changing to a dog food with more meat and less wheat or corn.
Yogurt is great for dogs and sometimes helps. I give Shadow some everyday and get a kick out of seeing his mouth all covered in yogurt, it is so funny. Good for humans as well, fish oil pills can help the skin every day, and it is good for the immune system. Check out earthclinic.com for more information, look under the pet tab and look under the heading "pet allergies". Hope all this works! (05/11/2009)
By Robyn Fed
RE: Dog is Licking Paws
You have fire ants in GA. Have you checked your yard to see if they are biting him? If it's not fire ants, you could try neem oil. I bathe my dogs with neem shampoo all the time, but you can also buy neem oil for skin problems. It's great stuff. I heard about it on this site. (05/19/2009)
By Stngray
RE: Dog is Licking Paws
I'd place my money on something you're using on the floors to clean them, forgetting and letting the dog walk across it. Or allowing the dog to go out onto fertilizer/pesticide/ weed killer on the grass? One thing that can really give a pet fits, even human feet is using oxyclean on floors or shoes. It's hydrofluoric acid and can only be neutralized by milk and egg white membrane, which sounds weird, but it's the only thing I could find that would work. Sometimes, if it's too bad, I have used hydrogen peroxide first, blow dried it, then used neosporin cream in the cracks, and band aided.
To be on the safe side, buy refrigerated acidophilus for pets with "streptococcus" in it, which is in all dirt naturally, but which helps to heal allergies in all pets. Crush it and use common sense about dosage sprinkled on their food and mixed in. It's not medicine, but is a natural remedy that works 100% for us for a number of issues, which I also could have used on my dogs before canned pet food killed them years ago at early ages.
Mercola.Com says most illnesses/ diseases are from poor intestinal immunity, and our family has been using acidophilus for over twenty years. My latest colonoscopy was so perfect I don't have to do another one for at least 10 years, according to the doctor who also took pictures to prove it to me, honestly, lol.
Buy an organic cereal for your dogs, wipe their paws with gentle dish soap/vinegar each time they are in the mud puddles, and you think of it. If you use neosporin, blow dry the feet first to not trap any fungus in any cracking the dog has. The neosporin being licked off actually acts like an internal medicine, and healed my mouse who lost all of it's fur from something, on one whole side of it's body. We thought we'd lost her, but she pulled through and I believe it was the neosporin inside and out. You can buy a generic triple antibiotic ointment, which is much cheaper and the same formula I believe.
God bless you and your dog. :) (05/19/2009)
By lyndagayle62
RE: Dog is Licking Paws
We have a small herd of foster pooches, elderly Cairn Terrorists. One of ours has strong Westie in her. Westies have quite a list of skin problems.
We switched to VeRus dogfud & use their Menhaden variety. No corn, wheat, chemicals, you name it. So, after a week or so, they stopped scratching, stopped the Westie Oily-Fur, stopped licking their private parts, and it has cleared up the ever present tear streak from their eyes. Poops are solid & not so much volume because their bodies handle it better. They still refuse to pick up after themselves; that didn't change!
The thing is, if it doesn't noticeably help your pooch problems, the company will give you a refund! (05/20/2009)
RE: Dog is Licking Paws
Our rottie mix used to do that until I switched his food. Now that he is on Pro Plan he no longer licks his paws. You may want to see about switching from a corn based dog food to one that the first ingredient is meat. 95% of the dog foods sold have ground corn as the first ingredient.
Food allergies can manifest as a licking or constant biting/scratching in symptoms. Good luck! (05/21/2009)
My dog licks her front paws until they are raw. Is there some sort of natural remedy that I can put on them to get her to stop? They are not hot spots. She began doing this 2 years ago when my husband was sick and we were in the hospital for almost a month. Any help would be appreciated.
By Sunnyjudy from Nicholasville, KY
---
RE: Dog is Licking Paws
Talk or take to vet. There is something wrong possibly mange. (07/29/2009)
RE: Dog is Licking Paws
I would start by worming her thoroughly with something safe like a pyrantel based product, then apply a bitter apple sort of spray. I have found my Dobie chews and licks only when he has a parasite problem. Good luck. (07/30/2009)
By Gina J.
RE: Dog is Licking Paws
It could be many things, but what the vet will most likely do first is put a pail or a cone on her head so she can't lick those paws. It may be something serious or it may be a nervous habit. She will look funny in the cone, but her paws will heal up. (07/30/2009)
By louel53
RE: Dog is Licking Paws
My dog does that too, but he has allergies to the grass so when he's outside for a long time when he comes back in he licks them raw. So maybe he has allergies. Hope I helped. (08/07/2009)
By sweetpeadtg
I am looking for natural remedies to treat paw itching in mature dogs.
By torii from Goleta, CA
---
RE: Dog is Licking Paws
My dog licks her paws. She has allergies and I have read that this is part of the itching somewhere, but they lick paws because they can reach them. I have also found that she does this when she is nervous or bored. Have you tried using an Elizabethan collar that you buy from the pet stores, just to wear for awhile to keep your dog from making the paws sore, and give them lots of toys to keep their mind off of it, in case it is boredom. She could still be having some kind of anxiety from when your husband was in the hospital, that was probably traumatic for her as well, having the daily routine broken. My dog knows when something different takes place, even when my husband goes on a business trip. Good luck! I am also from Ky, living in VA now. Miss Ky! (09/04/2009)
By Luvmyjrt
RE: Dog is Licking Paws
Check between your dog's 'toes' to make sure they are not inflamed. At certain times of the year they can pick up mites off the sand or grass and they seem to lodge between the toes. (09/06/2009)
By skinnyjinny
RE: Dog is Licking Paws
Change your dog food to a better one and start Benadryl and fish oil. Look up the Benadryl dose for dogs on the internet and give a fish oil pill everyday. (09/07/2009)
By Robyn Fed
RE: Dog is Licking Paws
My Maggie has allergies like crazy. The licking of the feet and the raw spots that are left behind from her doing so, the ear shacking and so on, and and so on. I wipe her feet every time she comes in from outside with a baby wipe now. I just started this about a week ago. Seems to be helping most of the time. She is lab and pit mix. Love her to death. (09/16/2009)
By L.JOWETT
My dog is chewing his paws. He has had a yeast infection in his ears in the past, but is not having one now. The inside of his paws are dark pink including hair. It does not wash off. Is this yeast? His one paw is sore to touch but not to walk on at the moment.
By Debra from Salem, OR
---
RE: Dog is Licking Paws
A temp fix is athlete's foot spray. Any kind is safe. Use it several times a day. Then, please order granules from Nzymes.com. I have used it for years on rescue dogs. It is pretty good stuff for lots of things. We can't always provide the healthiest of diet and this supplement sure takes a lot of the edge off. You will have skin clearing up, arthritis help, and a better immune system. Check it out and once you use it you will be asking others to do the same. Good luck with your dog. Makes you uncomfortable that he is uncomfortable doesn't it? (10/18/2010)
By muttmom
RE: Dog is Licking Paws
Athlete's foot spray like any other medication is to be kept away from animals, as the instructions state not to be near eyes or mouth. This does include animals. Take your dog to the vet for care. They will instruct you to the safest treatment that keeps you and the pets from harm. (10/18/2010)
By T&T Grandma
Answer This Question
Add your voice to the conversation. Click here to answer this question.