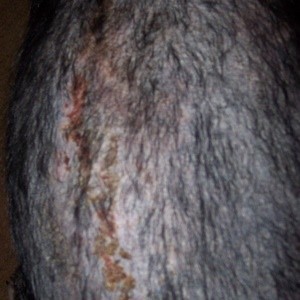 My dog licks, scratches and chews herself raw, bloody, and bald. Her skin is very dry and flaky. Please help.
By Sharon from WV
Answers
January 7, 2010
0

found this helpful
Your dog might have food allergies. I would suggest that you change it's food to one that has all natural ingredients. Also, you could put an antihistamine in it's food everyday. I use Loratidine for my dogs. It can be bought at the dollar store, and one pill is good for 24 hours. Another thing you can do is put hydrocortisone cream on the skin that is itchy. Hydrocortisone cream can also be bought at the dollar store.
January 7, 2010
0

found this helpful
My dog has many allergies airborne and food wise. We have switched him to Diamonds all natural lamb and rice. Made a huge difference. We also add 1 TBSP of plain yogurt with live cultures to his food. (He is 82 lbs) so adjust accordingly. Though yogurt will not hurt the dog. I also add about a cup or so of water to his dish and mix it all around like soup and he loves it. He is doing so much better it is amazing.
I don't know about hydrocortisone , I would check with the vet first. Oh and my DH bathes the dog with a specific shampoo it is made by Davis and it is a veterinary product: Maximum Chlorhexidine Shampoo with 4% chlorhexidine Gluconate.
Duvall has been a much happier dog since we have done this. Good luck with the pooch!
Laura in SW FL
Ps. I make my own yogurt now (got the recipe here on Thrifyfun.com) saves huge money on the yogurt bill and the dog likes my yogurt way better then the store bought. LOL...
January 7, 2010
0

found this helpful
We have an itchy dog and it is because of allergies. We give generic Benedryl and use a better quality dog food containing mostly lamb and rice. Corn based dog foods can contribute to allergies.
I would not use hydrocortisone cream as the dog may lick it. Our vet said to use Head & Shoulders to wash the dog! Sounds crazy, but it hasn't hurt our Pinky so far.
January 7, 2010
0

found this helpful
I had a dog that looked just like that! FIrst I would buy some Ivermectin at the feed and seed store. The bottle is for a horse and says it's for injection. Give .05 ml oral per 2 lbs of weight. (this is also the drug used for heartworms) The bottle is about $40 for 1200lbs so it will last a long time. See Dr. Michael Fox's newspaper/or web site about mange. Give a dose a week for 4 weeks. Also add 1/4 tsp of baking soda to a 8 0z peroxide bottle. Spray onto dog, do not rinse repeat daily until skin heals. Do not save left overs. Sharon
January 7, 2010
0

found this helpful
My Mom's dog has a similar problem, with itching, chewing, and dry skin, bad ears too. We have taken her to the vet a billion times just for them to say allergies. That's not what it was.
She had a yeast infection. You can use Apple Cider Vinegar in her food, and rub on the skin, also Yogurt works. If you do a google search on things you can give your dog for a yeast infection you will also see shampoo you can buy for this.
January 8, 2010
0

found this helpful
Thanks so much for all these ideas and suggestions. I am going to try some of them, I gave her yogurt last night and she LOVED it :) I also gave her a sponge bath with oatmeal shampoo, she loved that too, and I noticed that she has a red rash or little red bumps over most of her entire body especially the underside. I didnt see any fleas, my husband thought maybe she just has fleas real bad, but I didnt see one flea. Sharon
January 10, 2010
0

found this helpful
Believe it or not, but dandruff is an over-growth of candida. Pets can get this too. Yeast is candida. That's why vinegar works. Candida has a PH of about 5-6, I think.
By lowering the PH, vinegar is about 4.0 or so & this is detrimental to the candida. Baking soda has a PH of about 8.0, so it does the same thing. The only thing I can add, is that candida is very adaptable. So try different things at different times.
January 10, 2010
0

found this helpful
Was your dog just vaccinated? Could be vaccine poisoning which is very common due to the rotton ingredients in them. R u feeding grocery store (like Purina) food? Big nono. Raw is best but at least get Innova, California Natural--something better than the caca scraped from chicken pens and put into pet food. Check it out, people. No corn, wheat or soy. All allergens.
Get some half cooked kale in some coconut oil. All love it. So good for them. Yogurt is great. Some cottage cheese, Extra Vitamin C. If you are in heartworm territory do not do Ivermectin. If your dog has heartworm and heavy dose of I it could kill. No heartworm? Use Ivermec paste by measured poundage. Your dog could have mange. It also is possible thyroid deficiency. Glad that you care enough to try these things because your dog looks like it is really suffering. You can do it. Keep in touch. We all care.
January 10, 2010
0

found this helpful
Sharon, your dog needs to go to the vet to determine what is wrong with her. It sounds to me like it is mange, and a severe case at that - which can kill. Dogs that have compromised immune systems can be overcome by mange. Do yoiur dog a favor and and take her to the vet. Get a scrapping done.
Mange is NOT easy to get rid of. If it is mange, along with the treatments that will be necessary, boost your dog's immune system with a good multi-vitamin for dogs, vitamin E (1000 IU daily), start feeding some raw beef, vegetables and fruits (start gradually so as not to upset the digestive system). You'd better go fast to the vet.
January 10, 2010
0

found this helpful
The post before me that told you to get to the vet was correct. Your dog has a serious problem that can be fatal. Only a vet can help. There are two types of mange; one is hard to clear up and the other is not so tough. The longer you wait to start the less your chances of a cure. It requires a very specific medicine that only the vet can give you. Please get to a vet asap.
January 11, 2010
0

found this helpful
It sounds like your dog has a serious allergy, one of mine was the same way until we found out he is allergic to flea bites and cat food, one flea can bite several times and one bite can cause them to have a hive like breakout . The flakes on the skin sounds like seborrhea which also causes itching , scratching and biting and licking, there are special shampoos that deal with that.
January 21, 2010
0

found this helpful
The best person to help your dog is your vet who will correctly diagnose her problem and alleviate her discomfort.
Read More Answers
My dog licks all the time. Please help.
By carlis smith from Clarkton, NC
Answers
July 28, 2009
0

found this helpful
It could be several different things, he may have a behavioral issue, allergies, absesses. I would check with your vet to make sure he's ok :)
Good luck!
July 28, 2009
0

found this helpful
I saw this exact thing on the TV show "The dog Whisperer". On TV (the National Geographic channel) the dog had a nervous/obsessive issue. They stopped it right away, each time he started to lick, they'd distract him. It could take many weeks to change his ways. I agree with "Homestedingmom". Ask you vet. You might also find that TV show episode.
July 30, 2009
0

found this helpful
As I mentioned in another post today, take your dog to the vet. If it is a behavioral problem, or even if it is something treatable with medication, what the vet will likely do is put a pail or a cone on your dog's head so he won't be able to lick excessively. This is a very easy and inexpensive way to stop this problem. The dog won't be crazy about it, but it is better than licking his paws raw, and it certainly doesn't hurt him.
July 30, 2009
0

found this helpful
Not sure about your dog, but I have a pekingnese whose tongue should belong in the Guiness Book of World Records. She does NOT like coffee. I take the grounds and rub them on her back to prevent her from licking and biting herself. For everyone else, we keep handy a cup with the scent. This took about a month. Now all I have to do is say the word coffee and she stops. Wish you the best of luck.
October 24, 2009
0

found this helpful
This is for "hmmm" with the french Bulldog's breath and licking issues. Regarding the bad breath - can be readily attributed to the diet. We had that issue with our chihuahua, and changed her food to Neutro Chicken and oatmeal for sensitive stomachs. Her breath improved within a week, and we fed her nothing else. If she gets a treat, it is the Neutro brand and not much of those. Another brand I've heard about is called "Blue." A healthy brand dog food, no "people food" and a limited amount of treats.
The licking issue should at least be seen by a Vet, just to make sure it's not a physical problem. Then go from there. Some of the suggestions I've seen on this blog are worth noting, but a Vet is still the best place to start if you really want to get a handle on it.
Answer

this Question

...
Our dog is an Australian Heeler and licks us all the time. How do you stop this?

Pat from Sagle, ID

Answers:
Dog That Licks Too Much
You didn't say if the dog licked himself or not. We had a golden retriever who constantly licked himself. The vet told us he was allergic and gave him cortisone shots for it. Best of luck (01/23/2006)

By Carol
Dog That Licks Too Much
I have a rescue that licks constantly. She was dumped in my backyard at about 4 mos. I'm pretty sure she was weaned too early so she needs to "suckle". She's always been that way so I let her do it. It seems to make her feel better & it's not a huge deal. She's now about 13 and still does it. Is it really a big issue? (01/23/2006)

By Me
Dog That Licks Too Much
Our dog licks the top of her paws sometimes -- not to the point where she licks the fur off. When I asked the vet about this, I was told it was allergies. She recommended rubbing the dog down with a towel before she comes in the house to remove any pollen. Also, the times when she licks constantly, I give her two allergy relief generic Benadryl capsules twice a day. Our dog weighs about 100 pounds. This was recommended by my vet. This seems to help our dog get through her allergy moments. (01/23/2006)

By it's.only.me
Dog That Licks Too Much
Our Jack Russell was rescued. She had been left in a kennel for 2 weeks without food and water. It has been a year now and she has almost ceased the licking. If you petted her she would want to lick your hand and your face, because I think she was starving for love. Now she is settled in and knows she has love and is very spoiled as we have no children.

We just gently but firmly say "NO" when she starts to lick and she knows. Sometimes she can't help herself and licks my toes if I am not fast enough. Just catch the dog when it starts to lick and quickly say "No", it should help. I hope so, good luck. (01/23/2006)

Dog That Licks Too Much
I trained my dog (who's now 16) when I first got her to lick my feet instead of all over my face, arms, hands, etc. Every time she started licking me I just sort of diverted her to my feet. I didn't ever scold her for licking. Pretty soon she got the hint & started licking my feet to show her affection. (01/23/2006)

Dog That Licks Too Much
I rescued 2 Heelers, one red, one blue. The blue male doesn't lick at all, but my little red female heeler is a licker. It's just her way of showing her love and devotion. I love it! Now if it was a big slobbery kiss from a St. Bernard, I might want to get it stopped, lol! (01/24/2006)

By Deb
Dog That Licks Too Much
I have heard that they are after the salt on your skin. I suggest that maybe you could see if you can find a way to give the sweetheart some way of getting salt. Such as a salt lick like they have for cattle, like a big block of salt. I am sure that part of it is that it is showing your affection, too. (01/24/2006)

By Emma
Dog That Licks Too Much
If you don't want your dog to lick your hands and arms, buy some apple bitters at your local pet store. It is harmless to the dog but it deters the dog from licking, 'mouthing', and biting you. If you spray this on items around the house that he's chewing on, he won't after he gets a taste of the bitters.

A submissive or subordinate dog will lick the mouth of an Alpha dog and if you watch puppies with their mother, you will see them licking her mouth. It's how dogs communicate. But if it bugs you, use the spray. (01/24/2006)

Dog That Licks Too Much
Our vet told us to go to a pet supply store and buy a bottle of Bitter Apple Spray for that problem. It worked well for our dog. Good luck. (01/25/2006)

By DIANE
Dog That Licks Too Much
My MIL's trainer said it is bad manners, like jumping. I mean licking people. If they have allergies, boost up their immune system with vitamins (Shaklee has the best for absorption and no chemical additives) and go organic with your cleaning, it saved my dog's skin!

Behaviorally, he is like a mother, licks all of us, especially if he missed us. I personally don't care, I love kisses, but he responds very well to "No Lick" (saying it), and if he tries again, put up two fingers and repeat. (05/08/2006)

By Kelly
Dog That Licks Too Much
My 4 yr. old Collie/Yellow Lab does this all of the time to people also. It doesn't bother me, I know she does it for attention; she's so big and lovable. We got her 3 yrs. ago from a no-kill-shelter and she's done this ever since we had her. I think she was abused and neglected before ending up at the shelter as she is terrified of water (even if you say the word "bath" to her) and has a triangular shaped scar on the length of her long pretty nose as if maybe someone had a muzzle on her very tight! She's a 100 lb. gentle giant! (06/17/2007)

Dog That Licks Too Much
It is a salt deficiency. My dachshund is licking me all the time, and also rocks. (08/12/2007)

By mini
Dog That Licks Too Much
I had a dog that licked everything so I just sprinkled salt everywhere that he liked to lick, because Bearnie hated salt so he never licked anything except himself ever again. He never wanted it to happen again, easy peasy! Please check with your local vet because I didn't, and I don't know if it will make your dog ill. (12/29/2008)

By answergirl
Dog That Licks Too Much
We've had our adorable mutt for about a year and a month. She's been a compulsive licker ever since we first got her at 4 weeks. She doesn't lick objects as much as she licks my dad. He all together stopped petting her because of this licking problem! Whenever he reaches out to pet her she whips out her tongue and licks away.

We believe it's either because she was neglected, abused, or taken away from her mother too soon. We got her from our friend's friend who we don't know. Our dog trusts us very much and does not behave weirdly at all. The only problem is the licking. Please, if a dog technician reads this, please help! (01/21/2009)

By Sarah
Dog That Licks Too Much
I have a French bulldog who constantly licks her mouth. Her tongue hangs out of her left side of her mouth. She can't lick the front or the right side of her mouth and only eats food on the left side of the food bowl. That's not the concern though. She constantly licks the left side of her mouth and she has horrible breath.

So, when I come home from work my apartment smells like her breath, which smells like death. I've tried the liquid product to put in her water, extremely temporary solution. I've come to terms with her breath smelling, but what can I do for her to stop licking her mouth like 40 times every minute? She used to not always do this. My cream french bulldog has no problem to even compare to her licking habit. Any suggestions are appreciated. (02/20/2009)

By hmmm