When my cat had surgery, he wouldn't wear his plastic cone thing (to prevent licking his wound). So I made him a washable incision cover from the sleeve of an old cotton sweater. This will also make an easy pet sweater.
Just cut the sleeve off of an old washable sweater, and you will have a tube. For easy removal cut the tube up the center then add Velcro. It was easier to put this little tube over my cat's middle after surgery, than having him hurt himself because he kept ramming himself into things to try to remove his cone.
By Cyinda
My 2 month old kitten licks and bites her left back leg constantly. About 3 weeks ago I saw her left back leg was swollen. I took her to a vet and she gave me antibiotics for the next 5 days saying she had an infection. I gave them to her and bandaged her leg so it wouldn't get infected more. After 2 weeks of changing, cleaning, and treating her wound her leg seemed finally fine because she could jump and run using that hurt leg.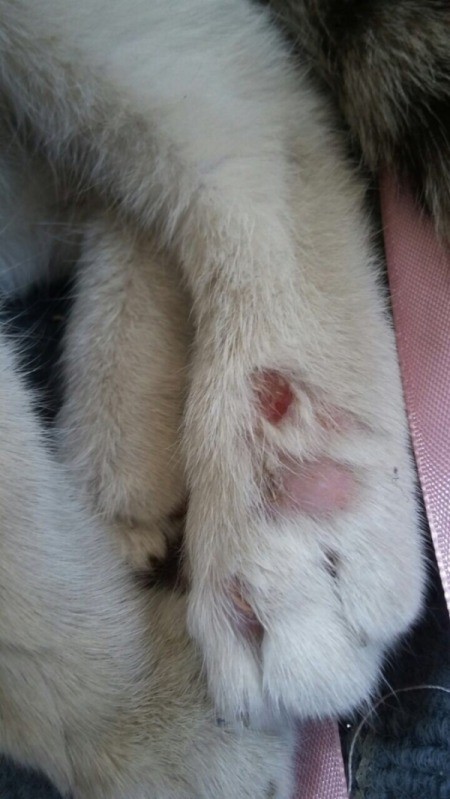 I took her to the vet to be sure of her health and she said my kitty doesn't need any bandage wrapping. So I just let her be without any bandages, but 3 days ago I noticed that she's limping again with a bigger swollen leg. She constantly bites and licks the healed area and now again she has a swollen bleeding leg. It's mainly on top of her paw as the pic shows. I can't stop her from doing it. She tries to bite me too and I really can't afford to pay for a third visit to a vet.
I want to know if I just put Neosporin or other alternatives like tetracycline and wrap the wound and continue cleaning her wound every now and then will that be OK? What other things can I do to prevent her from licking or biting the area? She is an outdoor cat and I adopted her when her mother literary abandoned her.
Answers
February 10, 2016
0

found this helpful
You may need a new Vet. It seems to me that he has not treated you cat effectively. Remember anything you put on her wound may be licked off and ingested. I would be concerned about what exactly is going on with that wound. It seems it is not a simple infection, or the meds would have worked. Try a new Vet. You'll kick yourself later if this wound progresses to something life threatening.
February 10, 2016
0

found this helpful
The reason your cat still has a problem is because this has probably turned into an abscess.
An abscess happens when a puncture wound, such as a bite, gets infected. The area above the infection swells and the hair falls of. Your cat is trying to clean out the wound but can't because he can't get his tongue into the wound. The original puncture is very small and probably already scabbed over.
At this point neosporin won't work. You're putting it on the surface but that isn't where the infection is. The wound has to be drained and flushed. Oral antibiotics will probably be prescribed in case the bacteria has invaded the bloodstream.
February 12, 2016
0

found this helpful
Thank you guys , i really thinking of changing my vet now that i saw her wound is not healing , , guess i have to look for a better vet .
Btw is colloidal silver safe for her if she lick it ? I was searching the web for other treatments until i can find a new expert vet that i came across the colloidal silver treatment ! The web said that it's safe and is actually better than other antiseptics or antibiotics . But i was wondering if it's safe when she licks her wound when the medicine is applied to the wound ?
Oh and i found out that my kitten might be having this disease called " Acral lick Dermititis " that cat becomes so obsessed to licks the area of the healing wound causing the wound to never fully healed . But i don't know fir sure until i take her to a better vet . Thanx everyone
February 12, 2016
0

found this helpful
Colloidal silver would have the same problem as antibiotics. That is, if it is an abscess how would you get it inside?
If you think it is lick dermatitis, use antibiotics and wrap so she can't get at it until it is fully healed. But if it gets worse and not better you would have to see a vet for a better evaluation.
October 11, 2016
0

found this helpful
Talk to Jackson Galaxy. He has a fb page. He has dealt with this exact thing.
Answer

this Question

...