My dog licks her paws till they crack and bleed. The vets don't seem to be able to help despite numerous drugs and lots of money. Any suggestions?

By Terrill from Atlanta, GA
Answers:
Dog is Licking Paws
Maybe your pet's paws are irritated from the cleaning agent used on the floors or carpets. I would try applying Benadryl Cream and new socks for your pet to wear when indoors and see if that helps.

Or, perhaps your pet is lacking in some vitamin or mineral, or too much of something in its nutritional intake. Seems like a vet would be able to diagnose the cause of this problem and I'm surprised the vet hasn't "licked" the problem yet.

Try googling Jeffers Pets, as they sell a lot of over the counter medication for dogs and I use this website often for my own pets. (05/11/2009)

By Lorelei
Dog is Licking Paws
Most people have that problem with their dog(s) at certain times of the year due to allergies or an obsessive compulsive disorder. Vet treatments are usually only temporary fixes, like all allergy treatments are, but they are VERY expensive. We have the same problem with our dog and we use Dermapaw ointment, which we bought online. Also try giving your dog one or two fish oil gel caps per day, and a vitamin E gel cap each day, or put some of it on your dog's food. Hope this helps. (05/11/2009)

By doggeefun
Dog is Licking Paws
Shadow is an 80 lb German Shepherd with very bad skin in general and a bad open sore on his side that he gets every year. Because we treat monthly with frontline spray, notice I said spray and not the spot treatment. We know it is not fleas.So, our vet gave him a drug that is the same as benadryl, Hydroxine or something, and put him on what would equal 50 milligrams twice a day. The normal dose for benadryl I have seen on the internet is 2 milligrams for every pound of body weight every eight hours.

Also, try a spray made out of 1/2 Apple Cider Vinegar and 1/2 water and spray his feet a couple of times a day. If he is sensitive to yeast this will aggravate the situation and you can stop. Also, wheat can be a culprit. Try changing to a dog food with more meat and less wheat or corn.

Yogurt is great for dogs and sometimes helps. I give Shadow some everyday and get a kick out of seeing his mouth all covered in yogurt, it is so funny. Good for humans as well, fish oil pills can help the skin every day, and it is good for the immune system.
Check out earthclinic.com for more information, look under the pet tab and look under the heading "pet allergies". Hope all this works! (05/11/2009)

By Robyn Fed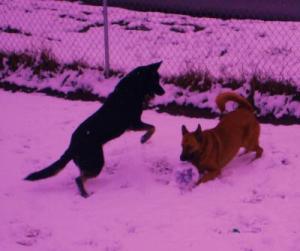 Dog is Licking Paws
You have fire ants in GA. Have you checked your yard to see if they are biting him? If it's not fire ants, you could try neem oil. I bathe my dogs with neem shampoo all the time, but you can also buy neem oil for skin problems. It's great stuff. I heard about it on this site.
(05/19/2009)

By Stngray
Dog is Licking Paws
I'd place my money on something you're using on the floors to clean them, forgetting and letting the dog walk across it. Or allowing the dog to go out onto fertilizer/pesticide/ weed killer on the grass? One thing that can really give a pet fits, even human feet is using oxyclean on floors or shoes. It's hydrofluoric acid and can only be neutralized by milk and egg white membrane, which sounds weird, but it's the only thing I could find that would work. Sometimes, if it's too bad, I have used hydrogen peroxide first, blow dried it, then used neosporin cream in the cracks, and band aided.

To be on the safe side, buy refrigerated acidophilus for pets with "streptococcus" in it, which is in all dirt naturally, but which helps to heal allergies in all pets. Crush it and use common sense about dosage sprinkled on their food and mixed in. It's not medicine, but is a natural remedy that works 100% for us for a number of issues, which I also could have used on my dogs before canned pet food killed them years ago at early ages.

Mercola.Com says most illnesses/ diseases are from poor intestinal immunity, and our family has been using acidophilus for over twenty years. My latest colonoscopy was so perfect I don't have to do another one for at least 10 years, according to the doctor who also took pictures to prove it to me, honestly, lol.

Buy an organic cereal for your dogs, wipe their paws with gentle dish soap/vinegar each time they are in the mud puddles, and you think of it. If you use neosporin, blow dry the feet first to not trap any fungus in any cracking the dog has. The neosporin being licked off actually acts like an internal medicine, and healed my mouse who lost all of it's fur from something, on one whole side of it's body. We thought we'd lost her, but she pulled through and I believe it was the neosporin inside and out. You can buy a generic triple antibiotic ointment, which is much cheaper and the same formula I believe.

God bless you and your dog. :) (05/19/2009)

By lyndagayle62
Dog is Licking Paws
We have a small herd of foster pooches, elderly Cairn Terrorists. One of ours has strong Westie in her. Westies have quite a list of skin problems.

We switched to VeRus dogfud & use their Menhaden variety. No corn, wheat, chemicals, you name it. So, after a week or so, they stopped scratching, stopped the Westie Oily-Fur, stopped licking their private parts, and it has cleared up the ever present tear streak from their eyes. Poops are solid & not so much volume because their bodies handle it better. They still refuse to pick up after themselves; that didn't change!

The thing is, if it doesn't noticeably help your pooch problems, the company will give you a refund! (05/20/2009)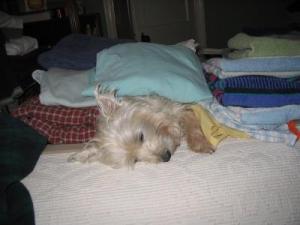 Dog is Licking Paws
Our rottie mix used to do that until I switched his food. Now that he is on Pro Plan he no longer licks his paws. You may want to see about switching from a corn based dog food to one that the first ingredient is meat. 95% of the dog foods sold have ground corn as the first ingredient.

Food allergies can manifest as a licking or constant biting/scratching in symptoms. Good luck! (05/21/2009)