Catherine Forman
2

found this helpful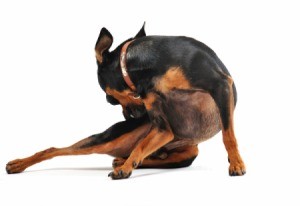 Lick, lick, lick. Nibble nibble. In my house, we start the day with a vigorous leg-chewing session.

Excessive chewing can be a sign of skin allergies, or a reaction to insect bites. Keeping your dog on a monthly flea and tick medication like Frontline can help reduce bite problems! If your dog has other allergies (seasonal or food), the paws may be the first place they start to itch. If your dog is chewing himself nonstop, especially if he has chewed his skin open, call your vet and schedule an appointment. A cortisone shot may give him the relief he needs. Your dog may also need a prescription antihistamine or a conditioning shampoo to help keep the itchies at bay.
However, some dogs lick and chew for no medical reason at all. Compulsive leg licking is frequently seen in Labradors and German Shepherds.
When your dog is lying in what's called the "Sphinx" position, on his belly, body in a line, front paws stretched forward, the foreleg is in perfect position for some recreational licking. Dogs learn licking as comfort behavior when they are puppies being cleaned off after birth by their mother.
Licking or nibbling isn't bad, unless it becomes an obsession. A dog may lick his fur away! All that licking will cause the skin tissue to thicken, and eventually crack. Your dog risks infection if he licks himself open like this. Veterinarians compare it to obsessive compulsive disorder in humans. The dog is licking to satisfy a psychological need, rather than ease a physical problem.
Some over-the-counter remedies, like bitter apple spray, may deter your dog from licking the affected area. Then again, if he's determined, he'll just keep on licking. Your vet may prescribe medicine like what treats OCD in humans to give the skin time to heal. If treatment stops before the area is fully healed, your dog will most likely start the licking cycle all over again.
July 12, 2012
1

found this helpful
My Poodle has started biting her feet. This licking and biting has caused sores to appear on each foot. Is there something I can do to help her stop?
By Lynda H.
Answers
July 13, 2012
0

found this helpful
My solution after years of trying different things is 1/4 to 1/2 a paracetamol tablet twice a day for a few days, then stop to see if she restarts chewing.Washing paws with Epsom salts dissolved in warm water will also help. Desperate measures have included piriton in the past. Vets will go barmy at this post but it worked for us and is a damn site cheaper.
July 14, 2012
0

found this helpful
Something is probably bothering her feet in order for her to be doing that. Take her to the vet.
November 2, 2012
0

found this helpful
The answer is called a veterinarian.
June 1, 2017
0

found this helpful
Paracetamol is the same as tylenol which can kill a dog. So please be careful.
June 1, 2017
0

found this helpful
Paracetamol is the same as tylenol which can kill dogs. Please be very careful. Consult your vet first.
January 25, 2019
0

found this helpful
Maybe if you call some special vet but most vets dont know what to do. Sick of spending money just to have my dog come home and scratch some more.
Lets see...antibiotics, steroids, antifungals, nerve pills...haha makes me broke and crazy
Answer

this Question

...
My dog has allergies. What kind of off the shelf medicine can I get to keep a 17 lb. Rat terrier from chewing on her feet?
By Rod
Answers
June 15, 2012
0

found this helpful
Best Answer
You don't mention what kind of allergies your dog has. It is common with food allergies for dogs to chew themselves. My dog was relentless until there was no hair whenever he could reach with his teeth. It it is a food allergy, keep trying new foods until you find one he doesn't become allergic to. He will begin to chew again if he is allergic to something in the new food.
I finally ended up with a home cooked mix of brown rice and canned salmon that my dog ate until he died at 17 years. He never chewed again. I must have gone through 5 or 6 different mixes until I hit the one that worked. Don't give up and good luck.
Answer

this Question

...
April 27, 2012
0

found this helpful
My poodle has started chewing on her feet. Sometimes she will chew so hard it will bleed. Please help me find information.
By Lynda H
Answers
April 27, 2012
0

found this helpful
Does she need her nails trimmed? Does she have ant bites?
Those are my first two things I would suspect. Because my dogs has done that before.
April 29, 2012
0

found this helpful
Athlete's foot spray. Safe
April 30, 2012
1

found this helpful
Your dog is chewing on her feet because she is having an allergy attack. She may be allergic to the food you are feeding her, to the grass, to pollen just like humans. Lamb, duck and sweet potato are better choices then chicken or beef. Make sure the meat is the first ingredient.
I give my girls Benadry when they start chewing on their paws. Buy the ultratabs NOT the liquid (has too much alcohol). The recommended dose is 1 mg per pound. Benadry tablets are 25 mg each. So if your dog weights 12 pounds give him/her 1/2 tablet. I have given them one in the
morning and one in the evening to help them sleep.
Hope this helps. Celia
Answer

this Question

...