How do I keep from biting my nails?
By Victoria from Wilmington, NC

Answers

February 5, 2011
0

found this helpful
Best Answer
I still remember what my 3rd grade teacher said to one little classmate..."You could plant radishes under those nails!" and I've never considered having a "dirt snack". That was 52 years ago and my mother-in-law stopped a life-long habit of nail biting after hear that.

July 24, 2011
0

found this helpful
Best Answer
Hello,
I always wanted to stop biting my nails too. I tired the easy acrylic way but that was just painful and bothersome (not to mention expensive) What really got me to stop was an idea from my grandmother. Just try to make one nail pretty. That's all. Just keep your mouth away from that one nail and wait awhile. There's no pressure and no bad feelings if you falter and bite one of the others.
Soon you'll see how pretty your nails can be. I did and then I realized how much I liked how pretty that nail was and I started not to touch the entire hand. Then both hands. :) Now they're really pretty. (Also a smart girl told me to keep a nail file wit me at all times so I can even out my falters or snags).

April 14, 2016
0

found this helpful
Best Answer
I stopped by chewing gum. Also coincided with quitting smoking so the gum chewing helped with 2 things!
Answer

this Question

I've been biting my nails since as far back as I can remember, and I have no control over it. I used to get infected nails all the time and the doctors wouldn't help. I was young and my parents had to physically pull my fingers from my mouth because all I did was bite them. I'm now 18 and everyone I know asks me to get my nails done, but I can't because they are so short. My index finger, pinky, and thumb are the worst. I grow them for like a week then I go back to biting them. They look horrendous and all I want is nice nails. I would like to be a girly girl and get my nails done, but I can't. Any suggestions on things that would help me stop biting my nails would be appreciated!
Thanks.
Answers

Pghgirl40
Bronze Feedback Medal for All Time! 196 Feedbacks
December 13, 2019
0

found this helpful
Best Answer
Here's one of the things I learned, everything is a choice and you do have control over your decisions and choices. You can choose not to bite your nails today, then again tomorrow, and then every day.
Yes, you may choose to bite them again, fall off the wagon, so to speak, but you have control and can continue on your positive path.
It is kind of like a 12 step program. Once decision, one day at a time! It works!! Prayers and blessings!

poehere
Bronze Post Medal for All Time! 105 Posts
December 14, 2019
0

found this helpful
Best Answer
You have a choice to make for yourself and it is only you who can make this choice in life. It might help you if you go to the beauty supply store and buy a set of fake nails and put them on. See how they look on you, how do they make you feel, and most of all do you like the way your hands and nails look? If this is what you want and it makes you feel good inside then keep them on for a few days or even a week.
See how this goes for you. Each time you go to bite your nails take a look at how pretty the nails look and why would you want to destroy them. This could be one way to help you stop bitting your nails.

December 14, 2019
0

found this helpful
Best Answer
Start polishing your nails, no matter how short they are. See if that doesn't make biting them less satisfying. Put on a new coat of polish every day, even if it's clear. Clear will be less noticeable than color, and after a few weeks, your new nails will be pretty enough to use a nice color. You don't have to have long nails.
Find something else, maybe chewing gum, to chew on or suck on hard candies.

December 17, 2019
0

found this helpful
Best Answer
First of all this is not a choice, it is an obsession or addiction like any other and definitely not your fault. After a stay in hospital t the age of 3 or 4, I bit my nails for over 50 years and couldn't stop no matter what. I finally managed to stop almost by accident, by finding something else to do with my hands. I started crocheting and cross-stitching - kept my fingers busy doing something else and out of my mouth.
My nails were weakened after so many years of biting, but now almost 20 years later I can grow long, strong nails. The urge to bite is sometimes still there but it's easier to control now. Good luck and don't let anyone shame you into thinking it's your fault!
Answer

this Question

I am a teenager and I have been a nail biter for about 9 years now and it's terrible. I just can't stop no matter what I do. I have not tried any special nail polish yet (because I haven't been able to find any). My fingers are so gross as well as the skin just over top the base of the nail.
I need a solution to stop. I am so self conscious about my nails. I don't want people to see them so I try to pull my hoodie over my hands. Please help me.
Answers

March 20, 2017
0

found this helpful
Best Answer
There are a lot of nail biting polishes (some people call these nibble inhibitors) available from Wall-Mart type stores, drug stores (ask a pharmacist if you need help) that are especially designed to help people break the habit of biting their nails. These work by placing a very bitter taste when you touch your nail to your mouth.
Placing band-aids over the nails during the day is also a good deterrent. Remove at night and reapply in the morning or after a shower.
You are not alone with a habit like this but there are probably trigger points that cause you to continue to do this so maybe you could try to keep track of what was going on when this happens (many times you may not even be aware you are biting your nails).
Here is a link that might shed more light on how to stop:

March 21, 2017
1

found this helpful
Best Answer
I had a really bad nail biting problem. I would bite them to the point they would bleed. I stopped biting them by buying the press on nails, then when I would go to bite them I couldn't anymore. After several packages of press ons it stopped my biting habit. Hope this helps, good luck.
Answer

this Question

Okay I have been biting my nails for as long as I have been on this earth which is about to be sixteen whole years. I am using this nail polish with a nail polish remover taste to it, but the problem with me is that I either bite or peel the polish off of my nails despite the taste of the polish. I also bite my nails because of my anxiety and boredom and I just can't seem to leave them alone long enough to let them grow properly.
They are literally nubs at this point and I am desperately in need of letting them grow or finding a way to finally stop biting my nails once and for all. Is there any advice or tips for someone like me in this situation?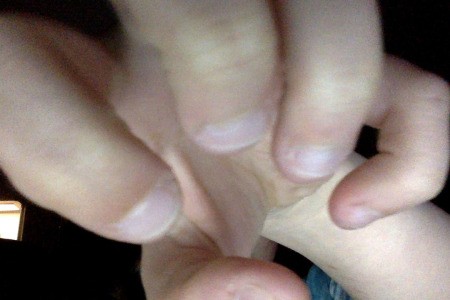 Answers

15mhhm15
Diamond Post Medal for All Time! 1,298 Posts
May 9, 2019
1

found this helpful
I used to be a nail biter then I got an infection and had to get pus removed and I stopped bitting my nail since.
Might be gross to say but you can watch YouTube like nail infection from biting nails or something and it might help you stop altogether.
Some other ideas I can think of:
- You can use press on nails
- Cut your nails short
- Get your nails professionally done
- Fiddle with something else other than your nails
- Chew on gum, or hard candy something else than your nails.

Judy
Gold Post Medal for All Time! 677 Posts
May 9, 2019
1

found this helpful
I used to bite my nails and stopped when my sister got engaged. Even though engagement was a long way off for me, I realized that rings do not look pretty on hands with bitten nails. That got me to stop.

Pghgirl40
Bronze Feedback Medal for All Time! 196 Feedbacks
May 9, 2019
1

found this helpful
The word that caught my attention was anxiety. Have you told an adult about this? Anxiety is so common and is something that can be managed pretty easily for most people.
Anxiety is so common and affects people of all ages. It just is and it can be managed and controlled.
Please consider finding an adult who you trust and talk to him or her about what is going on and develop a plan for ways to manage things. A parent, a grandparent, aunt or uncle, a teacher, your school counselor, a religious person (priest, rabbi etc.) Find someone you trust and tell the person what is going on. It is easy. You can do this!!!
There are so many options and many of them have simple things to do...like learning mindfulness, having an app to help you count your blessings, developing prayers to help you through, talking to a friend, so many options. There are many, many things that work! I promise you there are lots of solutions to choose from and hopefully you can find one that works for you quickly!
I will send up lots of prayers that you can work with someone you trust to resolve this and the nail biting will become less and less of a way to manage your anxiety.
Post back with an updates so I know you are OK!! Hugs!!!
Read More

Answers
Can anybody help me find a way to stop biting my nails and allowing them to grow healthily?

By Latoya from Eastbound, Trinidad

Answers:
How Can I Stop Biting My Nails?
Find some special occasion that you would like to have nice long nails for and decide to quit biting them so that they will be long for that occasion. I bit my nails all my life until I was 16 and then I decided I wanted them long for the junior-senior prom and I had long nails for that and have had them ever since. (08/24/2010)

By Joan
How Can I Stop Biting My Nails?
Biting nails is partially a deficiency. I don't remember anymore which vitamin it is based on, but I am sure with a little Googling you can find out. My daughter used to bite her nails and I seem to remember my wife telling her to get a spoonful of peanut butter when ever she felt like biting her nails. Just some info, don't know if it will help you out, but better than nothing. (08/24/2010)

By Suntydt
How Can I Stop Biting My Nails?
There's a special polish to use that will taste nasty to your taste buds. Sally's Beauty store carries it I think. (08/24/2010)

By Trudy
How Can I Stop Biting My Nails?
Oil of cloves, purchased in a small bottle from a pharmacy or grocery store should do the trick. Just paint it on. One nibble and you'll never want to taste it again! Good luck. (08/27/2010)

By JDatUz
How Can I Stop Biting My Nails?
It might help to remind yourself that in 6 weeks your nails will look as though you never bit them. They won't be really long, but they will look nice. (08/27/2010)

By Lilac
How Can I Stop Biting My Nails?
I was a bad nail biter (to where they would sometimes bleed from biting them down too far) until I started Cosmetology School when I was sixteen. The first time I shampooed someone else's hair grossed me out so badly with the thought of all the icky dirt and bacteria that ends up on our hands and fingers that it cured me then and there!

I had a friend who quit by lightly dabbing her fingertips with cologne because it tasted nasty and would leave a bitter taste in her mouth for a long time even if rinsing with water afterwards. ;-) (08/27/2010)

By Deeli
How Can I Stop Biting My Nails?
One suggestion is to buy a real pretty pair of gloves and wear them when you're most tempted to bite your nails. I bit my nails until I was 16 years old. A friend of mine in high school had the most beautiful nails, and one day I decided that I was going to have pretty nails just like hers. Seeing her nails was enough to motivate me to stop biting mine. Ever since then, I have had tons of compliments on my pretty fingernails. Believe me, it is well worth the effort to stop biting them. (08/27/2010)

By kitkatk100
How Can I Stop Biting My Nails?
Onychophagia is compulsive nail biting which can be treated through behavioral therapy modification through psychotherapy, or medication (B-vitamin inositol). (10/13/2010)

By Letty