I've been a nail biter for 15 or so years; I finally stopped a month and a half ago. This is a great accomplishment for me, but as I watch my nails grow the white tips are really large, they extend all the way down to where I used to bite my nails. I thought maybe the pink part would grow.
I have heard that the nail has to be reattached to the nail bed and that it'll take some time. Does anyone know how to speed up this process? Or if I'm wrong and it isn't a matter of the nail bed does anyone know why the nail does this? (By the way please don't leave answers telling me to talk to my doctor this will not help me.)
Please help. I feel that they are really ugly.
By MsAlie711
Answers
July 15, 2011
2

found this helpful
Best Answer
You have moved the nail beds back. I don't know how long it might take for them to move forward, or even if they will. BUT, you accomplished something wonderful--it must have been very hard to stop such a long standing habit! (Habits are hard enough to break when it is not something you carry with you all the time, like fingers!)
Be patient. Don't clean under your nails too vigorously with a nail cleaner or whatever, if they're very dirty, use a soft nail brush, so that you don't damage any re-growth that may have occurred.
Meanwhile, experiment with polishes--you can probably find a "French Manicure" polish set with some pinkish polish and white polish. Paint the pinkish polish further down, to cover some of the white. Give it time, and don't forget to stretch your arm over your shoulder and pat yourself on the back now and then!
November 29, 2014
4

found this helpful
Best Answer
I have been biting my nails for almost 20 years since I was little. I don't even remember how they used to look, but judging from my parents, they were supposedly nice. I have stopped periodically and as they were starting to grow out, something would cause anxiety and I was back at square one.
My girlfriend got me this polish called "No Bite" and it is absolutely disgusting if you touch it to your mouth. I think the biggest issue with chronic nail bitter is that you don't notice every time you do it. This gives you more control and awareness.
Now for the main point...the bed of my nails was considerably small from the decades of damage. In the course of a month, the nail bed is starting to grow back. Take progression to document not only the recovery, but also your success. Don't let your nails grow out too much or you might be tempted to quickly "cut" them by biting. This opens the door for relapse! Use nail cutters and keep them at a respectable length. If you get a hang nail, DO NOT tear it with your fingers. Get a proper nail manicure set. I never thought I would need a manicure set, but it's absolutely essential to your nail recovery.
Congratulations to all those who have taken this important step to enhance their health, body image, and personal growth! Keep up the good work and don't let anyone discourage you... especially yourself.
Answer

this Question

...
I've bitten my nails for as long as I can remember as embarrassing as it is, but they have now started to form an odd shape. What I see as "normal nails" are nails that are shaped like a U. But my nails are shaped where they are curved at the bottom and the go outwards like this / and it's really disturbing. The strips of skin beside my finger nails are getting thinner and thinner and is looking really unnatural.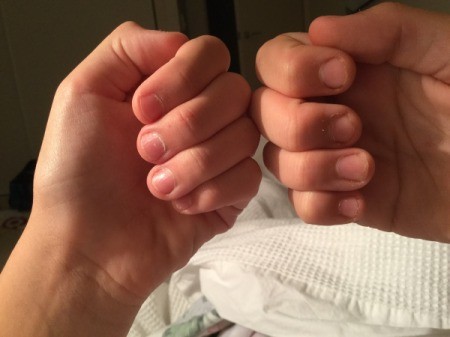 Is there any way that I can fix this problem or make my nails grow in the shape of a U again?
Answers
January 8, 2016
0

found this helpful
Human fingernail shapes are genetic-you inherit your nail shape from your parents. Some people have U shaped nails and others have variations of U, flared and other shapes. Nail shapes can also vary in the fingers of one person, as well. The only way to change your nail shape would be via plastic surgery but there is no guaranteed result.
However, you can consult with a dermatologist for help to improve the health and appearance your fingers and nail beds. The critical factor for improvement is, of course, to completely stop biting your nails.
Good Luck!
July 8, 2016
0

found this helpful
I used to have what she is referring to as "u shaped nails". After a few years of biting the tips of my nails have flattened out into more of a V shape. It is not genetic as the change only came after biting consistently. After several months without biting they have recovered some of their natural curve again.
February 20, 2017
0

found this helpful
I was a ravenous nail biter for over 30 years. My entire life. About 18 months ago, I stopped. I had the same "V" shaped nails and found as my nails got longer, the curve toward the tip got more pronounced, so they weren't as flat and wide toward the tips. You can also file them so they're a bit narrower.
I found the tricks to growing out my nails was using Nutra Nail Stressed Nail formula - it made my nails grow longer and faster. I was never able to even get them to my fingertips. But the Nutra Nail really worked. I also keep my nails polished and when I feel the urge to bite, I peel the polish instead. I carry a small nail polish remover and a bottle of polish with me at all times so I can re-paint if I peel it all off (because once my nails are bare, all bets are off on my ban on biting!)
I've not bitten in 18 months now! It took about 6-7 weeks to reach the tips of my fingers. But once they grew out, I didn't want to bite anymore as I'd ruin all the work I'd done manicuring and filing and so forth. Peeling off the polish is a nice alternative to biting for me.
I do lots of French Manicures and Hombre designs with sparkles near the tip. The 1 or 2 extra layers of polish makes my nails a bit stronger near the tips where they're most prone to break as they are still pretty weak but definitely improving. I also put clear polish on the tips and underside of my nails to help make them less prone to tearing in the shower. (Shampooing my hair always seemed to cause them to break. I tried wearing gloves but that sucked. Painting the tips and underside limits the fragility I've found.
I keep a nail file on me at all times as a snag or chip makes me want to bite. (And then once one is short, I'm compelled to even them all out by biting)
I now file my nails back because they're too long and typing gets difficult - a problem I NEVER had before!
June 10, 2018
0

found this helpful
Hi!! I bit my nails until my early teenage years. Now, roughly 10 years later my nails look way better. All of my nails look as if I never bit them except for my two index ones and one of my thumbs, which I believe are still healing (I really hope so!). I used to have my nails JUST like yours, and what I did was let them grow long. Id have really long whites, which I know looked ugly, but Im so happy I did that for like a year because thats the time they took to heal. Now of course Im very careful with my nails and Im scared that I may harm them while filing them so I take too much care. Its what it takes I guess. But with all of you facing that problem, just give yourself some time and youll see awesome results!
Answer

this Question

...