Michawn
Bronze Feedback Medal for All Time! 188 Feedbacks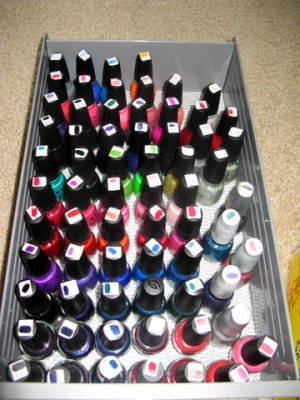 The best thing to do, is take some good vitamins. Also, use some good products such as a base and top coat to embrace the nails you have. Acrylic ruins your nails and fungus can get up there quite quickly.
If you use a good base coat, any nail polish, and a good quick drying top coat (Sally Hansen in the red clear bottle or Seche Vite at beauty supply stores), you'll save tons of money that way. The top coats are not like they used to be. They actually work, no more sheet marks. The only downside to not having acrylics is the nail polish doesn't last as long. But that's the fun, changing the colors!
If you must use acrylics, use Sally's beauty or online retailers like Head2ToeBeauty, they have name brand nail polishes very cheap and all acrylic nail supplies, even with shipping they are still better deals than local stores.
Source: Nail polish addict, over 200+ bottles and have given up acrylics for the health of my nails!
By Michawn from CA
Read More

Comments
Will getting an acrylic overlay mess up my beautiful natural nails?

Lisa from Nesbit, MS

Answers

December 30, 2006
0

found this helpful
I used silk wraps and acrylic liquid on my nails for a year and a half, because I didn't think my own long nails would survive my new job. I was a slave to repairing them. I quit doing that in October.
After several weeks of breakage, my new nails are growing out fine. I don't think the time and money you spend protecting real nails is worth it. My new philosophy is "they'll grow back".
By denise w (Guest Post)
December 31, 2006
0

found this helpful
im a retired manicurist and the answer is yes. when ever you file the top of nail it will cause damage and if you wear them too long for years you will be left with indentations in the nail bed so glue ons are great for a party but not acrylics or wraps!
By Debra in Colorado (Guest Post)
January 2, 2007
1

found this helpful
Your nails need air. Covering them weakens them, if you have beautiful natural nails rejoice! Keep them strong by eating lots of vegtables and jello your required water does'nt hurt either.
By Doggy (Guest Post)
January 2, 2007
0

found this helpful
PLEASE don't do it : ((
By becca (Guest Post)
January 2, 2007
1

found this helpful
absolutely not! they will not "ruin" your nails!!! If you have the proper nail tech working on you. I am a nail technition...for over 6 years now and i have removed many of my clients acrylics that they had on for many years, and as soon as the nail grows out you have the same nails you had before you put acrylics!
if you have nice nails, just take care of them. if you want other option because you are not happy with your natural nails go for acrylic.
By (Guest Post)
January 2, 2007
0

found this helpful
I had wonderful, strong, healthy nails until I put acrylic nails on one summer for some weddings I had going on. My nails have never recovered. They break and splt at the slightest provocation. I fear my nails will never be the same, despite taking vitamins and supplements specifically for them. I would never recommend acrylic nails.

January 2, 2007
0

found this helpful
I wouldn't do it. You would have to maintain them which means getting them filled or they will look tacky as they grow out.
Lynda

January 6, 2007
0

found this helpful
It's really just common sense :) (no offense) but yes your nail will be damaged when the acrylics are removed, but the damaged part will grow out and the new natural nail grows in..just like hair. It doesnt last forever.
By laura (Guest Post)
May 27, 2007
0

found this helpful
the acrylic nails ruined my natural nail, the acrylic nails have been off 3 years and my nail are soft and very sensitive.

July 2, 2007
0

found this helpful
in a word Yes--if you have beautiful natural nails--it would be best to keep them natural. Not only do acrylics weaken natural nails--if you do not keep up with having them filled-they can lift and you can get a really nasty infection under the artificial nail
By helen (New Zealand) (Guest Post)
July 19, 2007
3

found this helpful
For Debra in Colorado... Why would your natural nails need air?? Nails are dead, waste products of the body and do not require air. Covering does not weaken them either. What weakens nails is ill health, certain drugs and damage to matrix.
Weak nails can also be inherited. As for acrylics or gels ruining the nails, it is the bad NAIL TECHNICIAN who put them on that ruins the natural nail, not the product itself!
Read More

Answers

I get the Kiss brand nails from Walmart and they end up coming off in about a week. I'd lke to reuse the nails but you can see the glue. Is there any way to remove the glue from the nails?
Dana
Answers
By ma (Guest Post)
January 27, 2005
0

found this helpful
i use the same nails. only i put them on with superglue and they last 2 weeks...however, how should i take them off? :)
By MARIAH (Guest Post)
October 12, 2005
0

found this helpful
MY ADVISE IS "GO TO THE SPECIALIST AND QUICK"
By Becky (Guest Post)
November 15, 2005
0

found this helpful
SUPER GLUE!! gurl, u wnt them to stay on bad.. never uses superglue on your real nails, it ruins them,, :) but anyway,, i am having my acrylic nails put on professionally on saturday 26th, and i wondered how long they last without infills?? i got told it is about 6-8 weeks, it this true, and do your real nails grow underneath??
By Christie (Guest Post)
February 20, 2007
0

found this helpful
Visit www.broadwaynails.com or www.nailene.com. These are just like Kiss, except they sell glues that will let your nails stay on for L-O-N-G-E-R! And if you really like the French look, go acrylic. I've worn acrylic non-stop for years, and my nails are as fast growing and as strong as they were before I even started! I also love acrylics because by the time I let themm grow out, my natural nails are all grown out beautiful, and i can paint them prettily!
So go ahead and try. If you don't remove the acrylics wrong, then your won't have nail damage.
By Makenize (Guest Post)
May 15, 2007
0

found this helpful
all you need to do is soak your hands is warm water for twenty to thirty minutes
By samantha (Guest Post)
July 7, 2007
0

found this helpful
i have professional acrilic nails on, and i want them off what do i use??
By Louise (Guest Post)
July 30, 2007
0

found this helpful
iv had acrylic nails done, and was going to get them infilled before i go on holiday, but i went bowling and 3 of them are coming off at the sides, if i get infiills will this matter? or will i have to have them re-done completely?
HELP?!
Read More

Answers

My husband recently gave me a gift certificate to do something to my nails at a local spa. The lady told him to do it for $75 (since he did not have a clue how much to buy). When I first saw the certificate I can't describe what rolled through my mind that $75 could have bought. But I thanked him and went for my nail treatment.
It has now been a couple of weeks and I need to either have a "fill in" or soak them off. I find that I like having nails which I have never been able to grow, but there is no way I would ever pay this every 2-3 weeks. I do still have a little on my certificate that I have not spent but what after that? Does anyone know of a way to "fill in" that it is not expensive?
By Meemaw
Read More

Answers

Dena Roberts
Bronze Feedback Medal for All Time! 102 Feedbacks
What is the difference between gel nails and acrylic nails? Can anyone give me advice on which to get? My real nails keep splitting and breaking and look terrible. I am looking for low maintenance nails that won't break and will look good, but I do not want to get nail diseases. Thanks.
By Dena Roberts from Winnipeg, Canada
Read More

Answers