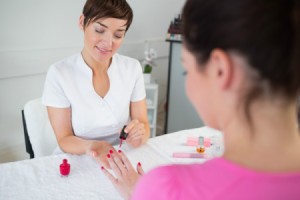 I hear it over and over, clients and others blaming acrylic or gel polish or some other service for damage to their nails. I'm sorry, ladies, but it's not the product doing the damage. It's people who do damage to the nails, not the product. Yes, you're putting a product that sticks to your natural nail and sometimes when that product pops off or rips off, that does do damage. Of course it does. But if it is properly put on and properly removed, and cared for in between appointments, then your natural nail should be in good shape.
So, who does the damage? One of two people or both who are caring for your nails; the client, and/or the nail tech. If you have a nail tech that goes at your nails roughly, improperly uses the e-file (electronic file, not "drill") then you will definitely, guaranteed to have damage done to your natural nail. Which, if you are having acrylic nails put on, you won't see till your nails are removed. Then you're blaming the acrylic when all the while it was your nail tech doing damage every time you came in for a fill.
Do your nails ever hurt when you get your acrylics done? Nail services should NEVER, EVER, hurt. Ever. Sure, sometimes you get nicked by a file and that's painful. But I've had clients tell me about seeing a nail tech and their fingers hurt for days afterwards. Seriously?! Then don't ever go back!
How does a client do damage to their nails? If you get a service done and then treat your nails like they're tools in between appointments then you're doing damage to your own nails. Lifting is caused by so many reasons that it's impossible to name them all. Don't use your nails as a tool, like to remove stickers from products, to pry things open, etc.
Be kind to your nail extensions and you'll be much happier with your nails and you won't have all that damage that you're doing underneath your acrylics that you don't see until you have them removed. You just don't even think about all that twisting and flexing that goes on when you're being rough with your nails.
By the way, your nails do not breathe. You don't need to have your acrylics removed every month. That in and of itself causes most of the damage that is getting done to your nails. Discount salons like to always charge for full sets rather than just have you come in for fills. So, they tell you your nails need to be replaced because your nails need to breathe or whatever. Actually, it's less damaging to just leave your set on. Think about it, you get fills every 2 weeks so you're always growing your nails and always getting new product put on so in about a month or two you have fresh acrylic on your nails! Why get another full set? It's totally not necessary and not even recommended by reputable nail tech's.
You get what you pay for in this industry. If you want a reputable nail tech that is well trained and wants to do a good job and keep your natural nails healthy, then don't go to a discount salon that only cares about making money and cranking people out on a regular basis.
I am a Board Certified Nail Technician and I care about giving my best to all my clients. There's too much misinformation out there. Educate yourself which not only helps you know what to expect from your nail tech but it keeps your nails safe and healthy.