March 12, 2009
You can crochet with embroidery thread if you use very small crochet hooks. But generally crocheting requires yarns. Embroidery thread is much lighter and thinner than yarns.
March 13, 2009
You can successfully use almost anything to crochet with. Just have to experiment with the size of hook that gives you results you like.
March 13, 2009
You can crochet with anything, but using embroidery thread would cause you to make a lot of knots since the skeins are not too long. Also, it might get expensive if making anything but a very small project. I'd look for crochet thread, since a spool of it would be much cheaper than buying several skeins of embroider thread; crochet thread comes in different thicknesses too. Just make sure to use the proper size hook, what ever you choose to use. And if you do decide to try embroidery thread, make sure to get it all at the same time with the same dye lot, or the color may not match.
March 14, 2009
(Submitted via email)
I just love the immediate response from you women! The embroidery threads that I have are cones! Lots to them. So I will create my runner using the colors I have and am so glad you have reached me! How I wish I could describe myself to all of you so you would have an idea of who I am. Anyway, from the east coast I am by the seashore broke but not poor!
By anne chaplin 1 Flag
March 19, 2009
This is a project I started but never got round to finishing, but yes it is possible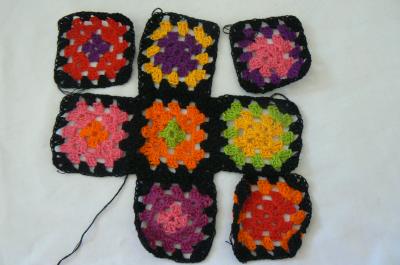 March 20, 2009
6 strands of embrodery thread is equal to size 10 thread, If making a project using size 10 thread and you need a few yards of another color, don't buy a new ball for a couple of yards when you can use embrodery thread in its place