Homemade Bird Feeder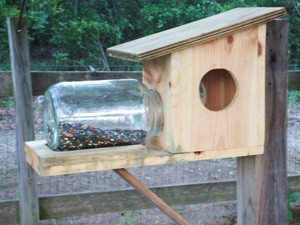 Here is a bird/squirrel feeder hubby made for our yard. Although the design is not his own, he saw one in his customers yards and came home, made it out of scrap wood (leftover from a boat he is working on), and a large pickle jar we had in the house.
We neglected to coat it with a clearcoat to protect it from the elements, but we'll make another and be sure to do so. It has already has repeat visits from a family of titmice, and squirrels, and one bumblebee who we had to let out due to him bumping into the glass *grin*.
By HICKCHIC3 from North Augusta, SC
Feedback
Read feedback for this post below. Click here to post feedback.

By
06/13/2009
Thank you to all who have posted feedback. As I mentioned hubby saw this in another's yard, so we are happy to know some of the origins of it, thank you! And I did have a few photos of a regularly visiting squirrel that turned out blurry, but we don't mind them visiting, we aren't overrun by them, yet *grin*. I use a mixture of cracked corn and black sunflower seeds, it actually took quite a while for the squirrels to seek it out, a family of five titmice took to it fast. We are looking to install a few more around the yard, thank you again for the feedback!

By
06/13/2009
This is the Beverly Hills Mansion of bird feeders. What a wonderful (& useful) piece of artwork! I'd cut the holes a bit smaller so the squirrels & rats don't steal the birds food!

Sadly, we had to take our bird feeder down because it was attracting raccoons & this made us fear our cat would be their next meal!

By
06/13/2009
Thanks for sharing. I do believe this is on the top of my"to do"list. I give it a 10. Good luck on winning!

By
06/13/2009
I have had one in the past where the squirrels were plentiful. We had both the brown and the black. I had great fun watching the squirrels and their antics. I think the idea for this came from "Birds and Blooms" magazine. I am sure they have archives if anyone would care to make one.

By
06/12/2009
I have one too. You'll love watching the squirrels fighting over the food; they don't like to share. :)
Post Feedback
Add your voice to the conversation.