I have king-size and a full-size beds. I have read tips about what to do with the sheets and pillowcases, but my comforters are huge! I don't have all that much storage space. Does anyone have any ideas on how to store these using the least amount of space? They are falling all over the place, out of the linen closet and getting dirty and I have to rewash again, and the cycle continues...ugh! Please help! Thanks!

Tammy from Fort Mccoy, FL
By Tammy
Ad
---
Recent Answers
Here are the recent answer to this question.

By agsschmidt01/08/2014
Space bags!

By margarita_mamma02/21/2013
My comforters are huge, too. Through the years I have accumulated quite a few, and in various colors. I got an idea yesterday on what to do with them to make them handy when I need them. I am going to the dollar store and buy their pretty curtain rods and make a row of them down a wall and hang these comforters from a wall in my home office.

I will work from home soon, so I can have them when I get cold. I have people spending the night all the time, so this way I don't have to dig them out of anywhere either.

By Leigha (Guest Post)09/27/2008
You can buy "bed raisers" at hardware stores. Unless you have a water bed, these 4 legs will raise the height of your bed, giving you more storage underneath. Or if you have a carpenter friend, you can make these. I got a couch FREE off a sidewalk that had no legs, and a friend of mine made 8" legs for it. Now I have a lot more space for storage under there.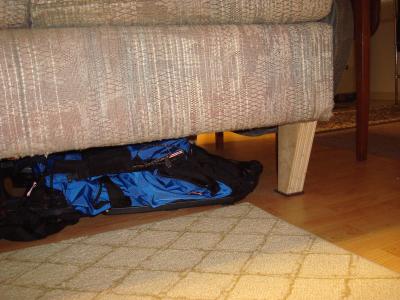 By Sandi/Poor But Proud [446]09/26/2008
You might try this. You can find second hand or inexpensive shower curtains rods. Get some drapery brackets and hang them behind your clothes. Hang the blankets in half in the back. If you have room, that is.

By Leann [7]09/26/2008
Vacuum bags are the way to go, you can get a lot of things in them and they shrink down really nice and compact.

By TD (Guest Post)09/26/2008
I just fold mine in half and store them between my mattress and box spring. I also take my blankets (used in winter to keep us warm in various places around the house) and fold them up and put them into decorative pillowcases.

By melody_yesterday [228]09/26/2008
Have you thought about rolling them & tying them with a belt or cord?
If you get help you can get them rolled small & tied & they take up less room!
Same goes for towels or anything you pack for a trip & everything stays neater!

By Maureen Reid [1]09/26/2008
I store blankets in large plastic tubs also, and also in 2 empty suitcases!

By Tina09/25/2008
Have you tried the vacuum bags. You just fill them up and vacuum out the air. Or put them under your mattress and you have a bed skirt too. Just a thought.

By Karen [10]09/24/2008
Zip loc has Huge bags that work similar to space bags and they often have coupons to buy them!

By KL [3]09/24/2008
If you store them in Space Bags or something similar where you suck the air out they rec you take them out occasionally and fluff them up so they don't loose their loft. Dont know how long you keep yours in storage mode. Also storing in plastic is tricky. Some plastics give off a gas and will cause fabrics to yellow if stored too long. And some stuff I have stored in plastic bags ends up stinking of plastic smell. But I am touchy on scented things.

I read that items rolled up and stored take less room than items folded and stored. I saw an apartment in a magazine once with no storage space where they took bulky jackets and comforters etc and stuffed them into fabric bags they made. They used them more like decorative pillows.

One was a drawstrig type bag and another was more of a bolster pillow only sewed to wrap around and tie so you could undo it to get at the comforter.

Sorta like this one:

http://www.digsmagazine.com/lounge/lounge_bolster.htm

By D.M. (Guest Post)09/24/2008
Those "space bags" that are advertised on TV work nice for storing comforters. They do cost a little bit, and depending on what size you use, you will end up with a compressed comforter that may or may not be awkward to handle (like the jumbo size). I use several for storing out-of-season clothes, linens, fabric, etc.

By Angelina (Guest Post)09/24/2008
I have not tried this as yet but if you put the comforters in a large bag, secure it with a rubber band to the hose of the blower part of a tank vacuum cleaner it will reduce this to a small package. Quickly remove the bag and tie tightly. When ready to use open the bag and it will expand to normal size. Good Luck. Let us know your results.

By Diana (Guest Post)09/24/2008
I store mine on industrial sized hangers (from the cleaners) and cover with a plastic cleaner bag


By Judi [18]09/24/2008
I store mine in large plastic containers and also in plastic wrapping that they came in. If you don't have those (or maybe you made them yourself) you could use large garbage bags, press down to get all air out, and twist-tie close.
Answer This Question
Add your voice to the conversation. Click here to answer this question.