I downsized from a home with very low carpeting to an apartment that has high pile carpeting. My computer chair will not roll on the high pile carpeting. I bought a chair mat, but it "walked". I was told to buy a chair mat for high pile carpeting, but the cost was $120 dollars! Does any one have a suggestion as what I could substitute for a a chair mat or where I could find a more reasonably priced one?
By Helen
Ad
---
By Myrna 15 1,062 03/22/20110 people found this helpful
My experienced advice is if you are going for a chair pad on high piled carpet, get the hardest pad you can. Avoid the ones that are rolled up with a good brand name; they are for a different type of flooring. A soft one gives in and becomes difficult to slide the chair about. It will also develop cracks and will need replacing earlier than it's time. I bought a much harder one the second time around and still could use a thicker one. Expect to pay a higher price for meeting this need.
By Myrna 15 1,062 03/22/20110 people found this helpful
I just thought of an idea that will work. Buy a sheet of thick plywood and cut to size that will work for your office desk area and bevel the edges and paint the board the color of your carpet. That's the most inexpensive way to go and I'm going to do it like this the next time I need to replace.
By Joan 13 1,482 03/22/20110 people found this helpful
The trouble with using plywood, is it is a soft wood, made up of layers and dents really easy.
By Chuck 22 182 03/23/20110 people found this helpful
If you like this idea you may need "technical" help. Remove your chair's wheels. Replace them with larger, industrial, caster-type wheels. But the wheels should, I think, be thin, high-profile types with rounded edges.

Adapting attachment devices to fit your chair is the challenge. Before I gave up my shop I would have loved to take this on just to say I did. First thing would be to find the wheels amongst old, scrapped machinery.
03/23/20110 people found this helpful
Purchase an office chair mat from an office supply store. Office chair mats are durable and they are available in clear and in colors. Be sure the one you choose is for thick pile carpet and if you look around you can often find them on sale. You can find them from anywhere around $25.00 to $60.00 USD.

Do not use plywood! The fibers used to make that wood will work their way into the fibers of the carpet and damage the carpet from the movement over time.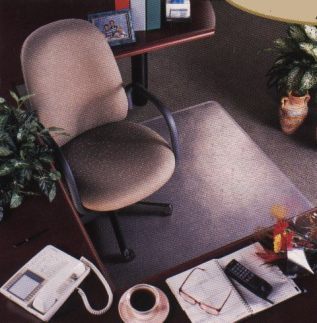 By Vivian 2 22 03/25/20110 people found this helpful
My suggestion is to put some "under carpet mat" under the chair pad. I believe the 'prongs' under the mat will anchor the pad.

Good Luck!!
By terryjbauer 1 04/19/20150 people found this helpful
Plywood can work great. I used a piece of scrap I had lying around and cut it to fit my application exactly (something you may not be able to do with a sore-bought plastic mat). I initially had some problems with the plywood delaminating and splintering but I fixed that by applying three coats of polyurethane. Total cost was about $11.00 for one quart of Min-wax polyurethane and my wife and I like the look. I have had no problems with the plywood damaging the carpet underneath.
By Art B. 1 08/24/20150 people found this helpful
Buy plywood with "one side good". Cut and glue bamboo laminate flooring to the "bad" bad side. (About $2/sq ft) Seal the good side (the part that faces the carpet) with two coats of polyurethane. If you want to be 'fancy' bevel the edges and seal those too.
Archives
Thrifty Fun has been around so long that many of our pages have been reset several times. Archives are older versions of the page and the comments that were provided then.
I need a low cost solid chair mat for my home office, I can't afford the retail ones. Does anyone know if I could use Plexiglas or lumber? Help!
maryjoyful from Greenville, SC
---
RE: Inexpensive Chair Mat Ideas
I too have the same problem. If you get wood, it would have to be pretty thick, like at least 1/4". Plywood might work, but I would get what is (or used to be called) lemonite (sp)? It's basically wood chips mixed with a resin type substance, and then shaped into a mold. It's almost the best wood you can buy for flooring, even tho' most people want to use pressboard. Pressboard is just sawdust compressed and sealed into a thin layer of resin. That is why, when you have a spill or a leak, the floor or shelf or cabinet starts to "swell". The photo I sent is from Home Depot, and it's 7/16" by 4' by 8' for just 8.00 You might even be able to make two out of that. Or, you can make a big one and use the rest for something else. Good luck! (11/15/2008)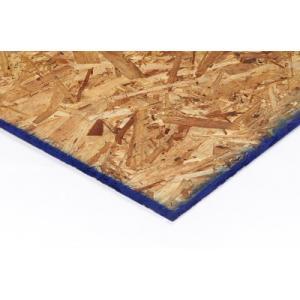 RE: Inexpensive Chair Mat Ideas
Hey there. I just got home with a 4' x 8' sheet of the smooth plywood, and it is wonderful! It doesn't look the best, but I'm thinking I might buy some of those inexpensive peel and stick floor tiles to cover it with. I've been toying with this idea for over a year, fighting the cheapo plastic chair mat I had and finally got irritated enough to go get one, $14 @ Lowe's. My husband is getting a real kick out of making sure when asked what I got for Christmas from him this year, I lead the list off with "a piece of plywood". He thinks I'm the strangest wife ever! LOL. Anyway, good luck with your mats. I'm loving mine! (12/13/2008)
By Indy