Don't throw away your old or extra shower curtain rings. This is a guide about uses for shower curtain rings.
This blanket was the perfect size, color, and price to cover my closet. But my sewing machine is in storage so...
I got 10 binder clips and a package of shower curtain rings from the dollar store, and made them work. Now that I have done this, I can advise you to use something just a bit thinner for the rings. I couldn't get them through, but one of the loops to click them. So anything would work; bigger key rings, etc.
Looks nice, huh? Total cost: $2.95.
N-JOY!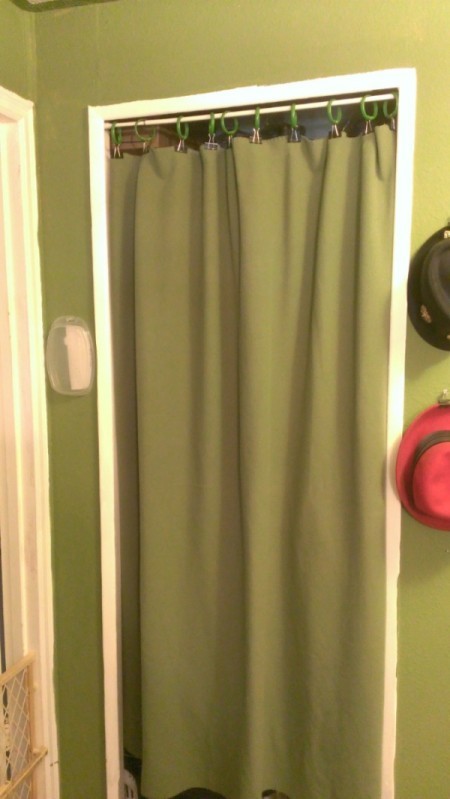 If you have left over shower curtain rings, don't toss them. I put two on the hanger that my jackets are on, then hang the matching slacks or skirt, and top, on the rings. It saves time and room in the closet.

I keep one in my purse, and if I have to carry too many bags from the store to the house (am currently without a car), these help my fingers from getting tired and sore.
And lastly, they make a great key ring if you have lots of keys you need to keep straight. Enjoy!!

By Sandra from Salem OR
I received new shower curtain hooks and am wondering what I could do with my old plastic clips.

Heidi from Manitowoc, WI
Answer
Was this helpful?
Helpful?
Yes
I clip several together and place on my purse strap then when you go to the restroom at the store and want your bag close by in the handicap stall I use it to hang my purse on the handicap rail so I don't have to put on filthy floor.
Reply
Was this helpful?
Helpful?
Yes
Read More Answers...
What can shower curtain rings be used for (other than hanging a shower curtain). Post your ideas below.
Answers:
Uses for Shower Curtain Rings
Ever notice how the hang tabs on your hair dryer are too small most of the time to hang it up on larger bathroom hooks? Well, the best thing that I have found to use is a shower curtain ring. It opens and closes easily, and very cheap to replace. Anytime you change the decor in your bathroom, just save a couple of the extra curtain rings for uses such as this. (07/21/2004)

By Deborah
Uses for Shower Curtain Rings
Clip one or two on your hand towel rack and clip necklaces and bracelets onto it.

Use it to hold you or your little girls' hair bands, scrunchies, etc. Keep it all in one place.

Keep one by your kitchen sink, bathroom sink or shower to put your rings or jewelry on while you do dishes or bathe. There is less likely of a chance of them to fall down the drain or get lost.

Have a key rack with small hooks and not enough space for all your keys? Hang them in sets using the shower curtain hook.

Use in others areas to hang regular curtains or to keep in your camp gear to hang something from to dry or to make a curtain to change clothes behind.

Use them to hang a wall quilt on a rod. (07/21/2004)

By Tawnda
Comment
Was this helpful?
Helpful?
Yes