What is a natural remedy I can give my 85lb. 11 year old dog for her arthritis. My dog Skye, has hip and leg pain. Some days are worse than others. I can put her a prescribed drug, but I don't like the side effects she has. I have her on a arthritic dog bed. She has been a great dog and I would like to make her remaining years as comfortable as possible.
By xintexas from San Antonio, TX
Recent Answers

By vicki hood08/24/2010
Ditto for fatboyslimsmom.

By Gloria08/24/2010
What a beautiful dog. Listen to fat boy slims mom. she's got it going on.

By Lola08/22/2010
Two words, glucosamine sulphate, may not have spelled it correctly. Not toxic, like it sounds, ask your herbalist or vitamin specialist, amazing results within a couple of weeks. Hope that helps.

By Frances Adams08/21/2010
My vet always said that aspirin only should be given, if not the prescription dog medications, and not Tylenol to dogs. I gave my adult 75 pound dog 2 baby aspirins daily. You can do a search online for glucosamine, chondroitin dog supplements, and see what strengths they are, and see if you can substitute a human product for it. Also add Omega 3, again, searching online for the appropriate amounts.
Questions
Here are questions related to Dog With Arthritis.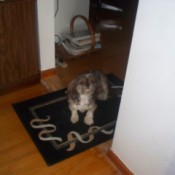 Does anyone have a home remedy for helping dogs with arthritis?
By Oleeda B
---
Most Recent Answer

By Tess Vowels12/29/2011
I use herbs for arthritis for myself & have given them to a dog that was suffering. It was amazing to see her (big dog) get some spring to her step! She seemed very grateful!
Archives
Thrifty Fun has been around so long that many of our pages have been reset several times. Archives are older versions of the page and the feedback that was provided then.
Does anyone know what I can do for an arthritic Golden Retriever? The vet wants to put her on Rimadyl and that is very expensive. Are there any home remedies that might relieve her pain or does anyone know of anything else? I have been giving her one children's aspirin when she acts like she's not feeling well with the leg, but I'm not sure that's enough. She is over-weight at 80 lbs., which we are working on. Any help I can get will be appreciated. Thanks ahead of time! Robin from Washington, IA
---
RE: Dog With Arthritis
Hi, You can try doggie aspirin, which is available at feed stores or online. It is buffered, but you need to watch for stomach upset. There are also many chewable glucosamine/chondroitin formulas. This is a dietary supplement for dogs (and people, too). These take time to work, but can help as well. Make sure you buy the canine version of this supplement. Getting your dog's weight down will help, too. So will regular but not intense exercise. Good luck! (02/21/2007)
By Utahyogini
RE: Dog With Arthritis
I know of an natural antioxidant product that works great for dogs and cats. It is a power that you mix into their food. It is natural. It costs about $20 for a 6 month supply. You can tell if it is helping within hours of taking it. Contact me if you want more information. I have received several requests for more information. The product is called PetHealth OPC Formula for Dogs and Cats. It has glucosamine and OPC, an anti inflammatory which is natural. No harm to tine livers, etc. You can find it at www.fa2health.com. Search by product name. It works wonders in a quick period of time. Good luck! My kitty has a immune deficiency which causes her teeth to rot from the inside out...it is helping her, too! (02/21/2007)
By FA2
RE: Dog With Arthritis
Forgot to mention that the Rimadyl website offers a $10 coupon for the first purchase and $5 for subsequent refills. The drug company sends you a coupon, which the vet redeems. UT (02/22/2007)
By Utahyogini
RE: Dog With Arthritis
I used to give my old dog a Glucosamine vitamin every day and this really helped. They are actually adding this to many "Senior" dog foods already. (02/22/2007)
By Dawn
RE: Dog With Arthritis
Dog Gone Pain works good. They have their own website and other companies sell it online. (02/22/2007)
By Rose Mary
RE: Dog With Arthritis
I definitely believe in giving all older dogs glucosamine for arthritis. You can usually find it at pet supply stores and online websites. It reverses the damage caused by arthritis. (02/22/2007)
By tedsmom
RE: Dog With Arthritis
We use the MSM and Omega 3-6-9,(anti-inflammatory) same as we take from the drug store and allow for size. We also took out a book on dog massage from the library and now our 100 lb. GSD has his pills and back massage every day. An extra comfortable bed helps a great amount as well. Rimadyl is hard on the dog's liver and there are better things such as Metacam if you have it. I went through the whole routine once before with an older dog who is gone now and the vet gave us the Metacam at discount then as we were regular consumers. (02/22/2007)
By Carol
RE: Dog With Arthritis
I'm starting my Golden on Adequan Canine injections this weekend. It's a bit pricey but it has proven results in adding to the dogs quality of life. Ask your vet and good luck! (03/08/2007)
By C--
My old Sheltie is starting to limp and shows he is in pain from arthritis. I have him on glucosamine and chondroitin. I forgot which pain killer is good for dogs, aspirin, Tylenol or ibuprofen?
Susan from Hamilton, Ontario
---
RE: Dog With Arthritis
Never give any dog human medication unless it's under the advice of your veterinarian. A call to your vet is free. Take care. (01/22/2008)
RE: Dog With Arthritis
The best thing to do is change her diet, go see
dogfoodsecrets.com
or you can give aspirin to your dog, I give some to my 12 year old German Shepherd, for cats it is toxic, but I do recommend you talk to a vet first. (01/22/2008)
By Gazelle
RE: Dog With Arthritis
Ascriptin was prescribed by my vet. It's aspirin with buffering agents, so your dog's stomach won't bleed. It's sold without a prescription (as human medicine) and is much cheaper than Rimadyl. (01/22/2008)
By Nance
RE: Dog With Arthritis
Instead of medication, try mixing a tablespoon of extra virgin coconut oil in your dog's food once a day. My dog has a spinal birth defect and limped a lot when we first got her. I started mixing the coconut oil in her food and now she doesn't limp. My aunt did the same for her dog that had severe arthritis. Now her dog is running and playing with other dogs. It may take a couple of weeks before you notice a difference. You can purchase the coconut oil from Puritan's Pride, health food stores, some grocery stores, and some Wal-Mart stores. Good luck. (01/22/2008)
By Momof1
RE: Dog With Arthritis
We gave our pooch children's liquid Motrin and it made her intoxicated. She was walking sideways. Lucky we didn't kill her. A friend gives her Shepherd a baby aspirin everyday for uncle Arthur. (01/22/2008)
By Prudi
RE: Dog With Arthritis
I have a 13 year old big red mutt that has arthritis in his hips so bad that he could barely walk. My husband and I tried everything and it seemed like nothing worked until we switched his dog food from Science Diet to a brand called Evolution. I swear it has turned him into a totally different dog. He runs around like a puppy and very rarely does he act like he's in any pain. He loves the way the food tastes, too.
The only catch is that you have to get the food online and have it shipped to you because the big box stores don't carry it. It costs about as much as Science Diet. Which, by the way is gross, but it's not just them, it's almost all pet foods. Science Diet just charges you more money for it. I just can't believe their ingredients. Chicken by-product meal is nothing but the scrapings off the bottom of a chicken coop, feathers, sawdust, and chicken poop and pee. I'm ashamed that I fed that to my best friend for so long. Anyway, I hope this helps you. It worked for us. (01/22/2008)
By Mandalyn
RE: Dog With Arthritis
My vet said to never give a dog Tylenol. Give only Buffered Aspirin. Tylenol is very bad for dogs (I suppose it is for cats also, but I didn't ask). Also, I buy Rimadyl online, less expensive than from the vet. I have him write the prescription, and I send it to the online pet pharmacy, and I get the Rimadyl for less. I also get heart worm meds that way. I know I am getting the actual meds, but you have to be careful where you buy. I get mine from "Entirelypets.com". I suppose there are others just as reliable, but I am experienced with that one so I stay with them. (01/22/2008)
By Stingray
RE: Dog With Arthritis
Take your dog to a vet first. If you love him; gather up your questions and ask the vet when they are done with the exam. People responding here are trying to help, but they aren't vets, and even if they were they aren't able to examine your dog first.
Your dog is suffering, so crack open your wallet; take out a $50 and go to the vet to get your dog some proper care. I'm all for homeopathic remedies, but they also must be taken responsibly. (01/28/2008)
By D
RE: Dog With Arthritis
(posted by email) You never want to give dogs Tylenol. It is a killer for sure. I gave my dog aspirin until I saw the vet and he OKd that. (I already knew aspirin is OK for dogs) For joint pain, he is on glucosamine chondroitin that the dogs can chew. He told me to get that. I bought it at the pet store. I always give it to him before food so it doesn't upset his stomach.
Judy (08/18/2009)
By Sappie
I have an old dog, about 15, who has arthritis in her hips. She's a German Shepherd cross. I can't afford to take her to the vet. What can I give her to ease the pain?
The vet I called suggested children's Tylenol, which worked for a few months, but has stopped working. Any advice? Thank you.
By catastrofy from Winnipeg, Manitoba, Canada
---
RE: Dog With Arthritis
My dad has a German Shepard with the same problem. The poor dog at times could hardly walk, so my dad started to crush up aspirin with some water on a spoon. It really works for him. (02/07/2010)
By lil l
RE: Dog With Arthritis
Please don't give your dog aspirin, ibuprofen, or other human painkillers. I am afraid it can be very fatal, very fast! It can cause internal bleeding and dogs have a very different digestive system than humans. Try glucosamine sulphate, fish oil, or even put olive oil on its food (you can buy these very cheaply). Keep the dog as warm as you can and if it is overweight try to help it lose weight as this can really help, too. I have also heard that aloe vera is helpful, but I am not sure of the dosage, so perhaps ask for further advice. Good luck, but please please promise you won't give the dog aspirin! (02/08/2010)
RE: Dog With Arthritis
Try giving her the Tylenol that's made for arthritis. Adjust the dosage according to her weight. You might have to cut it in half or even into 4ths and then give her 3/4s of a pill at a time. You can use whatever method you have always used to give her pills.
Also there is a product that I've been giving my 10 yr old Dachshund that I got in the pet department of Wal Mart. It's called Pro-Pet Glucosamine Joint Care. There's an Advanced one that may be better for your dog. But it seems to help my dog when I give it to her regularly. When she has a bad day, I give her the arthritis Tylenol on advice from the vet. (02/08/2010)
By Cricketnc
RE: Dog With Arthritis
Another thing, is your dog's bed heated? I went to Wal-Mart and bought a small "lapghan" size electric blanket. I put it on the floor underneath her bed, and gave her a blanket on top of her bed to get under. I plugged the blanket in and set it on low. The warmth permeates up thru her bed and doesn't allow the cold from the floor to reach her, but yet her bed itself protects the blanket from her scratching to "make her bed". Between the two, and her foam rubber bed she sleeps a lot better. For her bed, I searched around and found a place where I could buy sheets of foam rubber 4 inches thick. For a Shepherd mix, you'd need much thicker, maybe 8 inches. If it was me, I'd use two 4 inch sheets of foam rubber, placing the electric blanket between the two. That way the heat would be able to get to the dog better. You could have the cord running out from one corner of the cover. But I made a cover for it, using sheep skin on one side, and fabric on the other. This way, in winter, I put the sheepskin side up for warmth, and in summer the fabric side up so i's not so hot. It wasn't hard at all to make (you could even use the cover from her current bed to cover the foam rubber) and was much cheaper than buying a heated bed.
Oh, and if you're worried about her catching the cord when she's moving around or making her bed, you could put a small piece of paneling behind her bed to protect the cord. You could attach it to the wall with those removable clips that they sell at Wal Mart. (02/08/2010)
By Cricketnc
RE: Dog With Arthritis
Google natural remedies for dog arthritis; there is a lot of info. (02/08/2010)
By PIKKA
RE: Dog With Arthritis
Dogs can take aspirin once in awhile. You can call your vet and ask how much and how often for the size of your dog. (02/08/2010)
By Glenn'sMom
RE: Dog With Arthritis
Onlynaturalpet.com sells a product called "Get Up and Go". It's rated very highly. I gave it to my dogs when they were sore from a fight they had with each other. It worked wonders. You can give them glucosamine, as well. You can get it at Petsmart or Petco. I heard this works well for dogs. I use it myself and have had tremendous results. Good luck. (02/11/2010)
By Artlady
RE: Dog With Arthritis
I had an older dog with arthritis in her back and my vet told me to give her one baby aspirin every day while it was bothering her. It worked for her. (02/11/2010)
RE: Dog With Arthritis
My grandmother always gave our old dogs brewers yeast. Just sprinkle some on her food. Should work like a charm. (02/11/2010)
By Bethmom1961
RE: Dog With Arthritis
Do not ever give your dog any form of Tylenol. It is toxic to them. If a vet advised you to use it. Fire that vet. Ask any other vet around they will confirm it is a deadly poison to dogs and there is no cure once their liver is damaged. (02/24/2010)
By MRSKAT
Answer This Question
Add your voice to the conversation. Click here to answer this question.