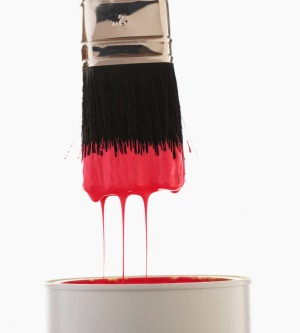 Paint can stain a linoleum floor. This guide contains suggestions for removing paint stains from a linoleum floor.
Ad
---
Questions
Here are questions related to Removing Paint from Linoleum.
How do you remove dried paint from linoleum?
By Pat P. from Lewiston, ID
Ad
---
---
Most Recent Answer

By Monique [1]02/11/2010
Goo gone works, and magic erasers work sometimes too.
How do I get black dried gloss off linoleum?
By Marv from Manchester, England
Ad
---
---
Most Recent Answer

By coville123 [326]12/25/2011
Try turpentine. Test small spot first!
How do you get spray paint off of linoleum?

Robin from Tullahoma, TN

---
Most Recent Answer

By (Guest Post)09/21/2006
I have had luck with removing paint from various surfaces using acetone, it comes in a can and is available in in the hardware section of the store . The stuff is very strong and powerful, so check it out on a small piece of linoleum. It may take the shine off. Most nail polish removers contain acetone you could try that too, if you have some around the house. Good luck. kelly
I have a 1930s linoleum rug with wonderful artwork of cowboys and cowgirls as its pattern. At some point earlier than the 1970s, someone dripped white paint in many spots on it which detracts from the great overall look of this little piece of history.
I haven't tried to figure out if the paint is oil or water-based, (or if it even may have lead it). However, I'm thinking, rather than using a solution of some kind that may cause a chemical reaction with the unidentified paint maybe I could carefully scrape it off. I sure don't want to harm the cowboy, etc. pictures, but I'm thinking the pattern may be deeper into the linoleum than just on the surface of it. Thank you for any suggestions on how to remove these paint drips.
By Jody
Solutions: Removing Paint from Linoleum
Do you have knowledge about this guide topic? Feel free to share a solution!