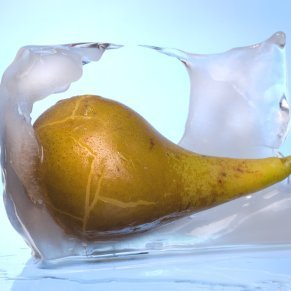 Fresh pears can easily be frozen for future in a variety of recipes. So if you grow your own or have stocked up on sale fruit, consider freezing your excess pears. This is a guide about freezing pears.
Solutions
Share a solution for this guide today!
Questions
Here are questions related to Freezing Pears.
Can I freeze pears and if so how?
By Terry L
---
Most Recent Answer

By Elaine S.09/01/2011
These directions are pretty clear.......you can sugar pack or dry pack them. But they say it is better to sugar pack them.
http://www.pickyourown.org/freezing_pears.htm
I would like to know how to freeze pears?
By William from Co. Clare, Ireland
How do I freeze pears?
By Barry
Archives
Thrifty Fun has been around so long that many of our pages have been reset several times. Archives are older versions of the page and the feedback that was provided then.
Can pears be frozen?
June from Ascot, Berkshire, England
---
RE: Freezing Pears
I don't know how they are frozen raw, but I have made lots of cooked pear pie filling and frozen it and it was great. (09/01/2006)
By Ann
RE: Freezing Pears
This site should help you:
God bless. (09/01/2006)
By Lucinda
RE: Freezing Pears
No they don't freeze. Like celery, the shape of the cell that makes up pears causes breakdown when it's frozen. Courtsey of my Home Ec teacher in ~~ 1956. They do can well, pear preserves and pear butter/honey is wonderful. Good luck. (09/01/2006)
By 2oma
RE: Freezing Pears
I have 2 large pear trees. Select firm pears. I make a syrup of white grape concentrate, and dilute it according to directions. (may need a little more concentrate to make it sweet enough). I add this (plus 3/4 teas. ascorbic acid to a quart of syrup) to a kettle of quartered or sliced pears, bring to boil, boil 2 minutes and ladle into freezer containers. (A six quart kettle needs 3 cups liquid.) (11/10/2008)
By Verna M. U.
RE: Freezing Pears
I peel and cut up the pears. Put them in a large pan and cover them up with water. I add Splenda, but you could use sugar. I don't really measure I just put in what I think looks good. I also add cinnamon and a touch of vanilla. I let that boil for about 3 minutes. Then I get some of the juice out and mix with cornstarch and add to pears while boiling. Repeat this last step until you get the thickness that you like. Cool then put into freezer bags before freezing. I use this to make pear cobblers. (08/25/2009)
By Crsimerley
I would like information on freezing pears.
By Sue from CO
---
RE: Freezing Pears
Here are a couple of links that will give you all the info you need:
extension.usu.edu (09/10/2010)
By Deeli