janice
Bronze Request Medal for All Time! 53 Requests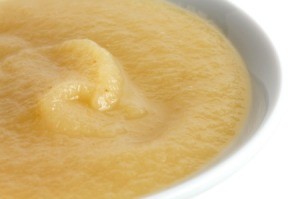 My neighbor gave me a big bag full of apples and told me she makes applesauce with them, and told me how. My question is this: I don't have jars to put the applesauce in and was wondering if I could put it in freezer type ziplock bags and put it in the freezer, without changing the taste, and how long it would last? Thank you for all suggestions and ideas on this!
jmz2005 from Illinois
Answers

September 2, 2006
0

found this helpful
Best Answer
Two days ago I just opened a bag I put up in the freezer in Sept. '04. They tasted wonderful. I know they will be ok a couple years at least!! Happy Freezing!

Michawn
Bronze Feedback Medal for All Time! 188 Feedbacks
October 2, 2006
1

found this helpful
Best Answer
Make the applesauce, good quality bags, lay flat on a cookie sheet. Once they are frozen, waa laa, flat packages to fit nicely in your freezer.
Take it from someone who grew up with a small apple orchard in her front yard. My Mom also had us peel and core (with the handy machine thingy) a bunch, throw them in a big pot, add the juice from a few lemons, toss and freeze the same way.
Perfectly white apples for crisp, pies, whatever anytime of the year. I make applesauce still from store apples, put in quart size bags, then rebag those in gallon bags (both freezer) and they last a long time (not that my daughter would let me keep them in there!). Good luck!
By Wanda Rogers (Guest Post)
September 5, 2006
0

found this helpful
Yes you most certainly can freeze apple sauce. it doesn't change the flavor at all. Like most freezing it freezes up to 3 months.
By chml (Guest Post)
September 5, 2006
0

found this helpful
Hi,
In freezer zip bags--------
I've frozen raw meat and chicken with a little water to replace the air. Cooked leftovers getting out all the air or adding water and squeezing till the air is out. Blended in a blender, tomatoes, that the core is out and they are washed. Corn on the cob after a meal, taken off the cob, added water boiled from the corn, then frozen. Done beets, (boiled) cleaned sliced, or chunked, then added water.
If you are very carefull, you can get the air out, sometimes with water added, sometimes squeezing the bag, sometimes sucking it with a straw in the almost closed bag and quickly closing. Standing the bag up brings the air bubble to the top, but bubbles can be trapped in food so jiggle the bag for some things. I've done these things for years, and if well done the food stays longer than you might imagine.
Ham packed in water or air doesn't freeze well for very long. I think about 3 months.
Beef water packed I've had more than 2 years, then cooked and it tasted fine.
This year we want to do blender tomatoes, beets, and chunked water packed peppers, and left over corn off the cob.
I buy freezer zip loc quart bags at Sam's Club in the 4 box pack for I think around $10.00.
By Michele (Guest Post)
September 6, 2006
0

found this helpful
I freeze more apples than I can each year! I peel them and slice them, dry them well and place in labeled ziploc freezer bags. I used apples this weekend for fried pies from August 2004 so a couple of years I believe they are still tasty! HTH!

September 6, 2006
0

found this helpful
I store applesauce in baggies in the freezer and it lasts a long, long, long time. I've never had any go bad. When I bake a cake, I use applesauce instead of oil and I pre-measure the amounts in baggies.
A couple seconds in the microwave and there you go.

September 6, 2006
0

found this helpful
I freeze my homemade applesauce in freezer bags every year. The taste doesn't become diminished for at least 2 years. I don't know about any longer, my kids have it eaten by then! Just use higher quality freezer bags, and make sure you squeeze as much air out as possible. Freezing is a great way to save space. A lot of applesauce can be stacked using very little room. Enjoy making your applesauce!
By Mart. (Guest Post)
October 1, 2006
0

found this helpful
Yes you can freeze in air tight freezer bags Just add a little sugar to save the color. Mine last all winter and even longer Mart
By Kathy (Guest Post)
October 2, 2006
0

found this helpful
I freeze my applesauce in freezer ziplock bags every year and it's wonderful.
By TEB (Guest Post)
October 19, 2008
0

found this helpful
I recently made some applesauce and stored it in plastic containers in the fridge. Does anyone know how long it will last in the fridge?
Answer

this Question