Organizing Legos with Drawers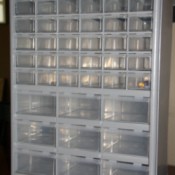 I organize my Legos with a set of drawers I found at Home Depot that were designed to be hung on a peg board wall. The little drawers are great! You can remove them easily. I sort them by size and color. It is a great help when putting together a large project.
By Jess from Hillsboro, OR
Feedback
Read feedback for this post below. Click here to post feedback.

By
07/09/2011
Great idea ! Especially as my boys are older and mostly into the Minifigs now, that is brilliant. Thanks :)

By
07/09/2011
What an organized person! How old are you? My son kept his Legos in large flat Rubbermaid containers, no organization at all. When he wanted a certain piece, he just stirred around in any one of the 4 or 5 large tubs!
Post Feedback
Add your voice to the conversation.