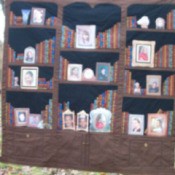 This is more of a "don't do this" craft tip. I used some transfer sheets from a local source to print out the pictures and frames for this bookcase uilt. They were the type that are fabric on top with a backing that glues the piece down when you iron it. These are NOT washable! The photos and frames were ruined when washed and I had to remove every one of them from the quilt and do them over. The 2nd set was sealed with an acrylic sealer so that the quilt could be hung on the wall and the photos protected somewhat but it is still not washable. You can see the original before it was washed on webshots. Please save yourself a ton of work and make sure your photo transfers are washable before you use them in a quilt.

By busybee1952 from White Cloud, MI
By Pat Jennings
Ad
---
Feedback Forum
Feedback about this article is posted here. Want to contribute? Click above to post feedback.

By JeanieB [5]03/09/2010
Wow! Just Wow!

By Little Suzy [105]09/09/2007
Your quilt is something I have "never" seen before. What a great idea.

By Judy (Guest Post)01/21/2007
That is just the neatest thing! I wish i could do that. Never have seen anything like your quilt. Sorry to hear you had so much trouble. Thanks for letting us know tho. Very kind of you. Also, Thanks for sharing the quilt! HUGS, Judy

By lynda [44]01/20/2007
Incredible! It took me several minutes to see the QUILT! It's a LOT of work, dear, and thanks so much for the photo of it to view. God bless you. : )

By busybee1952 (Guest Post)01/19/2007
I purchased Timeless Treasure fabrics from the Dan Morris novelty line for both the backing and the books. The quilt was made in 3 sections with a brown twill for the bookcase and shelves and a plain black polyester/cotton blend for the background. Pictures of the frames were downloaded from e-bay and then printed off on photo transfer paper. The photos were printed separately and then the frames were appliqued with monofiliment thread over top of the photos. The vase, Lincoln bookends, globe and ship are also photo transfers that have been appliqued with monofiliment. The batting is cotton. I just used a satin stitch at the bottom to make it look like drawers and doors and then sewed on some gold button "knobs". I cut out a kitty from some fleece fabric I had and also appliqued the kitty. I hope these instructions might be helpful for those who want to make their own bookcase quilt.
Pat

By shirley robertson (Guest Post)01/18/2007
Hi, Great quilt, is it an original and can you give directions?


By Cheryl from Missouri (Guest Post)01/16/2007
You do beautiful work. I can see the love you put into it. You should be very proud of your final project!

By Katie [4]01/16/2007
I have NEVER seen a quilt like that. I love, love, love it!

By Brenda [9]01/16/2007
Do you make these to sell????
bludecke AT gmail.com

By SL Edens [1]01/16/2007
What a great looking quilt!!!! Such a neat idea. I'm so sorry about it not being washable. Great job and such a wonderful idea!!!!
Post Feedback
Add your voice to the conversation. Click here to share feedback.