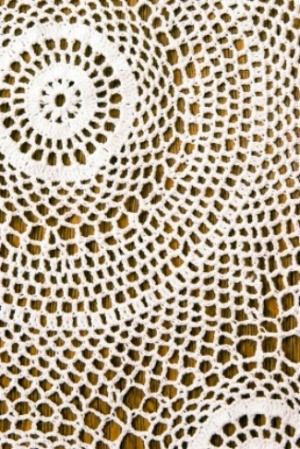 There are ways to repair a favorite lace tablecloth whether it is hand crocheted or machine made. This is a guide about repairing a lace tablecloth.
Solutions
Share a solution for this guide today!
Questions
Here are questions related to Repairing a Lace Tablecloth.
I bought a lace tablecloth at a garage sale. It has several holes torn in it. The holes are different sizes. How can I repair it? Can I use a fabric glue. If so, will it wash out when you launder? I thought I would have a friend that crochets to repair it?
Please advise best way!
By Doris
---
Most Recent Answer

By Irene05/14/2012
I have repaired crocheted items by using matching sewing thread and needle and
going around the hole and pulling it tighter. Sometimes this works and you cannot
see the repair.
How do you cut a patch out of a lace tablecloth to patch another lace tablecloth? How can you cut the patch out so it won't unravel on the edges?
By Ruth Ann C.
---
Most Recent Answer

By DeBushe02/19/2013
Run a line of Fraychek around where you want to cut. Let it dry then cut out the patch on the line. You could also use Elmer's glue which will probably wash out later. Sew the patch in with tiny hand stitches. It would be a good idea to run a line of Fraychek around the edges of the hole, too.