DianaHM
Silver Answer Medal for All Time! 440 Answers
August 28, 2021
1

found this helpful
Best Answer
I perfectly understand your indignation. I myself crocheted large things and I know perfectly well how much time and labor was spent on this tablecloth. It is really very good crocheted tablecloth. But I don't think your mother or great aunt would approve of you if you start fighting over this tablecloth with your family member. Believe me, the relationship between family members is more important. Of course, try to explain to your family member that this is not only a memory of your mother, but her work. Unfortunately, people who have never crocheted do not understand this. The main thing is to remember that you do not need to waste your energy and time on conflict. Calm down please.
Your tablecloth is made from motifs. If the tablecloth has only one hole (the one in the photo), then you need to crochet 4 motifs. I crocheted something similar, but a little complicated for the skirt of my dress (see attached photo). The pattern of your tablecloth is not complicated, and since you know how to crochet, you can fix it yourself.
You need to know how to crochet chain (ch), slip stitch (sl st), double crochet (dc), finish off crochet.
You need you need to find a similar yarn and select right crochet hook. As a last resort, you can dye the entire tablecloth at the end. You also need to understand how tight your mom crocheted. Crochet one motif several times until you get the same motif as the tablecloth. Measure the height of the crocheted stitches all the time so that they match the height of the stitches on the tablecloth, write down how you crochet. When making corrections, be sure to write it down, since you will need to crochet 4 identical motifs.
I attached a photo of what I was crocheted. You need to crochet without popcorn stitches.
Here's how I crocheted the motif in the attached photo:
Hexagon Motif
Work in rounds, do not turn (the motif is crocheted starting from the center).
Crochet 6 chains (ch), 1 slip stitch (sl st) in first ch to form a ring.
1st round (rnd): 3 ch (lift loops), 3 double crochet (dc) in one chain, * 4 dc in one chain. Repeat (rep) from *. 1 sl st.
2nd rnd: 3 ch (lift loops), 1 ch, * 1 dc, 1 ch. Rep from *. 1 sl st.
3rd rnd: 3 sl st to move in 3th loop, 3 ch (lift loops), 1 ch, skip 3 loops, 3 dc in one loop, 1 ch, 3 dc in the same loop, 1 ch, * skip 3 loops, 1 dc, 1 ch, skip 3 loops, 3 dc in one loop, 1 ch, 3 dc in the same loop, 1 ch. Rep from *. 1 sl st.
It turns out that "3 dc in one loop, 1 ch, 3 dc in the same loop" are the sides of the hexagon. You need to crochet 1 dc in the center of each side of the hexagon. Continue crocheting in rounds, extending the sides with chain between "3 dc in one loop, 1 ch, 3 dc in the same loop" and 1 dc in the center of each side of the hexagon, keeping the position of "3 dc in one loop, 1 ch, 3 dc in the same loop" (hexagon corners). Count on the motif of your tablecloth how many loops were crocheted in the motif. It is not so difficult to repeat a motif, it is more difficult to come up with one.
Then just replace the damaged motifs by sewing on new ones (crocheted by you).
This will be fantastic tablecloth! Started by your mom and finished by you. :)
Good luck. And don't be discouraged. Our loved ones will forever remain in our hearts.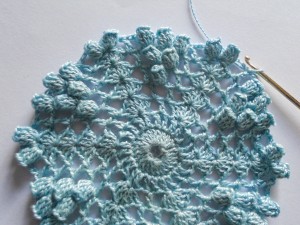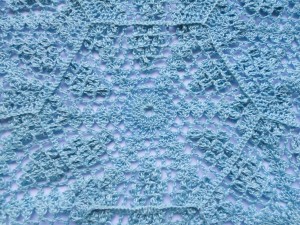 August 29, 2021
0

found this helpful
Thanks for your info. I will try to give it a shot.

August 29, 2021
0

found this helpful
Best Answer
How disappointing this must have been.
I do not believe the family member had any idea of the personal value this item had for anyone in the family. I believe they probably found it in the basement and thinking it had been discarded just grabbed it without questioning what it was. Most likely, the holes were already in the tablecloth when they found it. I feel sure they would feel terrible if they knew the whole story.
As to the grease spots, I really doubt you will be be able to completely remove all of this as it has probably soaked through the threads and may have weakened the area.
Some dry cleaners do specialty work but I doubt anyone would tackle this job.
If you are a truly experienced crocheter you may be able to do some repairs but this may turn out to be a tremendous job and one that may never really be completed. All that I'm saying is to maybe take a good look at the overall tablecloth and give serious thought to what it will take to restore it.
Perhaps you could ask for some advice from some of the crochet forums as these members have probably tried similar things and may be able to help you with the type of problems they may have had. You will have to join the groups but they members are usually very nice and helpful.
The may wish to see how much damage has been done to the complete tablecloth - is it a small area or are there numerous places?
Good luck and if all else fails perhaps you could make several smaller 'scarves' or a table runner and at least have some of this to use.
Here are some links to forums:
www.antiquecrochetpatterns.com/crochet-forums.html
blog.feedspot.com/.../
forum.crochetville.com/