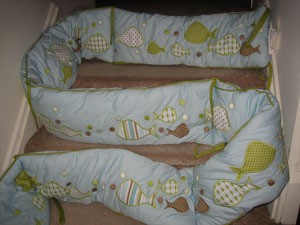 I have crib bumpers for my twins that I am not using because of safety issues. But they came with the bedding set and are so cute! Any creative ideas for things I can do with them, besides making pillows out of them?
Lulu from Fanwood, NJ
February 29, 2008
0

found this helpful
That wasn't a craft idea. Sorry, misread the post.
February 29, 2008
0

found this helpful
How about simple, small stuffed animals? They'd be easy to cut and sew -- think of a cookie cutter teddy fish or gingerbread man, just larger. Stitch seam binding around the edges.
February 29, 2008
0

found this helpful
so that it is still used to match there room decore, why not take a solid color fabric that matches the print best and along the pads running horizontally sew on little pockets to house there small toys, stuffed animals, shoes, pictures, anything like that that will look cute in the pockets. and hang the whole pad on there wall. just make your pockets the same size ans spread them out the same distance along the pad. it would make a great storage for there items and look cute too.
March 1, 2008
0

found this helpful
You could cut the bumpers to make a soft "book" of the images. My daughter loves her cloth books and the images on your bumper look very "kid friendly".
Another idea is to use the bumpers as "trim" on things like laundry baskets, storage bins or diaper pails in the nursery. Since they are part of your set, they will coordinate the entire room for a "designer" look. Don't forget to save some of the bumper for a valance over the window!
March 4, 2008
0

found this helpful
They could be cut into even lengths and the lengths sewn together as a lightweight blanket.
March 5, 2008
0

found this helpful
You can use them cut down as a draft blocker or cut them down fill them with rice and herbs or essential oils and make some heat packs Great for helping children off to sleep or keeping little feet warm or with the right herbs help with a chest cold.
Related Content
(article continues below)
March 5, 2008
0

found this helpful
The way you have them stretched out in the picture gave me a cute idea, especially if your nursery is upstairs. You could cut them into sections and sew the ends shut and fasten them to the base of each stair. My stairs are very plain loooking, I think I'm going to look at the thrift store and see if I can find some cheap, cute bumper pads and do something like this myself.
March 18, 2008
0

found this helpful
Here are some ideas for you.
1. Recover the foam with other adult prints and take them to nursing homes they make great bedrails guards for those that thrash and bump their legs and arms and helps prevent bedwounds and bruising that can be painful for the elderly.
2. Remove the print fabric and make ...matching curtains with the fabric, photo albums cover with the printed fabric, make pillows the fabric and stuffing, even you can make few baby clothes.
December 27, 2008
0

found this helpful
Make cute tooth fairy pillows with a small pocket to hold the tooth.
January 17, 2009
0

found this helpful
I am looking for ideas for the same reason. I like the pockets idea best so far. What about buying one of those hammock nets for stuffed animals that hangs in the upper corner of the room and trimming out the top of it with part of the bumper?
Read More Answers
Does anyone have ideas on what to make with a bumper pad? Since it is no longer recommended to use bumper pads in cribs, I'd like to sew something with it - at least use it. Just can't think of anything.
February 4, 2008
0

found this helpful
Diaper bag or other tote. Pillows for adults and older children that coordinate with the baby room. Wall hangings. Buy or make wooden or cardboard cubes and cover with the bumper pad.
February 5, 2008
0

found this helpful
How about a "draft dodger" for a door? You would fashion the bumper into a long tube-like shape to place at the bottom of an exterior door to prevent any cold air from getting inside. Alternatively, you could create a window pelmet. Cut the appropriate sized piece of plywood and cover with the bumper pad. Install at the top of a window and add accenting curtains, if desired.
February 6, 2008
0

found this helpful
Line big baskets with them and use the baskets as toy catchers or organizers.
February 6, 2008
0

found this helpful
How about making you self a draft dodger. The thing that you put at the base of the doors to keep out drafts.
February 7, 2008
0

found this helpful
How about sewing a couple together(or even tying the short ends with the attached ties) to make a cirle. Then the circles could be combined to make tunnels or soft shapes to play with.
February 7, 2008
0

found this helpful
you could make a valance for the windows in your nursery. cut it to size and hem the cut ends, attach ribons every few inches across the top to use as ties on the curtain rod.
December 31, 2011
0

found this helpful
Those would be good for knee pads for people that work in gardens or to rest your knees on when scrubbing floors.
Do you have any suggestions for what I can do with baby bed bumper pads? They have beautiful designs for children and are already padded. They seem too good to throw.

Thanks,

Mildred from TN
October 17, 2004
0

found this helpful
I discovered that turned upside down and tied to the bed frame, these make great dustruffles. They are just the right height. My beds are against walls so I only have 1 length and 1 width to cover. This works best in the design is not directional, but who's gonna get clos enough to tell. Or, you could remove and reverse the ties.
October 18, 2004
0

found this helpful
I cut our old bumper into sections and sewed the edges, added a pocket and made them into tooth fairy pillows for my daughter and her friends.
March 17, 2006
0

found this helpful
they make great containers like easter baskets toy containers, etc. make a circle or square the size of your container bottom and match the bumper pad to fit all the way around. cut and inch longer and sew together then make a handle. You can just use them to cover coffee cans or boxes. Sorry not good at directions, but if you are crafty you sure can figure it out!
grettaa