Dragonflies
I came home and as I was walking down the driveway, I could see this huge dragonfly near the front door. Luckily, I had my camera with me and I got few shots of it before it flew away.
I didn't even realize until later, when I was looking at the pictures I had just taken in my computer, that his wing was ripped and missing a piece.
By hailey
Add your voice! Click below to comment. ThriftyFun is powered by your wisdom!
February 10, 2011
0

found this helpful
What a excellent shot. He/She almost looks like a cartoon character in the second picture. You have a good eye and camera for photography.
Add your voice! Click below to comment. ThriftyFun is powered by your wisdom!
I wasn't sure these photos of this dragonfly would turn out well because of the cloudy day but decided to try and see what would happen. Glad I did because I was pleased by the wonderful results. This little guy was just hanging around on the top of the flag pole secured in one of my potted plants for about a half hour. I love the closer shot the best!
By Deeli from Richland, WA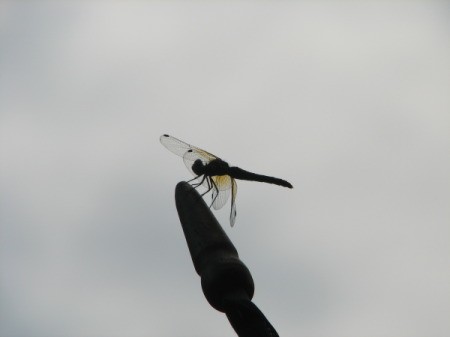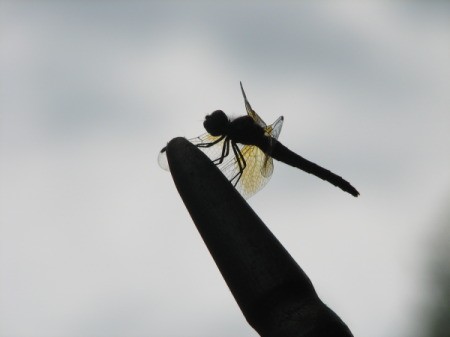 Read 5 Comments
Another walk in my garden with camera in hand, looking for what will surprise me today. Look what I found perched on one of my garden stakes. He was just sitting there resting and looking around. I think he saw me coming over with my camera. I don't think dragonflies are shy at all. At least the ones in my yard, don't seem to be.
I'm in zone 7 and have a lot of dragonflies. I feel I'm lucky in that respect. I live between the woods and a river, with a field on two sides of me. Wildlife is all around us.
I did some research on this beautiful dragonfly. It is a Male Scarlet Darter Dragonfly. He has scarlet red and some light orange on his veined wings, which I found to be simply beautiful!
By Jackie from Salisbury, MD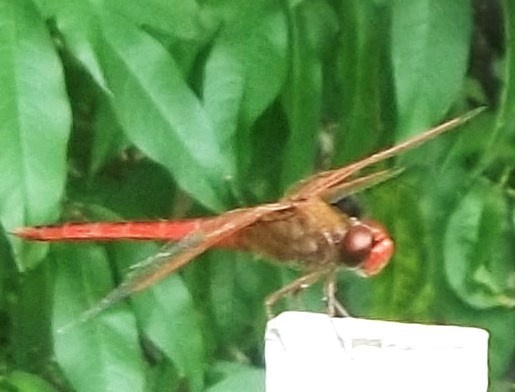 Related Content
(article continues below)
Read 1 Comment
I saw this little one setting on a flower pot. I just had to get the camera, and get a shot of him.
By Sandy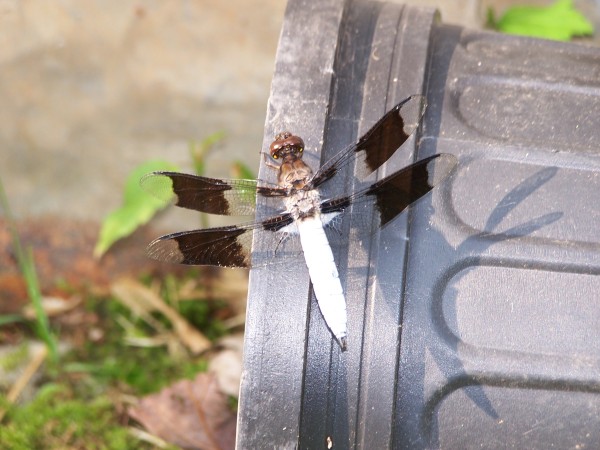 Read 2 Comments
This little guy landed right on my fence and sat there so nicely while I took several pictures! He even let me get up really close! I love dragonflies!
By Stacey S. from Orem, UT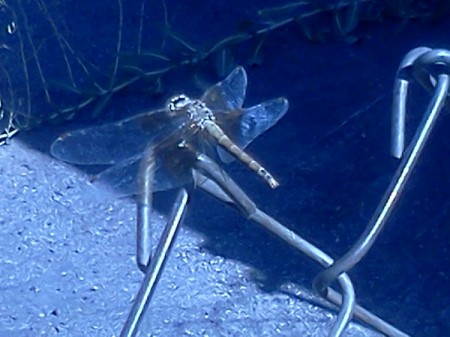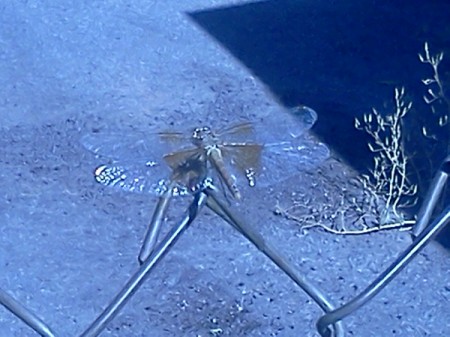 Read 1 Comment
In a beautiful place in Auburn, CA filled with flowers and other wildlife, this dragonfly wanted to make friends.

By Phyllis
Answers:
Wildlife: Dragonflies
Gotta Love those Dragonflies. (10/01/2010)

By dragonflysue
Dragonfly taking a moment to pose for a shot. I was lucky to capture this shot. I couldn't help but laugh when I uploaded my pictures and noticed it with its head cocked to the left and looking directly at me. Looks like it is smiling and batting it's eyes for the camera.

This dragonfly has been flying around our front garden and luckily I was able to take many pictures of it. This I believe is the best photo of the bunch.

By Lovingnature
I had my camera outside to take a picture of a window that needs to be replaced, and this little guy landed right next to me and waited to have his picture taken. He didn't seem to mind when I got really close to him (or her).

By Karen
I was checking my raspberries last summer and noticed this dragonfly resting on one of the bushes. It was so still I thought it had died but decided to run, get my camera, and take the picture anyway. After taking this picture it flew away! I love how the leaves of my raspberry bush show through the transparent wings of this dragonfly!

By Jackie
Answers:
Wildlife: Dragonflies
Great photo! I've tried capturing good photos of dragonflies to no avail. So, I can definitely appreciate the beauty of this one. ;-) (06/02/2010)

By Deeli
Wildlife: Dragonflies
Jackie, thank you for the mental pic you just gave me to match the visual of the photo itself. Your description was so vivid, even a blind chick like me can enjoy it. :D (06/04/2010)

By JustPlainJo
Wildlife: Dragonflies
I just marvel God's creations. I'm glad you do too! The transparent wings are amazing. Thanks for sharing this. (06/08/2010)

By PainterLee
My yard is absolutely loaded with dragonfly right now. I was outside taking photos of my garden for my photo diary when I noticed this little guy drying out his wings sitting on the clothes line. I'm surprised at how close he let me get while taking photos. The array of colors is stunning, from blues to reds to golds and more!

By Melody
Caught this picture of a Dragonfly on our deck.. They really are beautiful creatures

By kostalota from Kamloops, B.C.

Answers:
Wildlife: Dragonflies
When I was a child, we called them either Mosquito Hawks or Mosquito Hogs. I never was able to differentiate the pronunciation. Anyone know which? (08/28/2009)

Wildlife: Dragonflies
They are beautiful critters. Where I live they like to deposit eggs? or something? on my cars. (08/28/2009)

By pigeon toes
Wildlife: Dragonflies
We always called the big ones Mosquito Hawks too :) However there is another insect known as the Mosquito Hawk and those are the Crane Flies. They look like very LARGE Mosquitoes. Now these ones we liked to call Skeeter Eaters LOL!

Back home (ND) you could often see a good 40 of the Dragonfly "Mosquito Hawks" flying overhead at dusk eating mosquitoes in flight. My fondest memory of dragonflies was down by the Niobrara River in north-central Nebraska. These two beautiful Blue Dasher Dragonflies were mating and were in the shape of a heart! The ones I'm referring to are the more delicate "petite" dragonflies...not nearly as hefty as "Mosquito Hawks"!
Here a pic of a Mosquito Hawk (Eight-Spotter Skimmer) that came to visit my prairie garden last year. It was very attracted to the Blue Flax and didn't mind me working around it one bit. He even walked on to my hand and stayed perched there long enough for me to go indoors to grab the camera phone for this pic and then walk all the way back to where I found him for another pic in the Flax! What a patient little fellow LOL! Sorry about the poor quality and thanks for sharing the pic with us :) (08/31/2009)

© 1997-2017 by Cumuli, Inc. All Rights Reserved. Published by
ThriftyFun
.
Page
generated on January 21, 2017 at 7:12:59 PM on 10.0.1.223 in 2 seconds. Use of this web site constitutes acceptance of ThriftyFun's
Disclaimer
and
Privacy Policy
. If you have any problems or suggestions feel free to
Contact Us
.