These are some of the wild critters that frequent our yard. They really enjoy having our leftovers put out for them. They used to fight each other and the skunks would spray, but eventually they all became friends.

If I do not put food out, they will politely knock on the glass door. Then I try to scrounge up some goodies for them. I do withhold the food from time to time so they do not become dependent on it.

I go through a 20 pound bag of dog kibble a week. The raccoons and ravens dip the kibbles before eating them.

By Ivy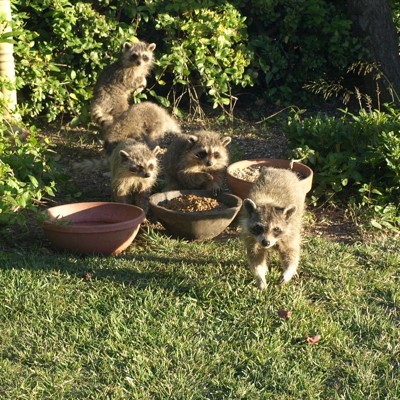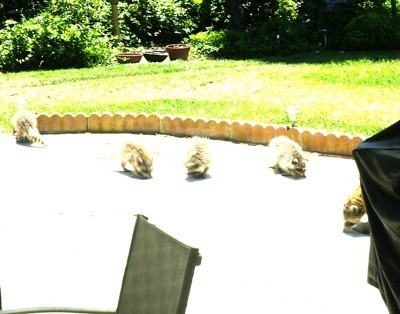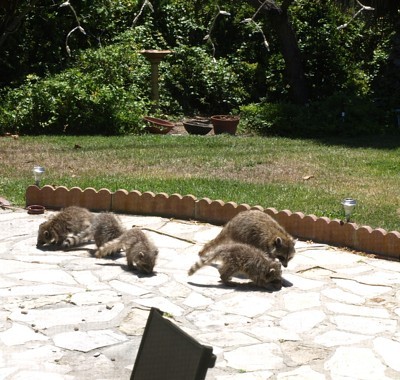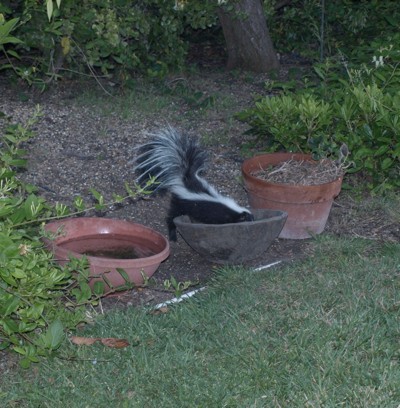 Answers:
Wildlife: Backyard Visitors
Oh how sweet! Thank you so much for sharing! (11/19/2010)

By Deeli
Wildlife: Backyard Visitors
What a nice person you are! Thanks! (11/19/2010)

By Sharon
Wildlife: Backyard Visitors
I do the same thing by feeding God's animals here in NC. I think it puts a smile on His face and theirs.
(11/20/2010)

By Paula Jo C.
Wildlife: Backyard Visitors
That is just too cute for words. (11/22/2010)

By xintexas
Wildlife: Backyard Visitors
Thank you for making me smile. I feed wild birds in my backyard and one morning one of my dogs somehow managed to catch a Bluejay baby. Only to be chased by a bunch of full grown Bluejays back into the house. I was very upset that one of my dogs would hurt another animal / bird and went outside to bury it. Well to my shock, the baby was still alive and wandering all over the yard.
I kept shooing it to the back fence so he could first be out of our yard and second have some sort of cover among the brush. Well, as I'm scooting this baby bird across my backyard I kept telling the other Bluejays that I was trying to help it and begged them not to attack me. And not one Bluejay attacked me, squawked or anything else.
Once I knew the baby was safe I turned around and talked loud enough for the birds so they knew the baby was safe and I thanked them, over and over again for not attacking me. I have a opossum that eats cat food on my front porch and lays within a foot of our cat. I've been an animal lover my entire life and wish I had a time for each stray dog that would follow me home. I prefer my dogs to most people, they love me for me, are great companions
and as I'm still recovering from something bad and just having them near me all the time keeps me calm and stress free.
I am well looked after, we have 3 dogs, 2 cats and a neighbors dog who wants to live with us. Hutch is the most beautiful dog that I have ever seen and sadly he is tied out in their backyard on huge thick chain. His Owner is in prison and he's not getting a lot of one on one attention. He's had no training at all and gets so happy to see anyone that he jumps up. I have permission to go there and pet him. So every afternoon I walk over their with a heavy duty shedding brush, a spray bottle of water and 2 huge doggy biscuits. I love on him and play ball.

He can see me when I'm by my front door from where he's tied out in his yard and every time he sees me, he starts wagging his bushy tail and yodels at me. I wish I could find a dog family that would adopt him. He has such a gentle side and with consistent training, he make someone a very loving pet. He has no manners and from what I've seen he isn't very obedient with people.

I walk over there everyday with 2 huge dog cookies and brush out his thick coat, He's not mean, he just gets super excited when and if anyone comes to visit him. I'm in the process of teaching him to walk on a leash with a Gentle Leader. Hutch looks to be some sort of Husky mix and he's solid white.

I can't save all the dogs in the world but with some luck I think I could talk his owner to letting me find someone to take him. Anyway, I'm sorry about getting sidetracked, I loved your pictures of your adopted furry children, good for you and God Bless you for being the caring and loving person that you are. (11/23/2010)

By CPJ