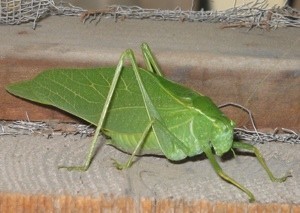 I was in my kitchen eating lunch when I noticed this guy right outside my window. I love leaf bugs! He was so good and still while I snapped his picture!
By Stacey Silva from West Jordan, UT

Answers:
Garden: Leaf Bug
Wow! He looks just like a leaf. I love those leaf bugs too. Amazing! (09/11/2009)

By Crystal
Garden: Leaf Bug
I think it is a "Katydid" that makes noises at dark. (09/11/2009)

By Eleanoro
Garden: Leaf Bug
Cute little rascal. Good photo! (09/13/2009)

By Janet
Garden: Leaf Bug
As much as I love to study insects, recycle, and observe their behavior, had that lovely chewer been in my garden
I'd have to catch him and take him to the fields, because he is related to the grasshopper which eats everything that grows, and fast, as well as multiplies like flies! Nice photo, bad bug! lol (09/14/2009)

By lynda
Garden: Leaf Bug
I always consider the day blessed when I see one of these. A creature this cute can share my produce any day.
By MikiStewart