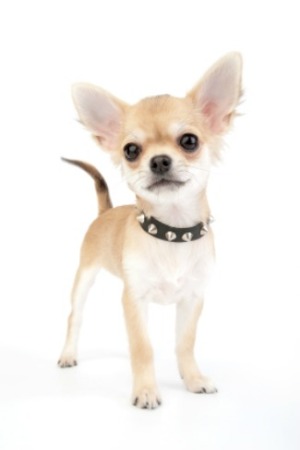 Whatever the reason you need to use dog diapers, it is maddening when they won't stay on. This is a guide about dog diapers won't stay on.
Ad
---
Solutions: Dog Diapers Won't Stay On
Read and rate the best solutions below by giving them a "thumbs up".
I have been a big fan of belly bands for our Chihuahuas (they are the worst markers!). I buy them from pawstoadmire.com. They just recently started making new belly bands with a strap around the neck and it keeps the belly bands on the dogs. One of our Chihuahuas always gets out of his belly band, so I'm going to try these. Hope this helps.
By vwilson7 [1]
Give a "thumbs up" to the solution that worked the best! Do you have a better solution? Click here to share it!
Questions
Here are questions related to Dog Diapers Won't Stay On.
My dog is in heat and her diaper won't stay on at night. She is a French Bulldog and has no tail so the diaper isn't really working. I don't want to keep her just in the kitchen area and she usually sleeps with me. I feel bad making her sleep elsewhere she is already a bit mopey.
Please don't lecture me on getting her fixed, she is 8.5 months and I didn't realize her first cycle would come this quick. I need help; I tried putting a baby onesie one her and she just didn't look comfortable, so that obviously doesn't work. I'm using the non-disposable diaper (cloth one w/pads).
By Ms. Ana from Dallas, TX
Ad
---
---
Most Recent Answer

By Tori [21]11/23/2009
I also have a dog that needs to wear a diaper sometimes, and I came up with a solution that might help you. I used my idea with human disposable diapers, but this idea should work with cloth diapers as well.

I put a dog harness on my dog instead of her collar, and then I put on the diaper and fastened it. To keep the diaper on her, I then took a diaper pin (don't use regular safety pins) and pinned through each side of the diaper where the diaper is already fastened to itself. So the dog now has a diaper pin on each side of her hips through the diaper. Next, keeping the diaper pin open, I looped it through the part of the dog harness closest to her lower body and on each side of her hips, and then I closed each pin.

I hope this description is not confusing, since I don't have a picture to post. Basically, the harness almost acts like a set of suspenders, if that helps. I tried this first, since I had all items on hand, and it worked well for me. If that didn't work, my next step was some of the clothing mentioned in the previous posts. My dog has narrow hips and no tail, and there was no way a diaper would stay on by itself. Hope this idea helps!
I have a dog that is mixed Lab, she weighs about 80 lbs. I use the adult Depends on her when she is in heat, and they just are still too big, they keep falling down off from her back. I can't seem to find anything to make them stay up. Any suggestions on what to do or anything else I can try to use on her? The smaller ones just don't seem to fit on her right.
By Ellen
Ad
---
---
Most Recent Answer

By NEWFIEGIRL [8]02/15/2013
Do you intend to Breed from her and perhaps have? The answer is simple it's called desex. Talk to your Veterinarian they will explain every thing to you.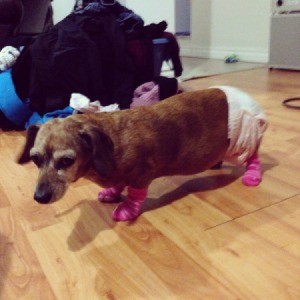 My dog is a miniature Dachshund, so a little Wiener dog. She is overweight and has a pot belly. She is 12 years old, so she has trouble holding her bladder all the time. I have tried both disposable and non-disposable diapers on her, but her belly is so big it just pushes them off. She also has such a long little body it's hard to find anything that fits her properly. I thought of putting a baby onesie on to try and hold it up, but she is too long. Please help!
By Angel
---
Most Recent Answer

By Lizzyanny [9]10/31/2013
Have you considered learning to "express" your dog? Vets do it all the time and can show you how. It entails squeezing your dog's bladder until she empties it. You do it three times a day and then won't need the diapers. I dont know all the circumstances of your situation but this is a common solution for dogs as they get older. I have a cat with neurological damage that we do this for.
Archives
Thrifty Fun has been around so long that many of our pages have been reset several times. Archives are older versions of the page and the feedback that was provided then.
***
*** My pit bull is in heat and bleeding all over the house is there anything to do besides the doggie diapers? She won't keep them on.
Andrea from AZ
---
RE: Doggie Diapers Won't Stay On
Don't think there is much else to do except confine her to one area that is easy to clean, or use a crate till she is through with it. (08/30/2007)
By Tami
RE: Doggie Diapers Won't Stay On
OK, do not laugh. I have a female Doxie that came into heat way earlier than I thought she would. I had not spayed her yet. The only thing I found that worked were the plastic potty training panties, that you can get in the baby section of Walmart. They come in a three pack and are pretty cheap, cut a tail hole out and tighten the waist to fit and they are good to go. Cheap enough to replace when you need to. I am all for spaying and neutering pets, but this worked when I got caught in a bind. (09/05/2007)
By do not laugh
RE: Doggie Diapers Won't Stay On
I have sold a lot of diapers to many customers that had the same problem with the diapers that they where buying elsewhere, but say that my diapers do stay on. You might want to check my website at
jjdiapers.ca
and read my testimonials. Good luck. (09/14/2007)
By Filomena