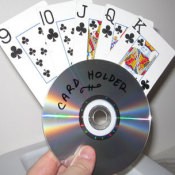 Do you ever get those annoying internet CD's in the mail? Tired of throwing them out? Well, don't. I decided to try something with them and it worked! I used them to make playing card holders!
Simply take two CD's and put drops of super glue on the lower half of one of them. Press the two CD's together for a minute, then let it sit out and continue drying thoroughly. You now have playing card holders - make one for all the card players in your family! See the picture, they're cute!
By Stacey from Orem, UT
January 25, 2006
0

found this helpful
Top Comment
You could even put something in the hole, like maybe a cut dowel rod of that size, for people who have arthritis to be able to hold cards without having to grip it. Just let the rod poke thru, and it could rest on their hands. Just an idea.
January 29, 2006
0

found this helpful
Top Comment
This is a fabulous idea! My little girl has small hands and when we play any card games requiring you to hold a lot of cards, she has trouble. I found some of these CD's free at the grocery store. So I'm gonna make a couple of these soon!
February 13, 2006
0

found this helpful
Top Comment
I love to recycle and think I am going to make extra ones to drop off at old folks homes and the intermediate schools for challenged kids so they won't go to waste anymore. You wouldn't beleive how appreciative they will be.
January 24, 2006
0

found this helpful
what a great idea............I play cards all the time,have all the stuff to do that right now thank you....
January 24, 2006
0

found this helpful
I will definitely try that idea. I know my younger kids will especially appreciate it. Thanks.
January 25, 2006
0

found this helpful
That is an absolutely great idea! I will make one for my little girl as she has trouble holding a lot of cards in her hand. Actually I have some nice Hoyle card holders that someone gave me as a gift once. We let her use one and then later we saw she had stuck a toy in between and even wrapped a cord from a play necklace and had the spring in between totally sprung so the card holder was useless! I will make her one or two of these and then I am not out much (just time) if it gets ruined. Those AOL CD's are free, I see them at our post office and grocery. Just free for the taking! Perhaps your kids don't need them but Amanda has small hands plus I use a card holder some too....When I played
Canasta it helped me because sometimes it can be hard to fan out so many cards and hold onto them...you don't wind up with a cramp in your hand using a holder.
Related Content
(article continues below)
January 28, 2006
0

found this helpful
this is a great idea...my friend has also taken plastic lids, (sm coffee cans, etc.) and sewed a button in the middle, on both sides , and you can also, paste an old card (cut) on the front and back..
thanks for this idea...
August 31, 2006
0

found this helpful
Excellent idea. Will do that in our nursing home. We are always playing cards. Thanks
November 7, 2007
0

found this helpful
Wonderful Idea for nursing homes, rehabilition hospitals, anywhere people have difficulty holding things because of injured or arthritic fingers/hands. Terrific
September 23, 2008
0

found this helpful
Great idea. This will be useful for my little son.
Read More Comments