I am going to have my 14th birthday party at a fancy restaurant and I do not know what kind of cool looking cheap invitations to give out! I don't know what they are going to look like or anything! Please post ideas!

Butterfly
Ad
---
Recent Answers
Here are the recent answer to this question.

By melamy01/14/2010
My new favourite invitation website is www.craftyinvites.com

I have just found a very cool website that has really cheap, downloadable invitations! They are Word based invitations so you can print off as many copies of the invitation as you like. There are some nice party invitations for teenagers, and you can request a custom design if there's nothing there that suites.

Check it out. The Crafty Invites website is at http://www.craftyinvites.com

By christa (Guest Post)12/01/2008
I'm doing my invites right now, but I'm doing them on word. You can go buy some streamers and write it on that, or get some shiny stars that are an appropriate size for an invite and write it on there. When it comes to a birthday party, to get in they should be wearing the star as a necklace.

By Hayliie (Guest Post)09/26/2008
For my 13th I did a mini rave but like fun music and neon colors, colorful leg warmers and all. We had a great DJ, non alcoholic cocktail marque and fireworks. It was so awesome xx

By kate (Guest Post)09/22/2008
I had the idea to put a card in the balloon and then place it on the person's doorstep.

By Gina =] (Guest Post)09/14/2008
I need like an amazing invite for a Halloween party. My friend and I are throwing it and the invites HAVE to be amazing and I have NO clue what to be for Halloween. HELP?

By Riley (Guest Post)05/19/2008
Wow I am turning 13 and need a theme I REALLY need one! BAD!

By Guest (Guest Post)05/06/2008
For my Sweet 13*(:, I'm having a limo pick us up from school and take us out to dinner. Then its taking us all to Carowinds and everything. It'll be fun. But I'm not sure what to do for my invites.

By nooooo (Guest Post)04/01/2008
i have looked and lokked for 3 hours for 1 invitation for my 12th birthday party I HAVE TO FIND A CARD ( grrrr)

By Sabrina (Guest Post)03/16/2008
My mom and I are planning a huge bash @ a local hall, and hiring a DJ (hopefully). I'm thinking of inviting my close friends, the boys and a few others to mine, but my mom wants it to be small and cheap.
What do I do?

By Taylor (Guest Post)03/10/2008
I want a neon party but my mom wants a Hawaiian party! What should I do?

By hannah spanner (Guest Post)06/30/2007
Hi, it's my birthday soon and I need a good invitation that has dancers on it. I am turning 13 and need to know where I can get a good one!

By Ashley (Guest Post)06/15/2007
hey there!...im 15 and did this wicked awesome idea for my 13th....i blew up balloons, wrote the invo on them, they deflated them. Therefore, if anyone gets their invo and wants to read it, they have to blow up the balloon to get it!! Happy Birthday!!!!

By Sharon [4]09/01/2006
Decorate with some pretty girlie colors & streamers, and maybe throw some confetti all around. Any age loves balloons. Stay with the same color theme.

Any way all you girls, Happy Birthday.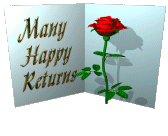 By daniel (Guest Post)05/28/2006
I need party that include the picture that I have posted with it. Please help me out with this. Thanks.

By Confused (Guest Post)01/03/2006
I need to have a cool, fun awesome 13th birthday party. I need a cool theme and cool invitations. Please help.

By (Guest Post)08/05/2005
Make up a little mock menu.
Answer This Question
Add your voice to the conversation. Click here to answer this question.